It finally happened. 
The opportunity you'd been chasing for weeks, heck, even months, officially became a lead. Bravo to you and your team. That moment can bring about a sigh of relief.
But just like a dog who's finally caught his tail, or fetched that elusive ball, a question still remains: now what?
7 Things to Do Once You've Captured a B2B Lead
Capturing a lead is a lot like asking someone to go out on a date: even if they say yes, there's still a lot of work to do before you agree to be in a relationship.
While there are plenty of differences between the sales process and dating, establishing trust is a key factor.
Here's what B2B marketers and their colleagues need to know to build that trust.
Acknowledge Them
Before you look to turn your new lead into a customer, simply acknowledging them and sharing that you've received their information can alleviate a lot of doubt. (Even interested parties can second guess themselves!)
If your lead capture form provides specifics around each lead's pain points, competition, or any other helpful items, be sure to address these in your initial outreach. This will show that you take the time to review each lead and treat them individually, not as a number in a larger pool of prospects.
A little communication goes a long way. 
Introduce Your Team Early
We have a Hulk – his name is Steve from client services, he's great.
The sales representative assigned to a prospect account is most likely not going to be the person charged with making sure they have everything they need to succeed on an on-going basis (if they become a client). That means there are more people that need to be introduced to the prospect before any contract is signed. 
Imagine a scenario where on your wedding night, as author and customer retention expert Joey Coleman describes in his stellar book Never Lose a Customer Again: The First 100 Days, after you've agreed with commit to one particular person and what they represent to you in your life (in this case business), your new spouse suddenly introduces an entirely new person and tells you this outsider will now act as your spouse. It's wild, right? 
This is what often happens with B2B companies. Prospects spend all their time with a sales rep, getting acquainted with how they operate and handle a product or service only to being paired with a complete stranger after you've said yes to the metaphorical dress.
This won't be something to do during the first interaction, it's never too early to begin to plan for success. Don't surprise people. It's not an ideal experience.
Do Your Research
Even if you've already done some research on your prospective client, knowledge is power. Having detailed notes on your lead's preferences, challenges, competition, and everything in between can inspire a whole lot of confidence with them. 
Think, for a moment, about how you would feel if you had a call with a company that was trying to sell you on their offering. Instead of asking you to do all of the heavy lifting in sharing your reasons for exploring the market, imagine if the sales rep had an agenda that allowed them to be flexible and address your needs more fully than what they list on their website.
Tailoring your approach to each prospect doesn't need to be labor-intensive. It simply requires that you pay attention to the things your lead is telling you — especially when they haven't verbalized it. 
Check Your CRM
Demand generation means data generation — a lot of data. With all this information, it's crucial to make sure your marketing automation systems are connected accordingly, directing each data point into its proper container. 
Schedule regular QA (quality assurance) reviews of your CRM and the tools that flow into it to verify that everything is working as it should be. If something's amiss, you'll be glad you did and can rectify any issues and prevent anything breaking or slipping through the cracks in the future. 
Segment, Then Segment Again
Once you've collected all of your (ideally first-party*) data from your prospects and neatly organized them into your CRM, it's time to segment. Based on the rules and triggers you already have established in your systems, you'll likely have a good bit of segmentation done automatically. 
To get the most out of your data, you'll want to keep segmenting until you're dealing in audience segments that are quite niche. Despite the fact that you'll want to make larger audiences, you're better off making target groups as small as you can so you can better attune your future communications.  
*(Not dealing with first-party data? Yikes. You better give that some further consideration.)
Be Responsive
Nothing kills a budding romance potential partnership faster than ghosting ignoring the other party. 
If your prospect has questions, make yourself available. If you haven't heard from them in a few days following their initial request for information, follow up to see if they really are interested. And if there's something that falls in between questions or requests, well, respond to those, too! 
Of course, there needs to be a balance between response time and the context of the approach. As covered in prior editions of NetLine's own Content Consumption and Demand reports, it's not uncommon for professionals to take greater than 24 hours before ultimately having time to really dig-in and consume the content that they requested.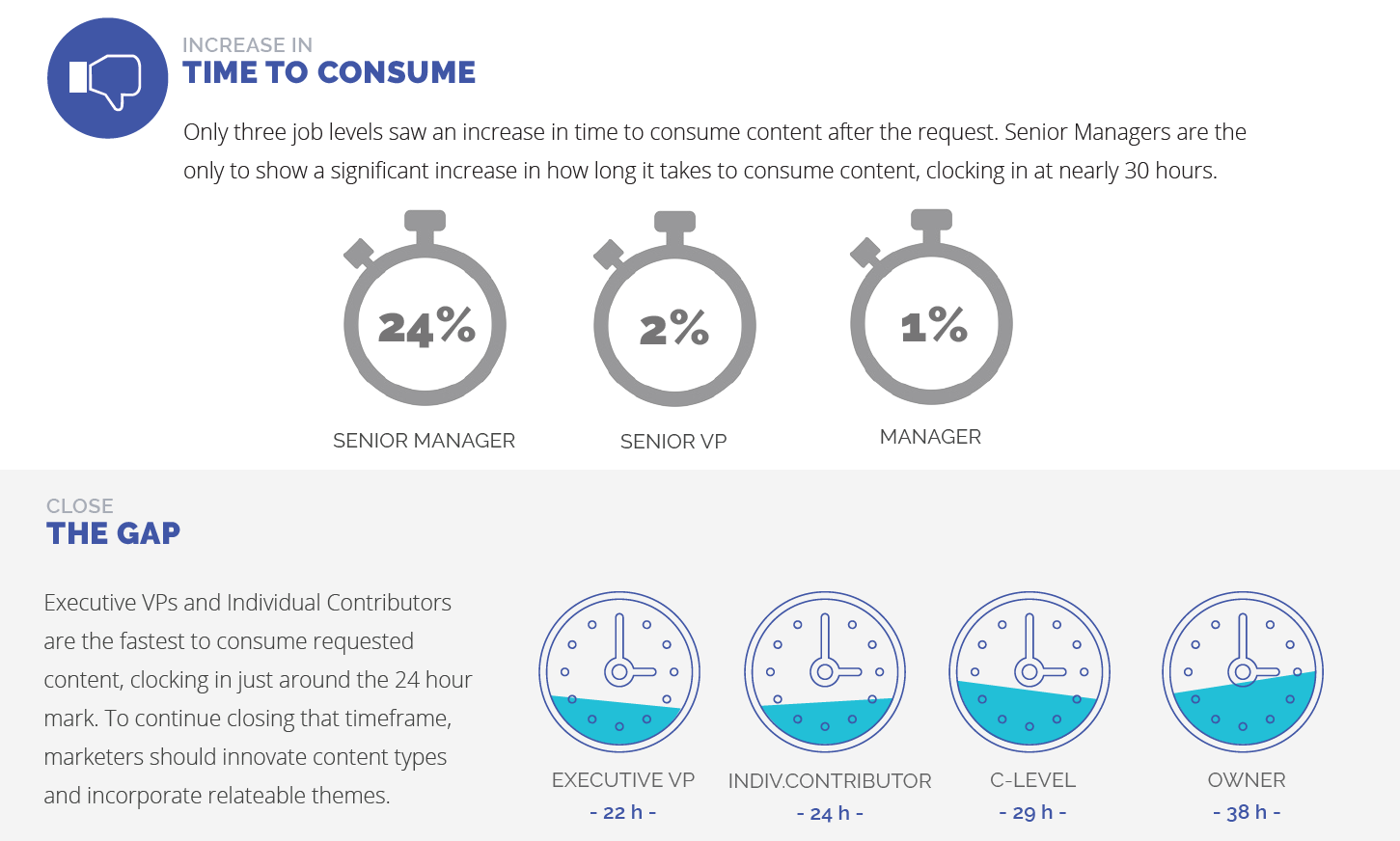 Calling as an over-eager Salesperson will usually result in a DOA prospect. Calling as a new resource available at a later time to inform and educate them is something altogether different.
It's good to keep in mind that prospects are testing you to see how quickly you get back to them and will likely use that as a gauge for how attentive you'd be as a vendor partner. 
Ask for the Sale
You've secured intent. You've answered their questions. You've connected over email, phone, and finger sandwiches. You've got a good vibe. Now there's only one thing left to do: make the ask.
At this point in the relationship, you should have a feeling as to whether or not you and your prospect are a good fit. It's not only a checklist "thing", but it's also a gut "feel". 
If it's there, consider that the green light. If it's not, well…either you've still got some work to or it's time to move on. (And that's OK.)
Asking for the sale is crucial, simply because you can't build your business without selling. Without the sale, everything else is moot. Sometimes we celebrate the generation of a lead more than we should. Generating leads is a big step in the sales process; it's what our business is built on — but, ultimately, closing the deal is the real thing to cheer. 
The One Thing You Should Always Do Once You Sell
Everything we've shared above can help you prepare your team to close a deal. But what about after you sell? There's still something very important to establish.
Retain the Customer
We wouldn't go anywhere without you, Ryan.
Think of all the time, energy, and the slew of resources that were put into generating your leads and acquiring your customers. It's a lot, right? The costs are great and it's been worth it because it resulted in a signed contract or purchase.
But what happens if that customer were to leave? That would damage so much of what you've worked so hard to attain.
For this reason, it's essential to retain your customers. As Joey Coleman emphasizes in his book, "it is six to seven times more expensive to acquire a new customer than it is to keep an existing one." 
Businesses often do, "whatever it takes" to close a deal only to ignore the needs of that same client sometime later when they're no longer the hot new thing. It may not be as sexy to retain your customers, but it sure is pretty to see how the numbers stack up with those same clients quarter after quarter.
A lot goes into B2B lead generation after you've captured their data. These 8 steps, you'll be much better equipped to follow-through on everything your prospects are hoping for.