In the world of B2B marketing, marketers might think romance is dead. 
Poor marketers. 
All they want is for everyone to love them, especially their intended buyers. They yearn for true connection, yet all they find is having to settle for prospects who aren't really interested and being caught in the struggle to keep the sales pipelines full. It's a sad story of rejections, unsubscribes, and ignored LinkedIn Connections. 
The problem this whole time is how you've been putting yourself out there. And keep in mind, while you're looking for a match or two, your potential partners are out there trying to satisfy 11 different members of their family company to make sure you're the right fit for them. Talk about pressure.  
But don't be sad or stressed, friend. You can find the love you're looking for.
By adjusting how and where you approach your prospects, you AND your prospects can find the perfect match in each other!
Finding Mrs. & Mr. Right Buyer
Considering that more than one-third of the American population has met their significant other online, couples who meet via dating apps really seem to be on to something. 
One of the main reasons for this is that each side of a potential pair is upfront in what they're after. When you're straightforward at the beginning everyone wins. That's the approach that NetLine has taken to B2B Lead Generation for 25 years and our clients always seem pretty satisfied with their results.
A successful relationship isn't about presenting a version of yourself that most appeals to others; it's about presenting a version of you that is honest and direct about what you're looking for and who you are. But then again, who doesn't enjoy hearing the love stories of those who connected because of that 3rd-party tracking cookie?

"Our story is so basic, really — Sales Rep over here had purchased my data from another company and, I don't know, I guess we just hit it off and we've been inseparable ever since. I guess it pays to pay for data sometimes!" (Reader, it does not.)
With it being Valentine's Day, we're happy to play matchmaker (today and every day). To make your quest for love as successful as it possibly can be, let's review the steps you need to take to find the loves of your professional life through the NetLine Portal.
Speaking of Playing Matchmaker…

Wouldn't it be awesome if you actually knew how many potential matches were out in the world looking for someone like you? It certainly would be — and it certainly is.

It's called Audience Explorer, and it's one of the best matchmaking tools on the web.
Audience Explorer is a way for marketers to get a pulse on their "talent pool" and educate themselves on who their prospects might be and what kind of content they might be attracted towards. As you go through the rest of this blog, keep in mind that at any time you can pop into Audience Explorer and discover how much love out there waiting for you.
Allow Me to Reintroduce Myself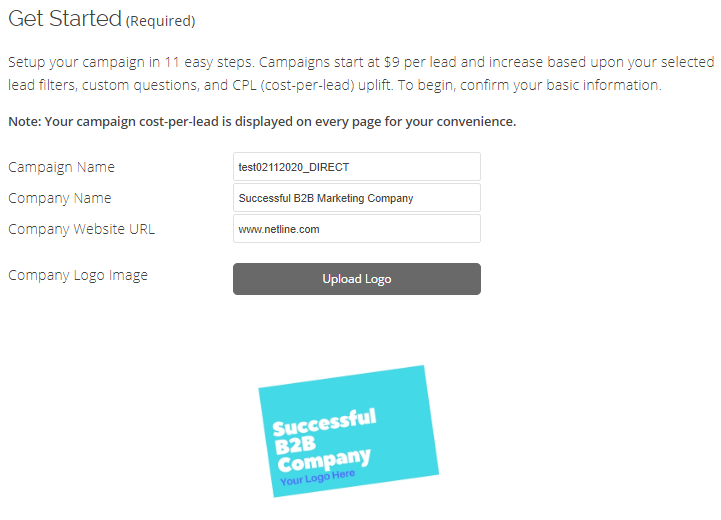 Before you look for the best fit for you, you need to share who you're the best fit for. 
Granted, on the NetLine platform, there isn't an area where companies can share what they're about and who they're best positioned to help succeed, but your website URL can certainly help there.

Plus, at this stage of the game, your profile is your content. So long as the content you've uploaded to your library aligns with the values and needs of the audience you're trying to reach, you'll be ahead of the game right from the start.
Blind Dates = No Date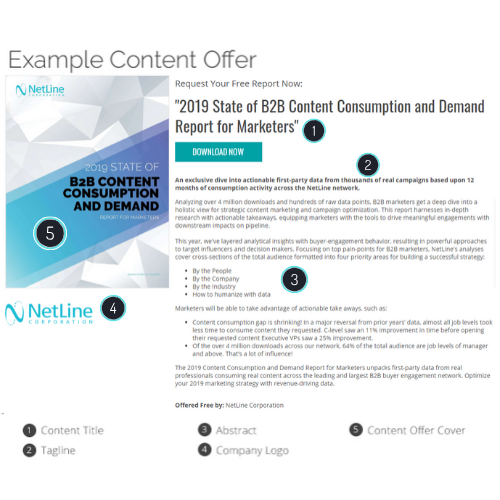 Whether you're swiping on Tinder, scrolling through eHarmony, or searching for content on TradePub, the biggest commonality is the photograph. The photograph/cover image is the first thing your potential match will see.
When prospects click on your profile (in this case content), they want an idea of what they're getting immediately. The more descriptive you are about your content – including your abstract, cover art and attributes — the more likely it is you'll find the buyers you're most interested in. 
Bottom-line here is to not be shy. Be direct, be a bit flashy (get their attention), and make sure you can back it up. 
Bachelorette/Bachelor #1, Where Would You Take Me on Our First Date?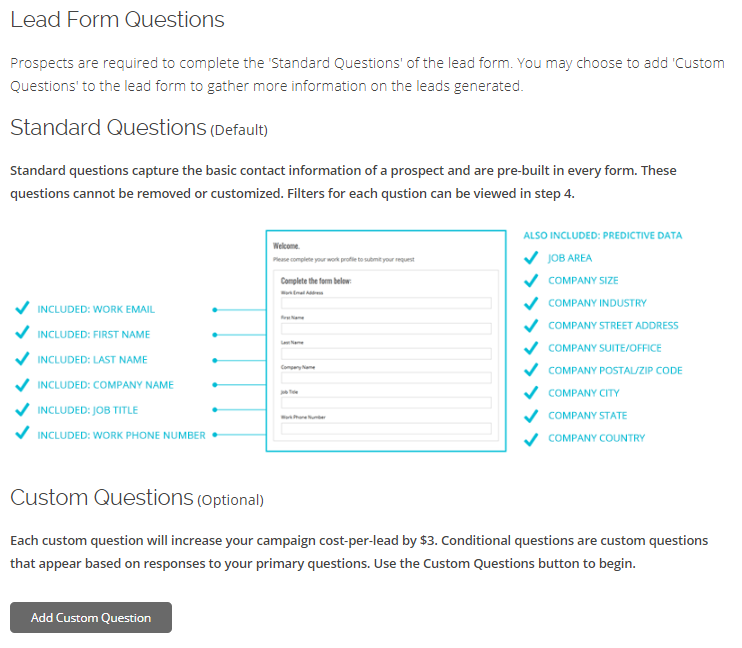 You want to know as much as you can about your prospect and to do that you'll need to stalk their Facebook ask questions. Sure, some of them are basic, like what's your name, where do you work, and your title, but some of them get to be a bit more in-depth the more interest there is. 
Once you've asked and gotten the general details, it's time to ask about things like where your prospects are in their career, which industry best describes the company they work for, how many employees are there, and where in the world they exist (you can totally do the long-distance thing, we believe in you).
By asking the right questions, you most certainly can get a better sense of where your prospects are in their buying journey. Only by asking these questions and hearing their responses and perspectives can you really understand what they truly need from a partner. It's the content that creates the context for how you continue to approach them in every follow-up, including additional types of content that fit your prospect's timeline and need as wells as how Sales reps should engage.
That's a Dealbreaker!
Based on what you're looking for, you'll find that some of your prospect's answers will be more appealing than others. You'll have to figure out for yourself what matters most to you, of course.
But this is an important thing to remember: just because they showed initial interest, if they're not a fit, it's OK to pull a Liz Lemon and blurt out, "it's a dealbreaker!" 
They aren't in the right niche for your product? It's a dealbreaker.
Their company isn't the right size? Shut it down, dealbreaker.
Wait, they wear socks with sandals in public? While Liz Lemon herself is cool with that, c'mon, people have some respect for yourselves. DEALBREAKER!
Maybe have a bit more professionalism than that, but you get the idea: it's OK to say thanks but no thanks to matches who aren't perfect.
Date Around a Bit
Just because you're looking for love doesn't mean you're going to be getting metaphorically married after the first date. Even if you're asking a ton of smart questions and have a firm idea of what you're looking for, it might take a few attempts to find the best prospects for you. 
Much like dating in the real world, it could be that you need to adjust your expectations one way or another. Maybe you've become too specific, meaning that your dream prospect is exactly that: a dream. 
In B2B lead gen terms, don't get frustrated if you're not striking gold immediately. Think of all the other campaigns you've adjusted successfully after a few trial runs; it happens. A good portion of NetLine users take a few tries before they find the matches that fit perfectly for them. If you have quality content that addressed a tangible need for prospects in one of our audience categories, the perfect match(es) is/are out there for you. 
Creating a Campaign That Makes Buyers Swoon
B2B marketers should be thinking of the NetLine Portal as their professional dating app. You're sifting through hundreds, if not thousands of prospects, meaning you can afford to be picky.
As we've detailed, online marketing and online dating are remarkably similar: to meet your goals, you've got to put yourself in the right place, put your best foot forward, and be crystal clear what you're looking for. If you need help with figuring out how to do that, our team of Professional Matchmakers B2B Content Specialists are here to support you.
We wish you the best of luck in finding the love you're looking for and living happily ever after…until the contract's up for renewal, of course.