Keeping your content up-to-date is challenging. The last thing you want is to have to chase down a number of specs scattered across the web for your latest NetLine campaign efforts. 
To simplify your life, as well as to keep everything straight for our own purposes, we've put together an always up-to-date collection of specifications for your NetLine campaigns.
Here's what you need to keep your NetLine campaigns organized.
Everything You Need to Perfectly Fit Your NetLine Campaign
At the core, a first time (or even seasoned) customer really needs to consider three things when launching a campaign: 
Your content

Your filters

And how you want to receive/act upon your leads
Regardless of your industry, goals, or budget, each campaign starts with the same thing: Your own content. 
Here's what you need to remember when you're creating or augmenting your campaign.
Adding and/or Editing a Content Offer
B2B Marketers, Publishers, and Agencies are able to use NetLine to amplify their content for a variety of use cases. With the information below, you'll be able to prepare and launch in record time.
Supported File Types
NetLine's platform supports a wide range of content formats, including some of the most common files shared across the web.

.pdf

.mp3

.mp4

.pptx

.xlsx

.zip
You can also use web-based links to add to your Content Library or select Alternative Formats to use live or on-demand content.
Bonus Info!
What's the Largest File Size NetLine Can Support?
Naturally, this is a pretty important item to be aware of. Regardless of file format, NetLine's platform can support a maximum file size of 40MB.
Describing Your Content
Making sure that your content has a compelling title and abstract give you the best chance to articulate what your materials discuss and why they're relevant to your target audience. 
Here are some pieces to keep in mind when naming and describing your content.
Titles
As a rule of thumb, NetLine recommends titles containing 80 characters or less. Here's what you're going to want your titles to contain:
Create an engaging title featuring important keywords speaking to your target audience. 

Add a year or month reference within your title to establish timeliness. 

Example: "2021 Content Consumption and Demand Report for B2B Marketers".



Abstract
Another rule of thumb here; we recommend that your abstract has between 700 to 1,200 characters. Nothing more, nothing less.

Create an easy-to-digest summary of your content citing why the prospect will benefit from reading the content. Include a bulleted list of topics, stats, or other top insights from the content.
NetLine Cover Images
From the time we were children, we were taught never to judge a book by its cover. Well, we all know that, for better or worse, this is something that 100% happens. 
When it comes to giving your content a proper "face", it's essential to not only have something that's relevant, it also needs to be compelling. While NetLine doesn't specialize in creating killer cover designs, we do highly recommend that your awesome content has an equally awesome cover graphic (plus, our Campaign Success Kit can help you learn more about how to improve your designs based on all of our best practices).
Cover Image Specifications
Regardless of whether you're uploading an eBook or a webinar, the specifications for our campaign's cover images remain the same.
1200 pixels (width) x 1555 pixels (height)

Maximum of 1MB

.jpg, .jpeg, .png, or .gif.



Don't have a cover image for your PDF? Not an issue. While we do recommend having one, you can skip this step and one will be automatically generated for you. 
You can also use our prebuilt Canva template to easily create a cover for your content.
Using NetLine Custom Questions
Adding questions to your campaign is not only a great way to enhance your lead gen efforts, it's a way to learn more about your  ideal customer's pain points, urgency, and/or intent

As you're thinking of the best ways to leverage your custom questions, here are some tips and examples for getting the most out of this feature.
The 5 Types of Custom Questions
There are 5 specific types of custom questions that can be used in a NetLine campaign:
Text Display Statement (Free)  

Text Input  

Single Checkbox Answer  

Checkboxes—Select one or more answers  

Dropdown List—Select only one answer  
Conditional Questions
While it's not included in the list above, conditional questions are another type of custom question. 
A conditional question is a custom question that is tied to a previous question, meaning the rules around custom questions apply to any conditional questions you may opt to use in your campaigns.
How to Use Conditional Questions
Primary questions can have conditional questions (secondary questions) to answers selected from the list provided in the dropdown.
Secondary questions must be created first so that you have questions to add to the answers selected in your primary question.

To create these conditional questions, select a 'Question Type'. Only 'Text Input', 'Single Checkbox Answers', 'Checkboxes', and 'Dropdown Lists' are allowed.

After secondary questions have been created, you can create a primary question. Only 'Dropdown Lists' are allowed to have secondary questions.

For each of the primary answer choices, you would like to ask a conditional question, select the appropriate secondary question from its column.
Additional Info on Custom Questions
Beyond knowing how to use custom questions, there are some additional pieces that all users need to be aware of.
Campaign cost-per-lead will increase by $3 per custom question added.

Adding custom questions could increase form abandonment rate.

Custom questions cannot be used as filters; you will receive all leads despite the custom question answers.
How to Use NetLine's Filters
NetLine's filtering capacity is unmatched in the B2B industry. We've created an unrivaled audience database that gives context to which types of professionals are actively seeking content in more than 300 industries. 
While the core function of NetLine is as a B2B content syndication network, the core value we deliver to B2B marketers is based on our ability to filter audiences. All told, there are more than 35 million different ways for you to filter our audiences.
Thanks to the voluntary capture of first-party data, we're able to filter by so many unique career variables because our greatest strength is understanding who is truly consuming your content. 
Let's take a look at how many "parent" level options are available for each campaign.
Selecting Your Filters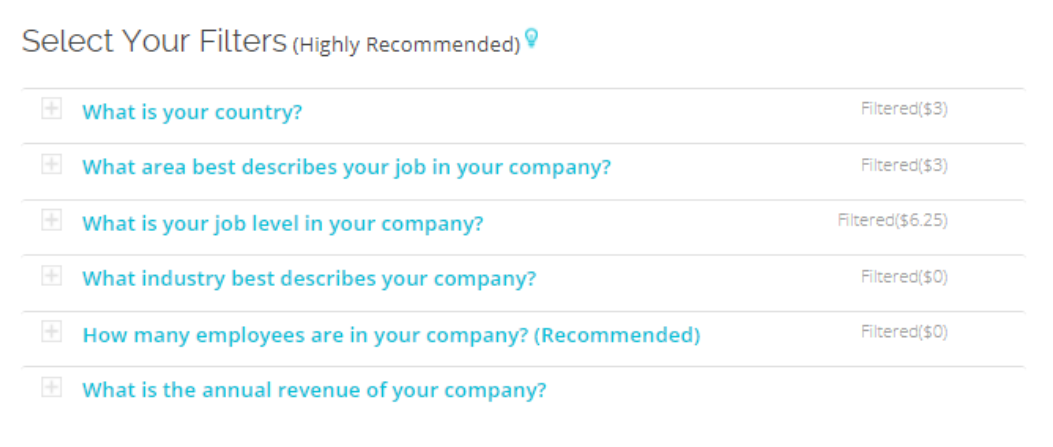 In the image above, you'll see there are six specific filter categories along with a corresponding dollar value. This means your campaign will add an additional $0-$6.25 premium for each filter chosen within a given filter category. (We have a great example of this in our Answering the FAQs About the NetLine Auction blog post.)
As a reminder, NetLine guarantees that you will only receive and pay for leads that request your content and match your selected filter criteria below. The cost-per-lead will update as filter values are selected.
Important Filter Recommendations and Reminders
While choosing filters isn't a "requirement" within the Portal, we highly recommend that you do so. Without choosing filters, your campaign won't reach your ideal audience and will reach your lead goal in record time—likely without being relevant or interested in your products or services. 
Here's some other information we want to you be aware of before moving on from the Filters tab:
Each additional filter value selected will increase the campaign cost-per-lead by $0.50 – $14. 

Secondary level lead filters can be added by expanding the Job Area and Company Industry filters.

NetLine automatically filters out: students, interns, consultants, and contractors as well as professionals working at companies of 1-4 employees at no cost. To receive these leads, select them in the dropdown menu.

Country filtering includes individual US states and country selections.

Filters can be updated at any time, monitor your campaign reports and submit updates to filters as needed.
How to Use NetLine's Fulfillment Tools
Lead Fulfillment allows you to schedule lead files to be automatically emailed to you and up to ten other recipients. You can access the lead data of all fields that are collected directly in the NetLine Portal Leads tab.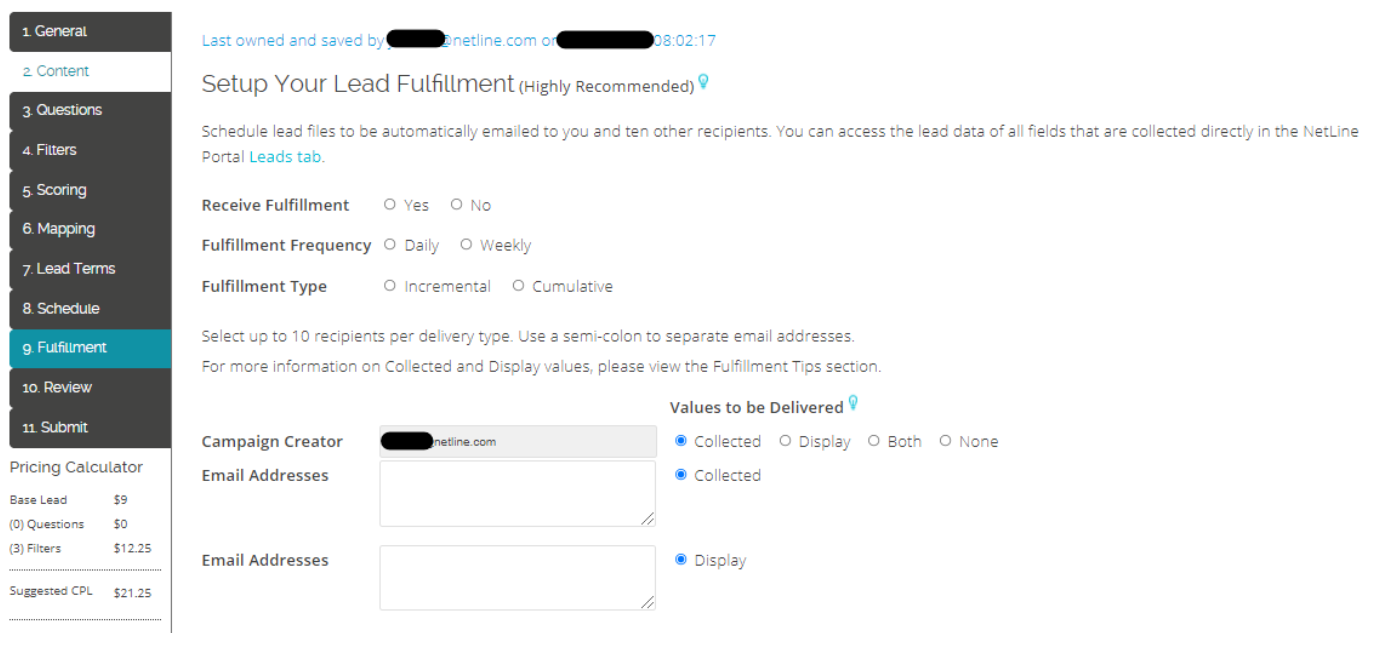 Quick Facts on NetLine Fulfillment
'Daily' fulfillment is sent at 5 AM PST Monday – Friday.

'Weekly' fulfillment is sent Mondays at 5 AM PST.

'Incremental' fulfillment will deliver new leads you have not previously received.

'Cumulative' fulfillment will deliver all leads in every file.

'Collected' value is the mapped value to ensure your lead data is consistent with your internal naming conventions.

'Display' value is what the user will see when answering a question.
How to Setup or Edit Your Fulfillment Connector
While you're always able to review your lead data within the Portal, NetLine also allows you to receive your leads via your preferred CRM or lead management tool. Whether you're using HubSpot, Salesforce, ON24,  Marketo, or any other connector, NetLine makes real-time sync simple. 
Please note that by setting up email fulfillment you will be billed at the frequency your leads are delivered unless you are approved for monthly billing.

Setup or edit the connector for this campaign and map the fields to your CRM. Once your setup is complete, click 'Send Test Leads' to confirm leads are mapped correctly to your CRM before submitting your campaign.

Check out our

Connector Resources

to learn how to easily integrate the NetLine Portal with your CRM, MAP, or Webinar Platform.
Are We Missing Any NetLine Portal Specs?
This blog is a living, breathing document, so it's entirely possible that we're missing some of the latest and greatest information. But don't worry! We'll be sure to add updates as they happen and our Portal Support team is always aware of what you'll need to optimize your campaigns. 
If you have any questions in the meantime, please reach out to portal-support@netline.com or use our Drift bot to chat with one of our experts.