Content marketing is a very competitive and crowded space. Not only are you competing against other businesses for your prospect's attention, but you're also facing off against their friends, family, favorite shows, and now, unfortunately, news about the pandemic. 
What marketers like you truly need in today's content-rich and attention-strapped world is information that can allow you to improve your content marketing strategies and tactics, so that you're able to find the best ways to optimize.  
If that kind of research existed, you'd want to know about it, right? Fortunately, there is such information that is designed to do that very thing. And we'd like to share it with you.
As we've done for the last four years, the team at NetLine dug into 16,000,000 GBs of information — an entire year's worth of first-party lead gen data — to find the most incredible, juicy, and actionable insights for B2B marketers to enhance their content marketing.
Inside these 27 pages, you'll discover why bigger isn't always better when it comes to targeting your ideal prospect, why the C-Suite is more engaged than ever, and why you shouldn't overlook Individual Contributors. 
But that's just the start of it. Let's give you a little taste of what's waiting for you.
So, Wait, 16,000,000 GB…Really?
Really, really. 4 million unique, fully-permissioned downloads generate a whole lotta data. 
Said another, more condensed way, this report analyzed 16 petabytes worth of data. As we share within the report, that's enough data to fill 319 million 4-drawer filing cabinets with text, which can then in turn stretch around the globe nearly 10 times! Let's see if @elonmusk can help us make this a thing.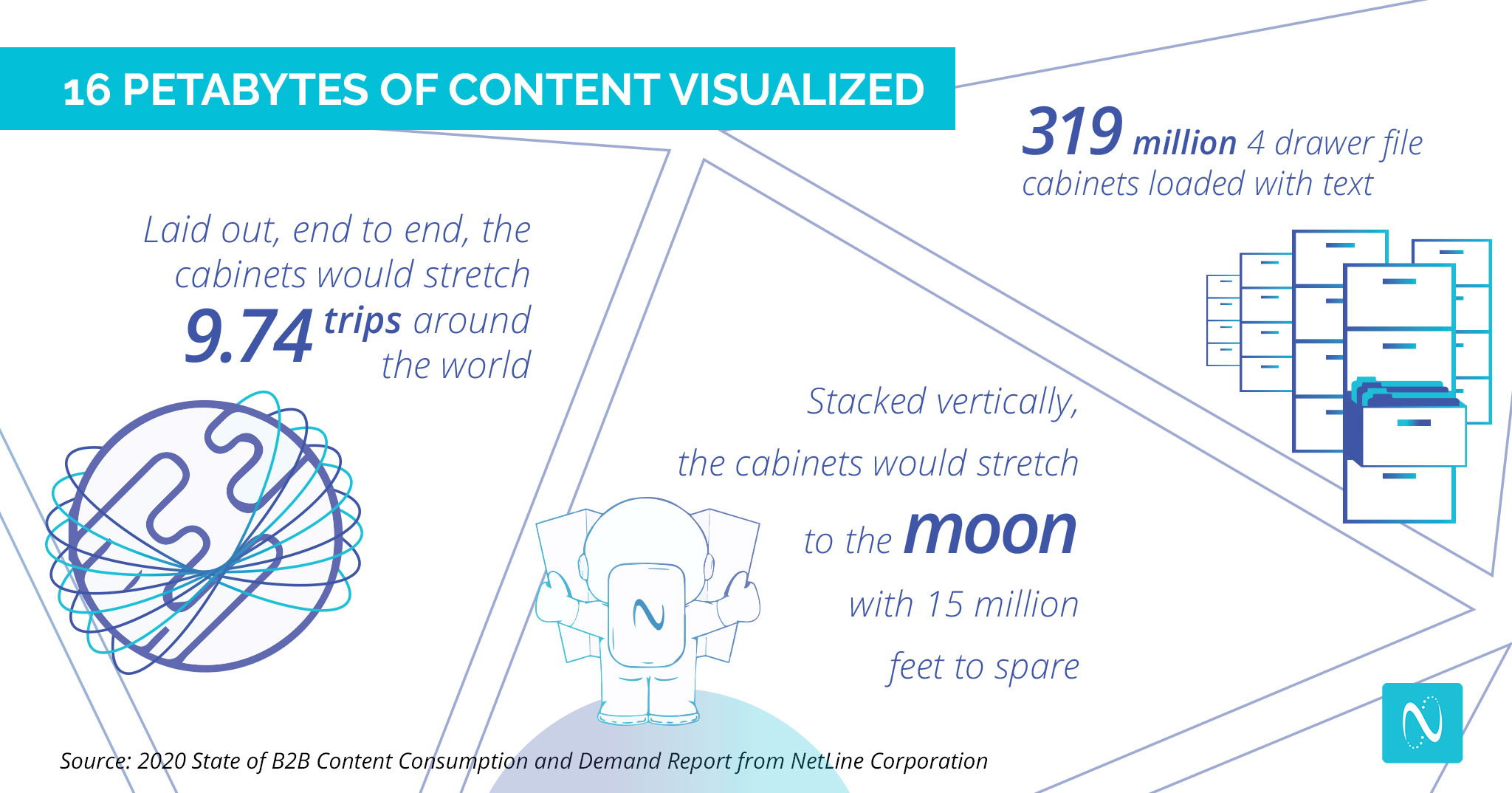 It's a ton of data. It crashed many a web browser in trying to wrangle and study it all. 
Time Does Matter in Content Marketing
When is the best time to post your content?
This is a question that is asked ad nauseam in social media circles. From a social POV, it's an answer that requires too many variables to ever answer at scale. In the world of lead gen, however, we learned there are indeed optimal times to reach your target audiences.
Our research indicated that, in 2019, Tuesdays and Wednesdays were the best times to reach B2B audiences. Tuesdays and Wednesdays made up for just over half of the days where users requested information, especially for users in the Financial, IT, & Human Resources — not to mention 7 of the Top 10 Job Functions by Pageviews.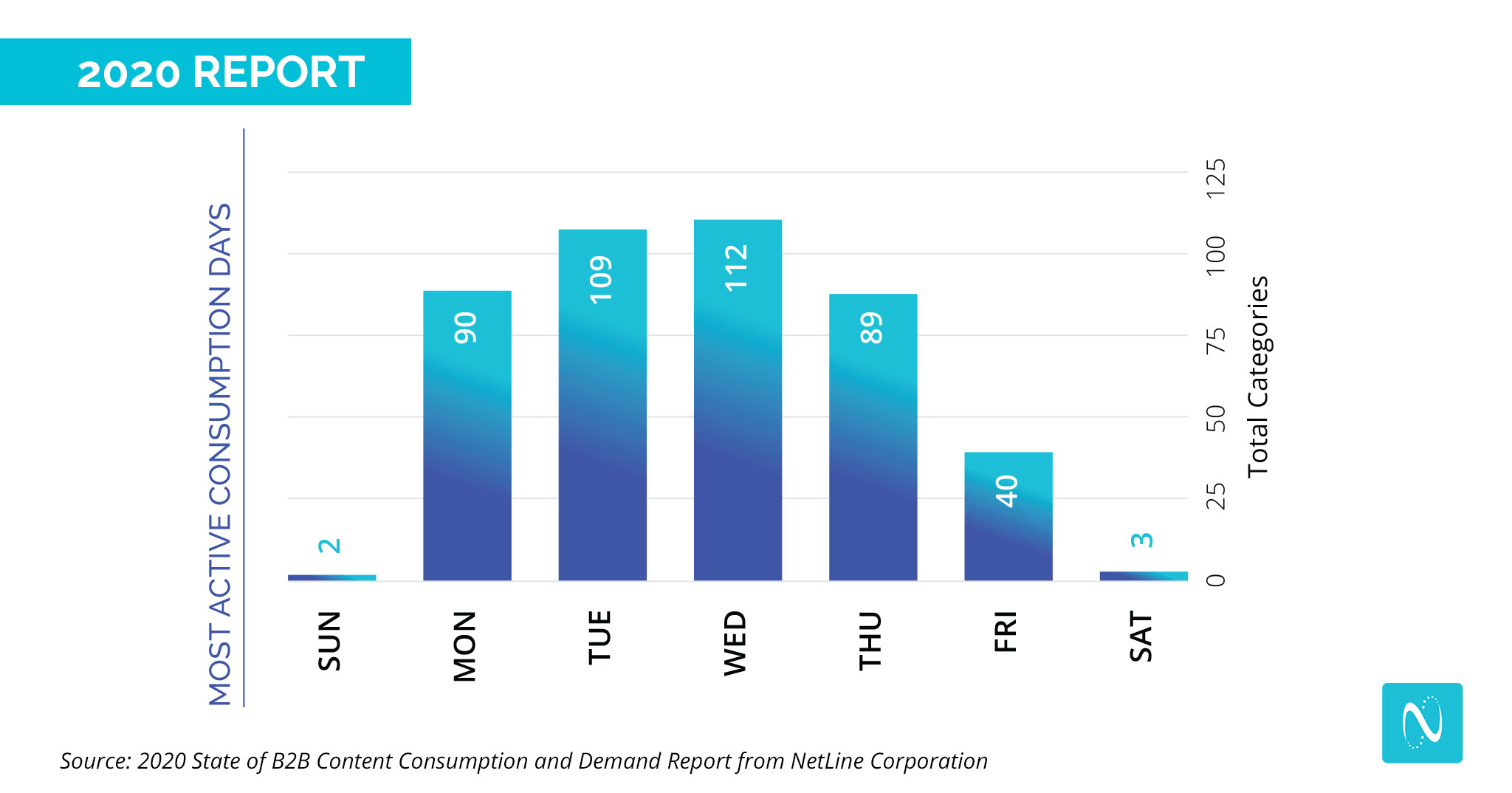 Know When Prospects are Ready
The Consumption Gap is the time between the moment content is requested and the moment it's opened for consumption.
This is an important definition in the NetLine world. It's important because it's not enough just to know that someone has downloaded a piece of content. We want to know that they've actually engaged with it. We use the Consumption Gap to measure just how willing a prospect is to move into a new stage of the Buyer Journey with a business. 
For example, in 2019, it took users 28 hours, on average, to open the piece of content that they had requested. Corporate Services was at the highest end of this trend, taking more than 37 hours to consume their content, while those in the Agricultural fields were the most eager, averaging just over 19 hours.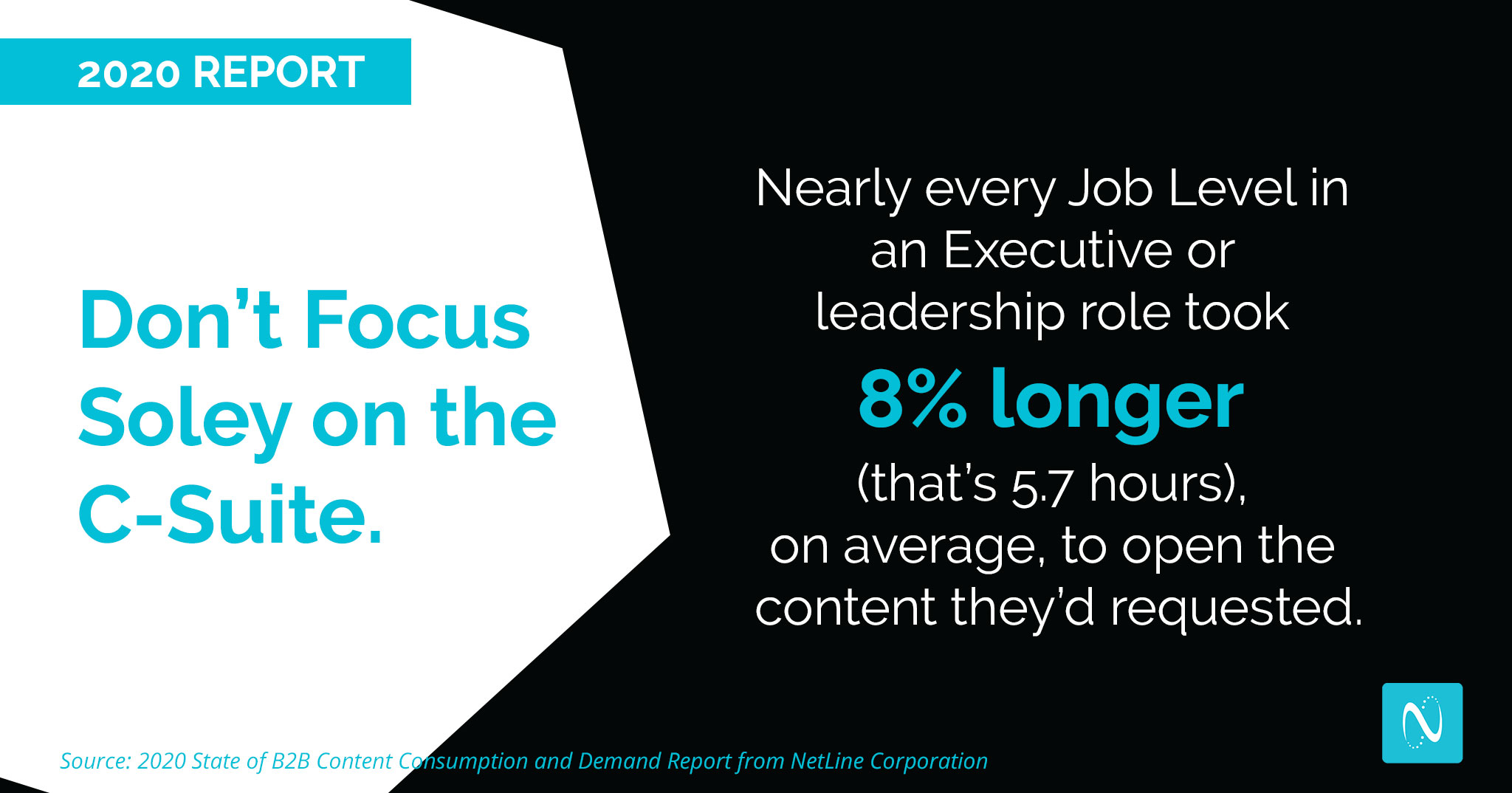 But that's just for the first download. If and when these same users decided to download additional content, that second download came roughly 19 days later. This is a significant finding that we highlight in the Report, emphasizing the need for a proper (and calculated) nurturing program.
Human Resources and IT Folks Are ACTIVE
Running a business is a challenge in and of itself. Add to that the challenges and variable of the people that it takes to run it and you've got yourself a recipe for two very busy departments for very different reasons.
We're used to seeing plenty of activity from Information Technology professionals. Year after year, they end up at the top of our Active Audience lists as the most prolific users. This would have been the case in 2019, as well, had it not been for the surge in activity from HR Managers, Senior Employees, and Individual Contributors. 
What we can glean from this information is that with so much happening in the U.S. specific to healthcare reform, insurance benefit alterations, and every other policy decision out of Washington, Human Resource teams have their work cut out for them. This won't be changing in 2021, either, given the massive changes happening within the workforce thanks to COVID-19.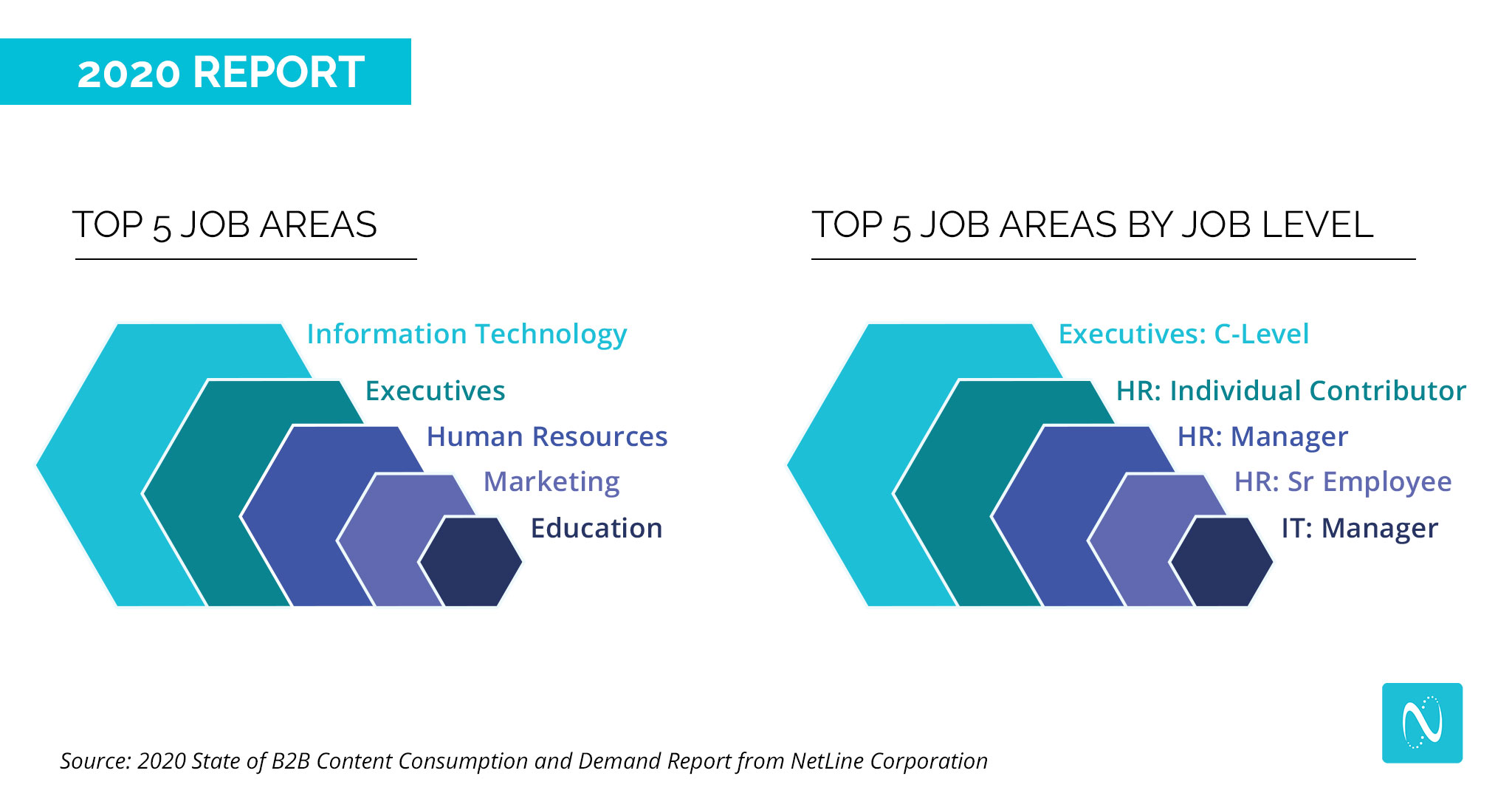 What Your Business Can Learn From The 2020 Content Consumption Report
The true answer here would be that it depends. But that would be both a lame and cowardly way of ending this announcement blog. 
What we believe B2B businesses and content marketers, specifically, can learn is that no matter how large or small your target audience, there is a sweet spot that you can occupy if you pay attention to the story the data wants to tell. 
If you're a no-nonsense, data-minded marketer with a fearless determination to navigate the complicated content consumption ecosystem and drive lead gen success, especially in the midst of the strangest business outlook in modern history, look no further. Gain a competitive advantage with our 2020 State of B2B Content Consumption and Demand Report. Let this first-party data lend a strong helping hand in building and optimizing your strategy.

The 2020 report is yours, for free. We thoroughly hope you both learn from it and enjoy it.