Missed the webinar? It's ok, all of the best stuff is right here from our session during the Buyer Insights & Intelligence Series, and you can watch on-demand.
Earlier this month, we joined Demand Gen Report for the Buyer Insights & Intelligence Series which focused on the tools, strategies, and best practices for engaging and converting prospects. The series covered topics like content and data so naturally, we had to jump on board.
Featuring our own SVP of Audience and Product, David Fortino, and Valerie Riley, Director of Marketing for ITProTV, we dove into the data and real-world application of content syndication for lead generation. In this post, we're pulling through some of the top-line awesomeness from our session, "Lessons from the State of B2B Content Consumption & Demand Report and Real-World tactics that Achieved 1500% ROI". Want the whole shebang? Download the webinar here.
Data-backed insights into content consumption and demand on the NetLine Network
After a warm welcome from Demand Gen Report staffer Klaudio Tirico, David jumped right into some of the shinier nuggets from our 2018 State of B2B Content Consumption and Demand Report. We've been emphatic about sharing this data because really, who else will? The NetLine network has amassed a unique repository of data that holds a mirror to two different layers of the gigantic, content syndication onion – marketers' objectives, and what professionals are actually looking for. This laboratory of consumption behavior spits out reports full of numbers that can be compared to other numbers, so we made it relatable, informative, and relevant to content marketers.
So, what did it say? For one, it says that marketers need to get inside the entanglements of an org chart for a few moments before crafting or targeting content.
The in-demand audience insights point to the B2B marketer's conviction to serve up long-form content to C-level executives. Our active audience insights (data from professionals that weren't considered leads for our clients) point to demand for content that originates lower in the org chart.
Here is what the active audience looks like: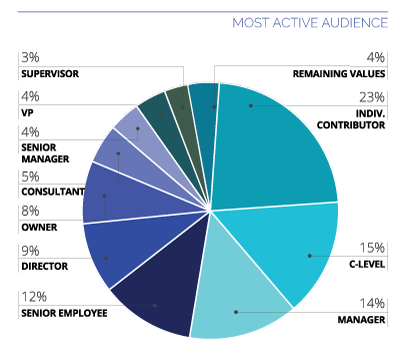 That big slice is the Individual Contributor job level, followed by C-level and Manager (which are nearly even). Who are these people and what are they doing?
The Individual Contributor is that person in an org chart who is often responsible for conducting research and reporting to upper management. Their scope of concern is to do the leg work and present new ideas, products, and services or information on how to use existing ideas, products, or services. These folks are doing a lot of reading and yet still, many marketers aren't entirely concerned with those who don't have decision-making authority.
We ask those marketers to consider how the C-level executive spends their time, and how they prefer to manage decision-making. Typically, an org chart acts as a ladder of responsibility and a filter for the C-level's bandwidth. Individual Contributors gather data and push it up the ladder to decision makers. As proof that C-level aren't always the ones doing both aspects of this process, we look to a stat we call, 'Consumption Gap'.
What the heck is a consumption gap?
This metric is a fun number we discovered in our data that shows the time between when content is requested and when it is ultimately consumed – it's a direct measurement of how busy people are, or how interested they are in consuming content (probably both).
In our presentation we asked, "Does the C-suite: research vendors? Have lots of free time? Lack distractions? And then we say, "Hell no!" to all of the above and everyone has a good chuckle. #Relatable
Our data shows that C-level takes 21% longer to read the content they've requested compared to managers.
That's a lot of time when you're building out a follow-up plan – some marketing automation tracks have a phone call or email taking place within an hour of the request. Self-serving, yes, effective? Probably not. All job levels take at least one day to get back to content, and while C-level has the best intentions to consume lots of robust, long-form content, they're just swamped and take the longest. (Specifically, they take around 48 hours to consume content.)
We're not saying to avoid targeting the C-level, but we're saying to look beyond the C-level and tap into an active audience that's engaged and using content to help decision makers with the deciding of stuff.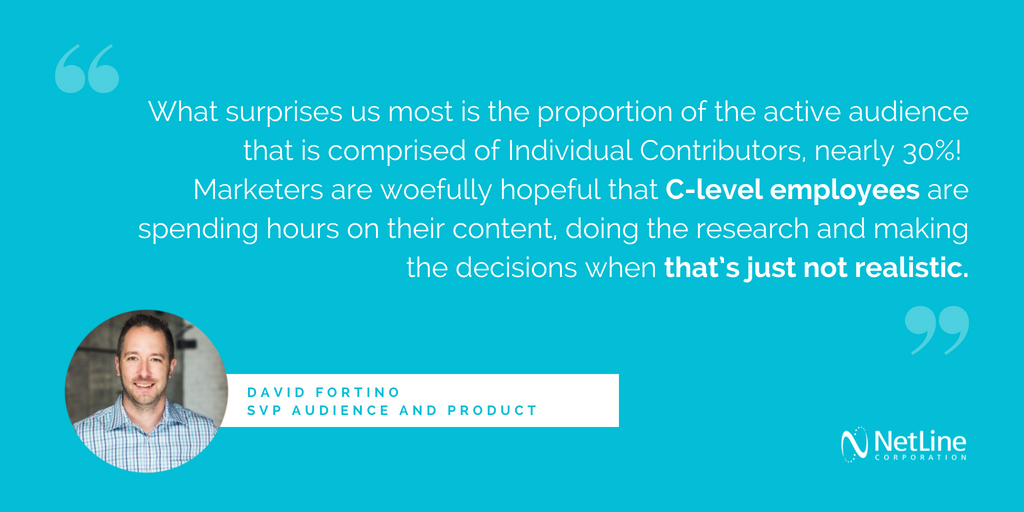 On the webinar, we then show this gif of a guy banging his head on a desk because, a. it's funny and b. it's how we feel about marketing strategies that harp on C-level with so much misguided hope for rapid outcomes; especially when we know there are lots of influential professionals out there who are avidly consuming content.
It could also represent a C-level executive who has all of this great content they want to enjoy but are just too darn busy.
What's the real-world application with 1,500%+ ROI all about?
The second portion of the webinar (and our favorite) was hosted by our client and marketer-buddy Valerie Riley. She's the Director of Marketing for ITProTV:
ITProTV turns IT education into a conversation that connects learners to experts and each other…from the comfort of your living room. With new content added daily, members get access to 4,000+ hours of content, plus practice exams and virtual labs and get to be a part of an IT community. Choose from our flexible and cost-effective membership options which are available for both corporate teams and individual learners. Learn at your own pace wherever is most convenient.
Valerie shared her background and soft-spot for content syndication as a fast and high-quality means of lead generation. To rapidly expand the B2B presence of the ITProTV brand, Valerie turned to content syndication on the NetLine network. Coming into her role, ITProTV saw great results from word of mouth in B2C; for entry into the B2B space, Valerie saw opportunity to target IT professionals with content.
Starting from scratch, Valerie wanted a data-driven plan with end-to-end ROI. Her team's first steps? Define a target audience and company size and countries. They identified key verticals and turned to content syndication to drive demand.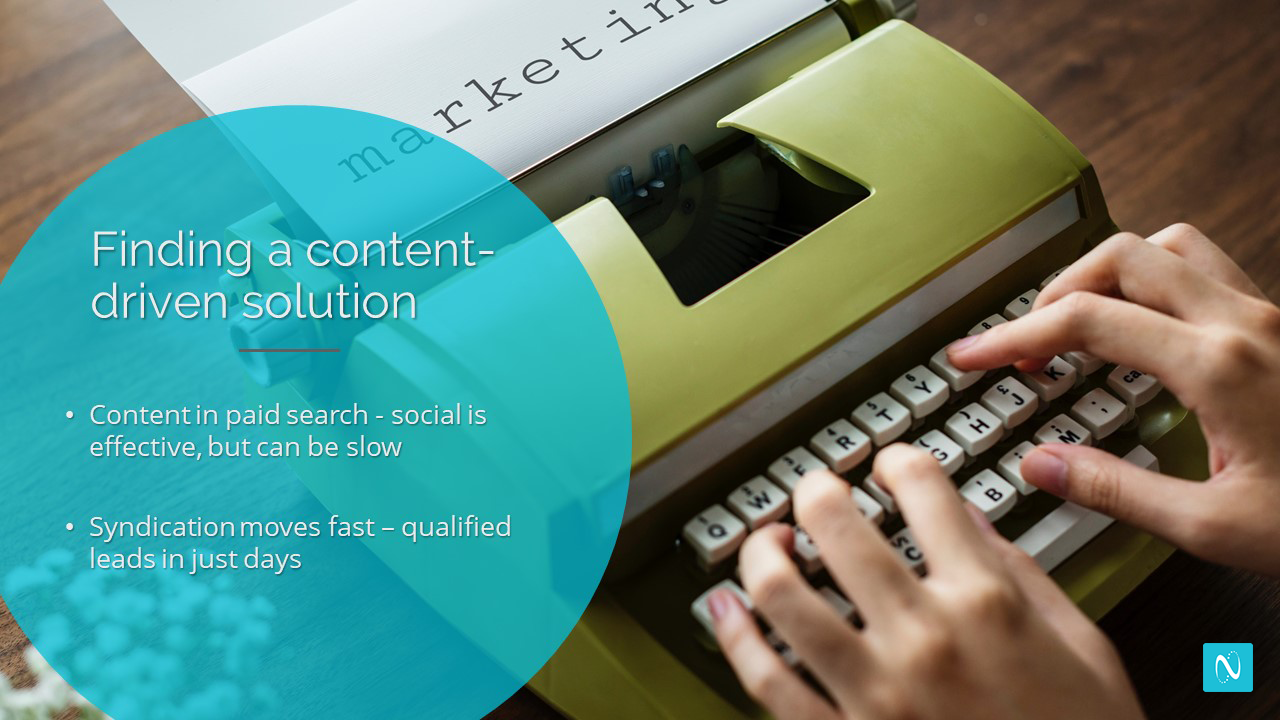 Her goal was 3,500 MQLs per month to build the pipeline for their sales team. Turning to NetLine, Valerie launched a content syndication campaign using a hyper-targeted lead profile. With a hungry, highly engaged audience of managers and influencers, the turnaround of lead orders were filled within days.
How was ROI measured? 
Measurement focused on pipeline generated – with goals of 3,500 leads per month, sales are selling 25 – 35% of pipeline within 4 – 5 months. The sales reps are pleased with the leads that come from NetLine and content syndication generally because of the viability of contact information, but also because the leads are highly engaged.
The 1,500% ROI figure represents pipeline generated off of the first round of phone calls to convert to opportunities. In less than five months, content syndication paid off extremely well for the ITProTV sales and marketing machine – but this doesn't yet take into account the ROI from downstream output from lead nurture. Surely more positive results are expected as Valerie's team continues to crank out awesome content for campaigns and robust nurture emails with webinars and articles.
"Divergence for Success"
This is the parting note on the final slide for the webinar. Why? Because at the heart of the success that marketers can achieve with content syndication, is divergence from impressions as a basis for measuring campaign outcomes. While it has value, for those marketers working alongside sales objectives, it's not as valuable as delivering a real lead. Making a case for eyeballs on content is a challenge when companies finally invest their budgets into content creation, designers and engineers. With NetLine, marketers amplify and deliver ROI in the form of actual leads, not just impressions. The interactive, real-time reporting provides the transparency and insights to quickly validate, tweak, and align with objectives.
So yes, the NetLine Portal is lead gen martech for B2B content marketers looking to deliver quality leads to their sales team – but overall, content syndication is becoming the foremost tool for relating to an audience and driving demand.