Is there ever such a thing as too much good news? Cool, we didn't think so either.
Recently, G2 Crowd shared the good news with us that NetLine had been named a Leader for Fall 2019. Though we've been fortunate enough to be recognized by G2 Crowd multiple times in the past, it's always an honor to see that our customers continue to find value in our platform.
"You Like Us! You Really, Really Like Us!"
Obligatory Sally Field GIF, of course. (via GIPHY)
First, a bit of background. G2 Crowd is the #1 business solutions review site in the world. It's essentially the Yelp for B2B professionals. People looking to make informed decisions on products for their businesses can turn to G2 to find real, genuine feedback from people who've already used it. Knowing you're reading reviews from pros in similar fields makes the process of choosing a B2B vendor a little easier.
Following the release of the free buyer-engagement tool Audience Explorer, NetLine ranked first or second in five of G2 Crowd's Lead Capture sections, most notably finishing as the leader in the Mid-Market Grid® Report for Lead Capture, Mid-Market Relationship Index for Lead Capture, and Lead Capture Relationship Index: Mid-Market segments. 
One of the other measurements G2 Crowd records is Net Promoter Score (NPS). In its simplest form, NPS measures the likelihood of one of our customers recommending NetLine to one of their peers. In the Lead Capture segment, our Net Promoter Score was the highest. 
Beyond the formal categories and the Net Promoter Score, G2's metrics unveiled additional findings that speak more to our customer's opinions about our support and the platform as a whole. For example, within the Lead Capture segment, we're tops in "Ease of Doing Business" with a satisfaction score of 96%. Considering the average tally across our peers is 92%, we're quite pleased decision-makers find it easy to work with us. NetLine also earned the highest rating for Ease of Admin score at 94% (average in this section was 90%).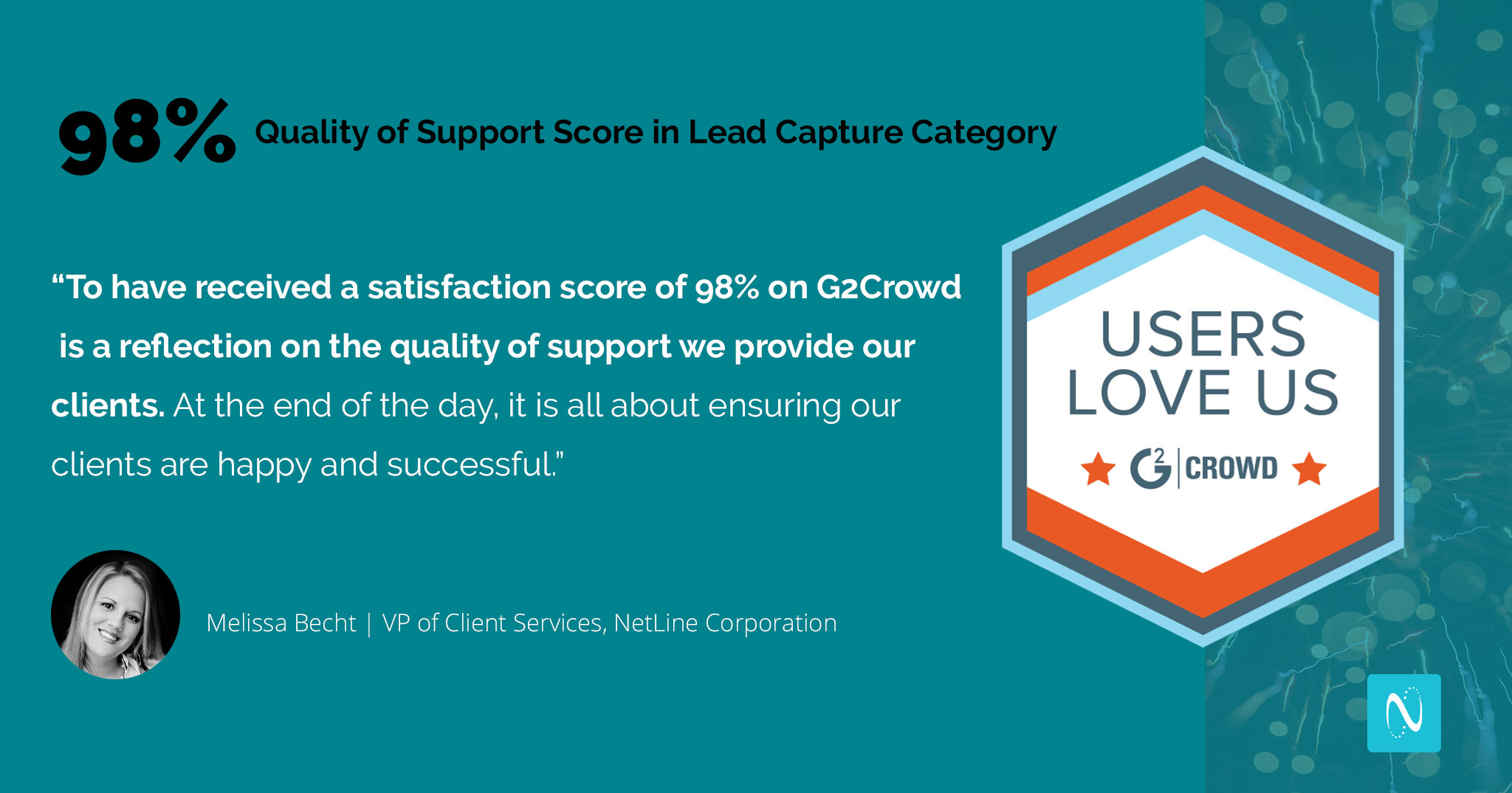 The result we're proudest of, however, is our Quality of Support score, which was registered at 98% where the average is 90%. When we shared this news with Melissa Becht, NetLine's VP of Client Services, she was beaming with pride over the work her team does and how it both impacts and benefits customers.
"To have received a satisfaction score of 98% on G2Crowd," Becht said, "is a reflection on the quality of support we provide our clients. The ultimate goal and philosophy within NetLine's Client Services department is to be an extension of our client's Demand Generation team. We do all of the heavy lifting from campaign creation to campaign optimization and everything in between. At the end of the day, it is all about ensuring our clients are happy and successful. We take a lot of pride in that."
With Every Gift Comes Gratitude
Clearly, all of this is great news for the company. To be named among the leaders of any B2B review site is a big deal—especially one we know means a great deal to our industry. 
However, we'd be remiss if we didn't acknowledge the real leader here: Our customers.
Without the time and energy from you, we wouldn't be eligible for something as meaningful as these recognitions.
For 25 years, NetLine's mission has been to build an industry-leading platform to serve B2B marketers looking for ways to amplify their content-centric lead generation efforts. Every update and enhancement we've made—whether on the website or behind the scenes—has been geared to supporting B2B companies and the customers they serve. We're proud of the work we do and we're pleased it's helped so many marketing departments achieve their goals. 
We don't strive for global recognition, but when it comes our way, we're grateful and honored.
We promise not to let this go to our heads. (via GIPHY)
(Actually, on second thought, get the President of the Universe on the phone, we have business to discuss.)
Whoa, John, take it easy—perhaps we've gone too far. (via GIPHY)
In all seriousness, thank you for trusting us to serve your business and deliver the leads you need. We'll continue doing everything in our power to keep improving and sharing our knowledge and expertise with you. We'd be grateful if you continued sharing how much you love NetLine, too.
Thanks again.