The MarTech landscape is vast and growing. In some ways, it's contracting – if you've been following the news, Marketo was recently purchased by Adobe in a massive deal that has the industry buzzing. With newcomers constantly looking for a footprint in the space, and the big guys diversifying their product lineup, it can be a bit confusing for marketers to stay on top of who's who (and what's what).
What started as a 150-piece puzzle in 2011, the Marketing Technology Landscape Supergraphic had a fraction of the number of logos as it does in today's version, which boasts nearly 7,000 logos. As 2018 winds to a close, 2019 will surely bring more logos to the table. This illustration is published by Scott Brinker of chiefmartec.com and is a curated from various sources to discover and categorize the players. NetLine is located under the Data column – Audience/Marketing Data & Data Enhancement. (Can you spot our logo? We dropped a pin for a hint. Click the image to view larger in browser:)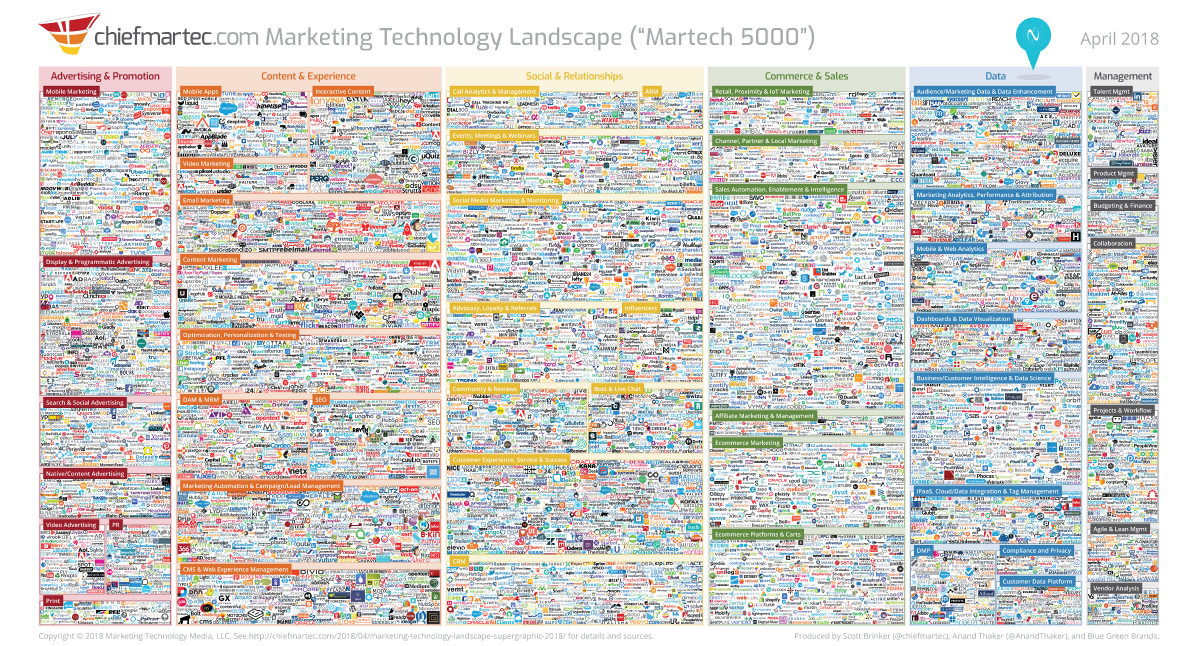 The significance of not only our inclusion on these graphics, but the exponential growth of this industry is certainly cause for discussion. Marketers are faced with so many nuances and variables when choosing vendors for their martech stack. To help you sort through the options and make sense of the logo-lunacy, here are a few tips for how to choose a lead gen vendor.
1. Evaluate what you have already
Sometimes, lack of training can be the greatest barrier to understanding more complex martech. If you and your team have already exhausted the YouTube training method and customer support isn't giving you what you need, chances are, there are other solutions that can make your life easier. Many solutions are really good at one specific function, with scantily developed, obligatory features in other areas. Find those gaps and connect the dots on what is critical to optimizing operations and helping your entire team (sales and marketing) to be more efficient.
For example, does your form technology feed into your CRM or MAS in real time? Are reports clear, customizeable and easily shared with team members or clients? If aggravating outputs are a daily struggle with your current solutions, chances are, that's why you're reading this list and there's a more streamlined option to build, track, and share campaign performance with ease.
If you're starting from scratch, you have the equally daunting task of sifting through the options and combating the unknown-unmet needs of your organization. We recommend starting on G2 Crowd to get honest and real feedback from users. G2 Crowd boasts, "491,300+ validated user reviews to help you make smarter decisions" on software and business services. This makes it a great starting point to hone in on who the big players are in the space and the pros and cons of using them. According to a recent Demand Gen Report survey, "45% of buyers are spending more time researching purchases compared to last year."
2. Define objectives
Nothing is more uninspiring than a how-to list that starts out with defining objectives however it is a necessary evil before sorting out these decisions. If your organization is focusing heavily on ABM and targeting specific individuals, there may be less value in spending on martech that supports or operates on a CPM basis. Funneling budget into impressions for B2B marketers can be a frustrating and futile spend that usually results in the old, "Well, brand awareness has value," discussion. If your objectives include more tailored, humanized outreach through content, you'll want to search for vendors that deliver leads, not impressions, and it's even better if you pay only for the ones you want.
3. Talk to sales
Part of defining objectives will inevitably involve a discussion with stakeholders and the sales team or leadership of business development operations. A comprehensive view on what sales does, doesn't do, or wants to use for achieving their goals should influence marketing's strategy. Without insight into how content is being deployed, marketers are operating in a silo. Marketers can learn a great deal about their content's resonance through connectivity with sales – if current systems aren't showing the downstream influence on leads, there are opportunities being left on the table.
To achieve greater visibility, your lead generation solution should have the capability to connect to CRM, MAS or other data systems – it's also nice when that setup doesn't involve developers. Once connected, lead disposition and pipeline conversion should be a more streamlined measurement. (Imagine, the annual marketing meeting where ROI is a solid number associated with each campaign initiative…)
4. Determine importance of flexibility
For smaller organizations especially, marketers are usually tasked with stretching their spend and ensuring that their tools support current and future needs. When sourcing lead generation vendors, marketers should consider the current and future capacity to support pipeline. If your existing lead generation technology is only an inbound solution that needs support from other outbound tactics, it can be challenging to consistently deliver or forecast pipeline. This is especially true with the peripheral outbound tactics only deliver impressions – it's a long road for content to convert in those instances.
Flexibility in lead generation means expecting to pay only for the leads you want, designed by your objectives and defined by your organization's sales strategy. It also means scaling lead quantity to fit the capabilities and size of a sales team. Can your lead flow be capped at spend or number of leads? That level of flexibility helps marketers, agencies and publishers have control over their pipeline.
Another layer to flexibility comes from filters – a vendor that provides hyper-filtering will deliver higher quality leads that are in-market and conducting research on your B2B product or service.
5. Speed
Typically, lead generation solutions that integrate with other platforms promise ease of use only to result in unexpected involvement of developers or IT support. If you're flighting campaigns for your own organization or on behalf of clients, inefficiencies are an unwelcome aspect of any lead generation strategy. Find tools that help clear the clutter and require less people to launch.
As a benchmarking tool, we tend to rely on "the time it takes to sip your morning coffee" as a solid measurement of efficiency. Building a form and a preview graphic of content happens before it's even cooled off enough for that first sip. Setting campaign filters, mapping and fulfillment setup are completed before you're finished and before you know it, leads start appearing in your reports.
Speedy reporting is another element that marketers should consider – if you or your client wants to track ROI or optimize campaigns, interactive reports, delivered in real-time, should be on your wish list. Here's a glimpse of some speedy reporting previews on our Portal:
From ongoing content creation built on personas and segmentation, to deployment and measurement of those assets, marketers have a lot to achieve and need solutions that make it possible. Knowing this and that the Supergraphic will continue to get even more Super, marketers have both the luxury and obligation to be picky about what they want in their martech stack. To start kicking the tires of a lead gen solution that checks all the boxes, try the NetLine Portal for free (and start piloting campaigns over that cup of coffee).
Or, learn more through a demo with an expert.