NetLine Corporation has just released enhancements to the NetLine Portal with capabilities that empower B2B marketers, focused on generating demand with content, to quickly gather lead insights for understanding content consumption behavior. The B2B content-based lead generation solution also now expands capabilities to help event-based marketers leverage our expansive network and hyper-targeting filter criteria to promote live events  for desired registration and attendance results.
Faster Insights. Faster Optimization.
Our reporting enhancements allow self-serve and full-service clients to quickly and confidently optimize their lead generation campaigns with our Real-time* Dynamic Reporting. Unlike excel-based reports, clients instantly receive in-depth insights to campaign performance, content resonance, and persona engagement, all on demand. Interactive visualization tools, such as dynamic pivot tables, heatmaps, and custom lead filter configurations offer a new level of transparency into content consumption behavior that helps improve campaign performance, faster.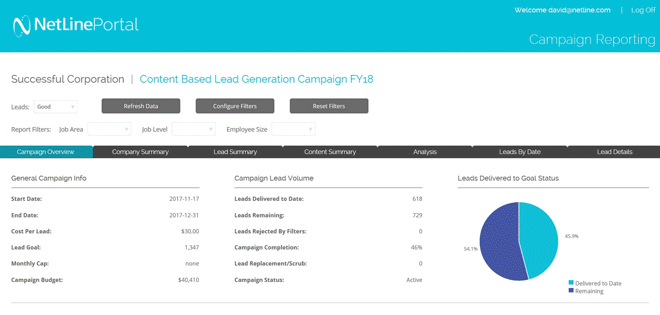 Static-based reports, regardless of the data volume, do not allow marketers to quickly dive into data sets. NetLine's dynamic reporting, however, offers full transparency into lead data and content performance. In turn, clients can fully understand their content's resonance and the readiness to purchase by their target audience. It can also help them adjust their content marketing strategy accordingly, leading to quick and sound campaign optimization.
In addition to the data summaries we offer our clients—campaign overview, company data, lead data, custom question data, and content summary—clients can now take advantage of the following capabilities:
Interactive Data Elements. All sections of the report are dynamic, allowing for deeper analysis of lead data. Pie charts, graphs, and data tables are clickable. Heat maps simplify identifying top performing lead filter segments.
Custom Data Configurations. Clients can drill into data subsets in the 'Analysis' section of the interactive reports based on pre-defined or custom lead filter configurations. Custom configurations can be saved for individual campaign reports, saving time with future analysis.
Additional Reporting. These additional reports are available to further analyze lead data:
'Analysis': Interactive Pivot Table Analysis with custom data configurations
'Leads By Date': Lead summary based on adjustable date frames
'Lead Details': Extensive filtering on lead data
Try it today by logging in or creating a free NetLine Portal account.
Grow event registration with an expanded audience.
Promoting live B2B events to the right audience just got easier. Whether launching a demo, webcast, or conference, marketers focused on driving event awareness can leverage NetLine's expansive content syndication network and hyper targeting capabilities to increase registration and attendance.

New offers included*:
Live Demo
Live Event
Live Virtual Conference
Live Virtual Event
Live Webcast
Live Webinar
Do you have any events coming up? If so, try our new feature today and benefit from our new dynamic real-time reports to identify interested registrants—go now.
Create your free NetLine Portal account now to take advantage of these new features and capabilities.
Questions on how to generate quality leads with content? Connect with our lead generation experts.
*Real-time reporting is updated every 30 minutes upon content registration.