In the B2B marketing world, there are endless perspectives on how to captivate an audience. Whether you're selling a sweet new widget or a specialty service, there's always a fresh approach to converting prospects in the digital landscape. Just when you think you know what to do next to grow your business, another philosophy emerges to dissect and destroy your strategy. So, what's a marketer to do?
When it comes to helping marketers find success, NetLine's SVP of Audience and Product, David Fortino posits a fairly resolute theory – and that is democratizing lead gen. This is the notion that B2B marketers across industries and company size should be able to control and influence lead generation for their unique goals. The underlying philosophy is that regardless of revenue, organizations should have the same access to a more premium level of targeting and controls. Influence shouldn't only be available to the big dogs! Democratizing lead gen means any size company can have a voice in the increasingly competitive content universe.
Similarly, our friend Newell Thompson, SVP of Sales and Marketing at Fabl, employs this concept in the development of engaging voices for brands at any point in their lifecycle. Fabl is a cloud-based publishing platform that allows any size organization to emerge or reinvent itself with compelling webpages. More than a website, Fabl is a tool to that helps brands showcase their story.
David and Newell swapped notes on content marketing, demand generation, and their views on supporting marketers to grow their businesses. Enterprise Marketer got the two together on the floor of CMWorld: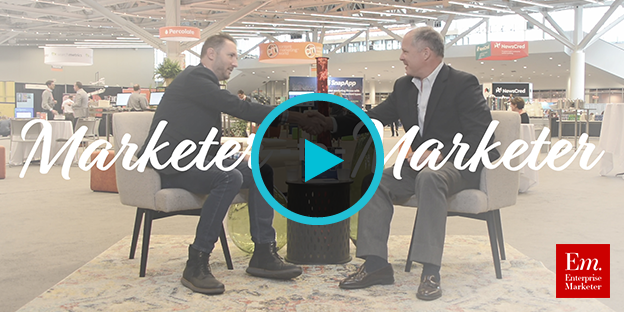 Highlights from the Transcript
Debunking Social Media as Viable Lead-gen Tool
[NT] Is social a viable way to generate B2B leads?
[DF] So mixed message here, and I apologize in advance. I would say LinkedIn is great if you are willing to do the work. What I mean by that is that you need to cultivate explicitly who you're trying to target and inherently tie your media execution to a model that supports efficient and cost-effective lead generation. What LinkedIn sells to marketers is not that. LinkedIn sells you a product that's specifically about lead generation. They position it as a lead-gen tool, but they comically charge you on a CPM basis. To me, that's kind of diametrically opposed.
Empowering Marketers through Self-Service Culture
[NT] […] Creatively, I'm spinning out of a legacy publishing career into Fabl. My biggest challenge working in content creation in a brand studio was time and effectiveness of getting the story out the door in an efficient manner. All the back and forth edit approvals, legal, compliance. What Fabl does is it compresses the production cycle and makes it easier for producers and creators to get the content out the door, again, understanding the creative beauty and immersive nature of the platform we've built.
[DF] Absolutely, that's huge. We've seen something very similar in enabling marketers, giving them the tools to actually launch a content-based campaign, which would typically take, if you're talking about deploying a lead-gen campaign in market, historically, that was done through insertion orders and RFPs, sales teams, client services teams, production teams, audience teams. All of that's been streamlined and theoretically can be done in minutes and it's been a huge evolution in the marketplace and something that it's cool to see being mimicked in all these various nuances or lines of business within the ecosystem of content marketing.
[NT] I think for Fabl, we can participate in a variety of different sizes of company, et cetera, and we are largely a DIY tool for those people who understand creative production, but we also have to offer those back end services for clients that again, going back to the time issue, they think they want to get inside the tool and use it but at the end of the day, if we can nurture them, and we've seen some of our clients, now that they've been using it for a year, they're showing us how to use the tool, because their creators are asking us for things and we're ideating and iterating with them so that our products, as mutually beneficial, the information flow back and forth, we're getting better and they're getting better at the same time. I'm sure that that happens on your side.
[DF] Absolutely, yeah, that's huge, with the advent of the self-service product, I mean, I always talk about this internally is that people never really interfaced with NetLine as a tangible product. It didn't exist. We delivered data, and data's not sexy. Data, many times, our marketers, our customers, wouldn't actually even look at it, it's being fed real-time into their marketing automation systems, so they're seeing counts, they're seeing reports, but they weren't seeing us. They had phone calls and emails with our sales team and our client services team, and we've really changed that, so regardless of whether you're full service or self-service, you are now interacting with NetLine, a tangible product which also allows for feedback, so this a huge part of the productization roadmap ideation around where we're going.
More about Newell Thompson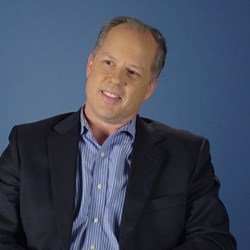 As the former VP/Marketing at Time Inc., Newell is an experienced media professional with nearly two decades in the publishing industry on his resumé. Newell has led native and custom content development and implementation across Time Inc.'s news and sports brands.
Under his leadership, this team launched the Fortune Knowledge Group, built a multi-million dollar video business, built and monetized strategic partnerships with the National Urban League, Wounded Warrior, PGA TOUR, Girl Scouts of America, and many others. Prior to his most recent stint at Time Inc., he worked with a social commerce start-up and consulted with a handful of early-stage technology companies, such as JagTag, Moontoast, and DivX. Newell's experience includes sales and marketing posts at Gannett, Condé Nast and National Geographic, as well as other positions at Time Inc. Newell is currently the Senior Vice President of Sales and Marketing at Fabl.

Marketer-to-Marketer is a series showcasing the expertise and ideas of professionals in the marketing industry and is presented by Enterprise Marketer.
Enterprise Marketeris an online community, sharing content and expertise from across the industry.