While the purpose of most marketing events is to make new connections, our favorite part is when we run into existing (and awesome) connections. After the bustle of setting up for B2BMX in Arizona, we were excited to see the smiling, familiar face of our marketer pal and client Jason Hinojosa, Account Based Marketing Manager at Icertis. There's nothing better than starting off an event with a client's enthusiasm for what you do. It made us so happy, we got this awesome picture to remember the moment: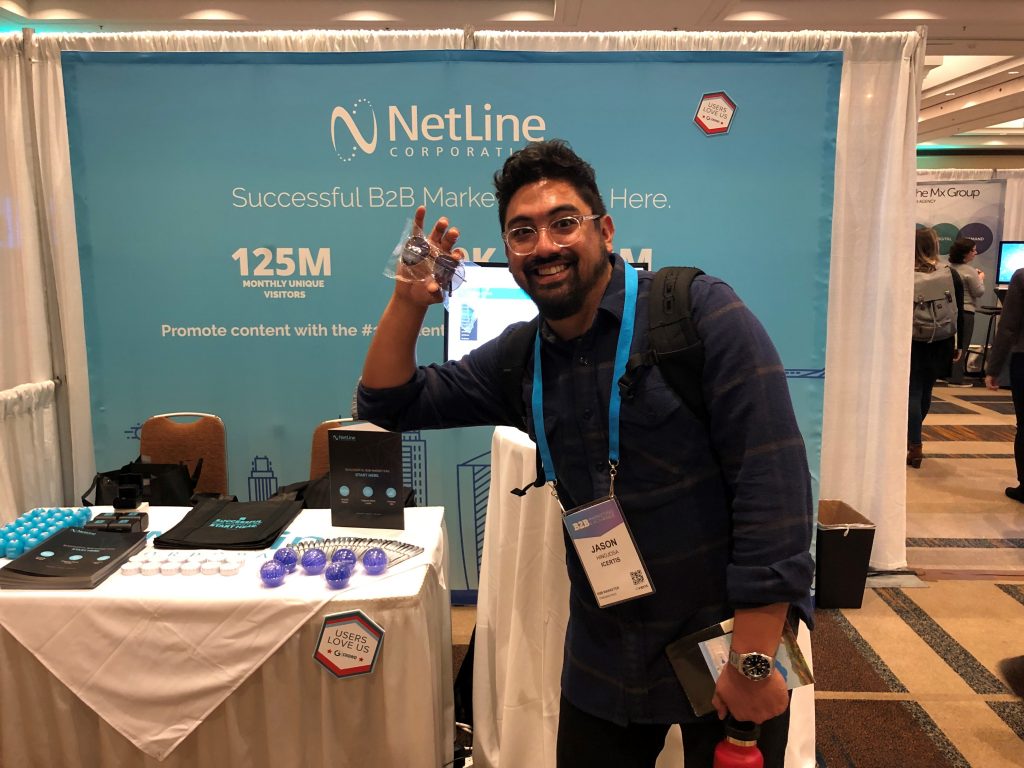 We thought everyone else should experience how great it is to know Jason, so we asked for his input and expertise on the Marketer Showcase. Behold, the latest installment of our Showcase feature.
How does content marketing fit into your overall marketing strategy? 
As an organization that is working to develop a software category, thought leadership is a huge focus of our content strategy. Recent advancements in technology have led to a huge shift in how organizations manage their contracts. They are no longer static documents that sit on someone's desktop. Using technology like AI, blockchain and the cloud, contracts can now be used to make strategic business decisions. We use our content to tell this story.
What are your top performing pieces over the past year and what are the KPIs used to measure performance of those assets?
Our guide to contract management, which is a 101-level white paper describing how enterprise contract management works across a variety of industries. Since we use NetLine for top of funnel engagement, we measure accepted contacts added to our database, campaign influence pre-opportunity, and campaign influence on won deals.
How has content marketing evolved over the past few years? 
Early in my career at Icertis, our main focus was on educating people on the benefits of enterprise contract management. As the category gained traction, we are now working on case studies and industry specific content to really highlight our value.
How do you use NetLine as part of an overall strategy?
We use NetLine for user acquisition for our ABM programs. Driving awareness within your target account list is foundational for any ABM program. NetLine allows us to find contacts at companies with no or little engagement with Icertis so we can include them in other marketing campaigns.
In addition to using NetLine, what are your other strategies for lead generation?
We use paid search, SEO/SEM, review site referrals, social media marketing and online and in-person events.
How has content syndication affected your approach to lead generation? 
It's allowed us to find the right contacts within the right organizations at scale. Marketing for an organization with long sales cycles, the most important thing is finding the right people and building programs that reach them at the right frequency over months. Content syndication gives us a steady flow of these contacts that we can then use to power other marketing programs. Because we were able to fine tune our targeting parameters in NetLine to be very precise, we exceeded our top of the funnel lead goals by over 100%.
Describe the normal path that a lead follows once it has been captured via one of your gated assets.
Once we capture the lead, it gets mapped to one of the accounts in our CRM, and then depending on where that account is in our sales funnel we serve them programmatic display advertising.
Of all the marketing approaches available, which one has staying power in your strategy?
ABM. B2B marketing for large enterprises is no longer a numbers game. To really gain traction in this sector, we need to add a more personalized approach to our marketing mix.
Any words of wisdom to share with your marketing peers?
Never stop being curious. The rate of change that we are experiencing in marketing is not slowing down any time soon. To have longevity in marketing, stay up to date on new techniques and don't be afraid to experiment.
In your marketing career, what has been your greatest marketing success? Why? 
It's still in progress so I can't say it's a success or not, but the work I'm doing to help Icertis build out their ABM program has been one of the most rewarding experiences I've had in my career. Rarely does one have the opportunity to design a program with this much impact from scratch. From determining the tech stack, to executing campaigns, defining success metrics, and working to evolve techniques, I've had a chance to do it all.
Describe your workspace.
Open office. Marketing team sits together and we have lunch together.
What productivity tech/app do you rely on the most?
Spotify, Microsoft Teams, Outlook and Dropbox.
Who are your greatest marketing influences? 
Gary Vaynerchuk, David Ogilvy, Jonathan Mildenhall, Kanye West
Coffee or tea?
Coffee
When are you at your best?
In the morning, after my first cup of coffee.
About Icertis:
Icertis, the leading enterprise contract management platform in the cloud, solves the hardest contract management problems on the easiest to use platform. With Icertis, companies accelerate their business by increasing contract velocity, protect against risk by ensuring regulatory and policy compliance, and optimize their commercial relationships by maximizing revenue and reducing costs. The AI-infused Icertis Contract Management (ICM) platform is used by companies like 3M, Airbus, Cognizant, Daimler, Microsoft and Roche to manage 5.7 million contracts in 40+ languages across 90+ countries.