It's our favorite time of the year: Report season.
For the past 5 years, we've been sharing first-party backed content consumption data from the previous 12 months (in this case 2020), providing B2B Marketers like you with the latest and greatest around the Who, What, When, Why, and How of Content Marketing.
Not only do we get to share an entire year's worth of consumption data with the B2B industry, but we also get to sink our teeth into a brand new set of data points, trends, behaviors, and surprises. 
Given the many audibles this year caused us to call, we're eager to share our findings with you.
Introducing the 2021 State of B2B Content Consumption and Demand Report for Marketers
Of course, it should be said plainly that 2020 was a very rough, abnormal year for the entire world. Naturally, there were going to be a lot more surprises in this year's annual report compared to others. 
Therefore, it only makes sense to begin our analysis of NetLine's 2021 Content Consumption Report with the #1 topic from the past year.
How COVID-19 Affected B2B Content Consumption
You cannot talk about 2020 without talking about COVID-19. No matter how hard we tried to uncover other major influences, (which, of course, are there in very small doses) each and every data point we unearthed and analyzed was tinged by it. 
As we mention in the title, the rush to learn more about the virus and the impact it would have on business lead to a 22% surge in overall content consumption. Data that we analyzed in How COVID-19 Continues to Impact B2B Content Consumption found that the total demand for B2B content rose by 49.8% in May—even filtering out Coronavirus content yielded a 41.6% increase during this time. B2B pros were hungry for information.
In the report, we further highlight this in The Elephant in the Room, where we focus on consumption between February 1 – September 30, 2020. We chose this period for two reasons:
This is when the most interest in Coronavirus-related content was at its peak

This is when many professionals were limiting their time outside of the home and the most municipal restrictions were in place
Given the nature of COVID and how society bunkered down, the biggest changes occurred around remote work, collaboration software and security, and everything to do with HR.
Overall, this period represented a rush by B2B professionals to consume information. The amount of content requested during this 8-month span equaled 83% of 2019's total volume of consumption. Incredible.
During this time, 5 new industries entered the 10 Most Active Industry Audiences:
Manufacturing

Retail and Consumer Goods

Service Industry

Corporate Services

Construction



Given the direct impact that these professions felt during the earliest days of The Pause, this is significant. These industries needed to learn how to cope with the new realities of what it took to survive and how to properly respond to the needs of their employees and clientele.
The New Equation for Content Marketing Success
COVID-19 did a number on the way humans interacted with the world. Now, more than one year in, we've noticed plenty of changes, specifically around how business behavior has evolved. 
Our research uncovered 3 core elements of what it will take to successfully create, market, and convert through B2B Content Marketing in 2021 and beyond: Security, Predictability, and Simplicity. 
The primary connector here is trust. While trust has always been a pillar of every business relationship, COVID underscored just how crucial it truly is. 
By focusing on these principles, businesses can structure themselves in ways that protect their ecosystems, be better able to anticipate what's coming next and how they'll fare, and reap the benefits of sweating the small stuff.
Does Time Still Matter in Content Marketing?
This is still one of the industry's most favorite questions to ask. 
In 2019, Tuesdays and Wednesdays were the best times to reach B2B audiences. In 2020, with so many people working from home, with hours likely being quite flexible in most cases, you were basically just as likely to have someone requesting content on Monday as they were on Thursday. By two-tenths of a percentage point, Wednesdays were still the leader, but at this small margin of "victory".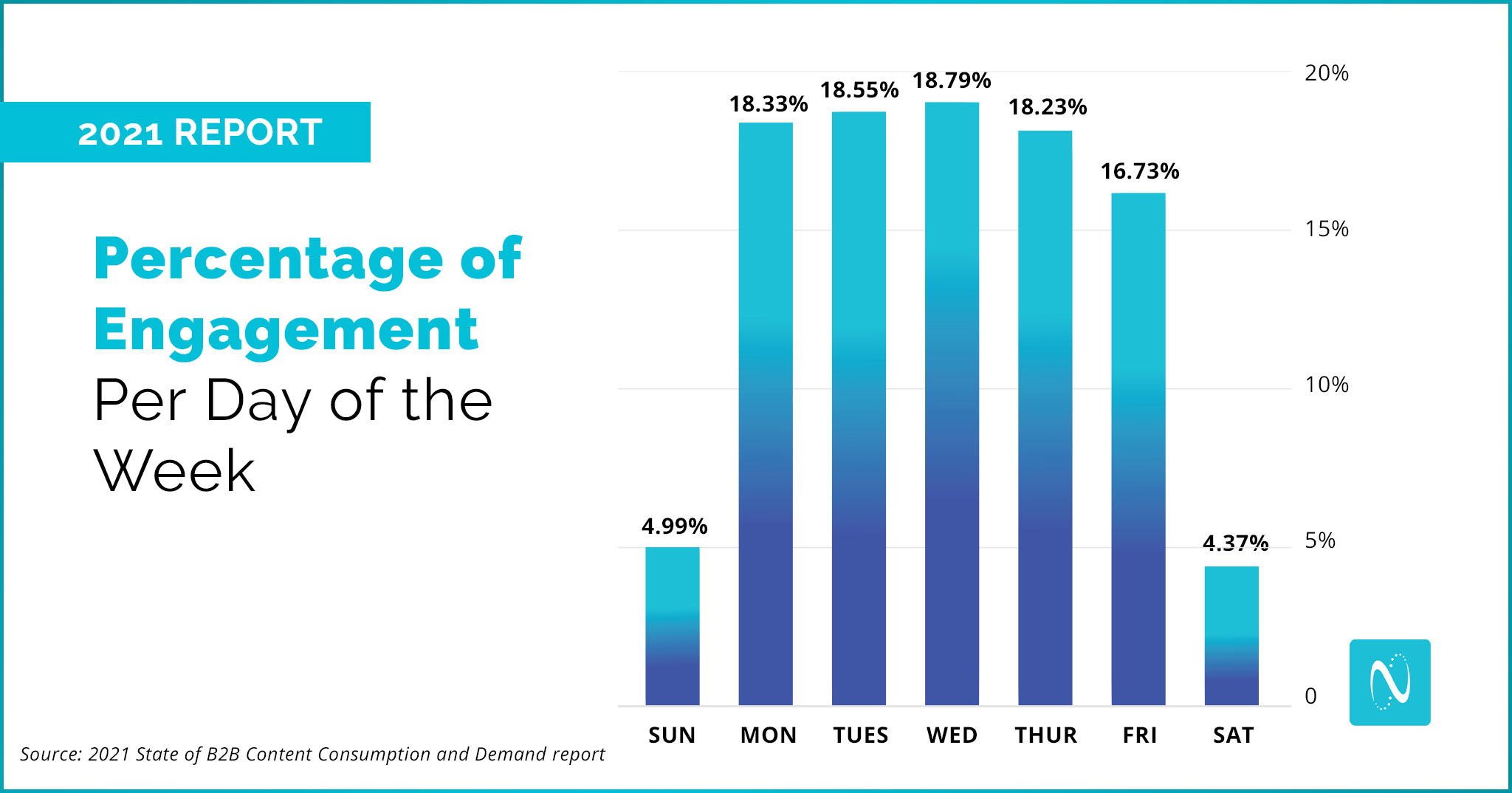 HR and IT Were the Most Requested Content Topics Overall
In past reports, there was one major data point that we realized was missing: What was being consumed. 
One of the major themes of 2020 as we noted in our COVID Impact Series was how businesses would adapt and evolve to the long-term realities of having so many, if not all, of their employees working remotely. All of this activity led directly to a surge in WFH content consumption, which accounted for 2.2% (roughly 100,000) of all registrations.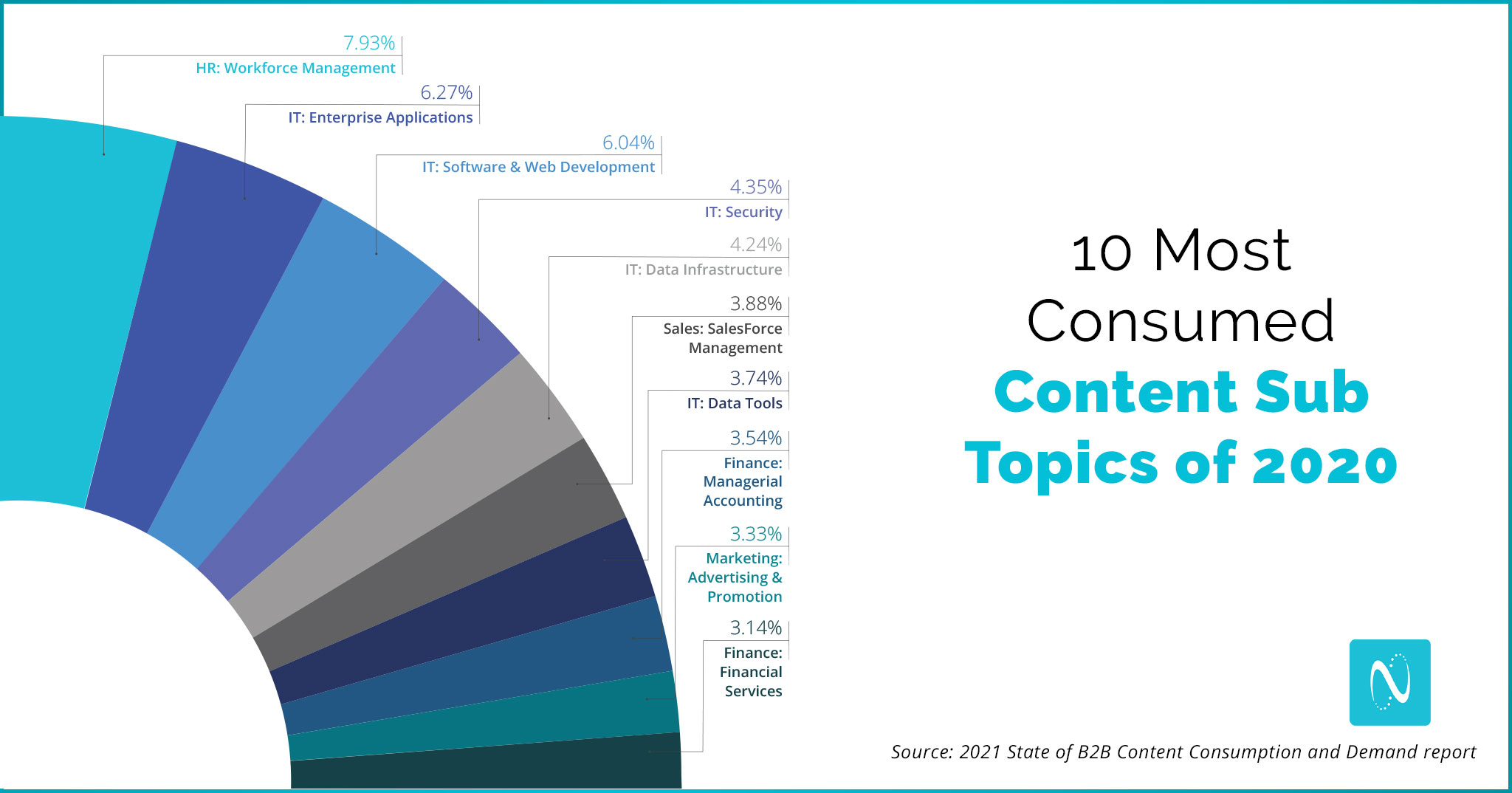 What we can glean from this information is that with so much happening in the U.S. specific to healthcare reform, insurance benefit alterations, and every other policy decision out of Washington, Human Resource teams have their work cut out for them. This won't be changing in 2021, either, given the massive changes happening within the workforce thanks to COVID-19.
Webinars Ruled
With so many of us working virtually, the use of Webinars skyrocketed in 2020. By April of last year, ON24 reported that they'd observed a 333% increase in overall webinar attendance. By the time the year ended, audiences had consumed 249% more Webinar content than the year prior.
But what does all of this mean for the future of webinars as a viable content medium? Well, first of all, quite a bit.
The loss of face-to-face interactions accelerated digital experiences, meaning that Webinars became a major part of a Digital-First Marketing strategy. This prominence led webinars to become the 8th most requested content format of 2020, with overall registrations increasing by 49%.
On-Demand Webinars generated 36% more registrations than Live Webinars, indicating the longtail value in this format. B2B Marketers clearly saw the value Webinars have to offer, as NetLine observed a 103% increase in Webinars uploaded to our platform. 
While burnout is a real threat, Webinars aren't slowing down in 2021. We expect to again see another bump in the world of Webinars when we publish the 2022 Report.
What Your Business Can Learn From The 2021 Content Consumption Report
The true answer here would be that it depends. But that would be both a lame and cowardly way of ending this announcement blog. 
What we believe B2B businesses and content marketers, specifically, can learn is that no matter how large or small your target audience, there is a sweet spot that you can occupy if you pay attention to the story the data wants to tell. 
If you're a no-nonsense, data-minded marketer with a fearless determination to navigate the complicated content consumption ecosystem and drive lead gen success, especially in the midst of the strangest business outlook in modern history, look no further. Gain a competitive advantage with our 2021 State of B2B Content Consumption and Demand Report. Let this first-party data lend a strong helping hand in building and optimizing your strategy.

The 2021 State of B2B Content Consumption and Demand Report for Marketers is yours for free. We thoroughly hope you both learn from it and enjoy it.