This year our team could not wait to escape the rainy season in San Francisco and head out to sunny Scottsdale to mingle with some of the brightest minds in business-to-business marketing. The 2017 B2B Marketing Exchange Conference gathered marketing geniuses from all over the world to discuss the latest and hottest marketing trends such as Account-Based Marketing, Sales and Marketing Alignment, and the importance of personalization.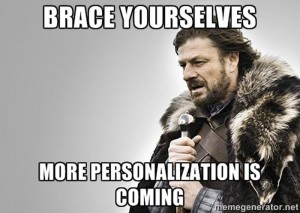 The event delivered powerful messages, strategies and insights for B2B marketers in 2017. One of our favorite topics: Personalization.
Between the event's breakout sessions, 'Birds of a Feather' lunch sessions, and our one-on-one booth discussions – all attendees received a welcoming dose of personalization.
Meet the K.I.S.S.ing Experts

Speaking of personal – and no, we weren't offering free kissing lessons; our NetLine team of "K.I.S.S.ing Experts" spoke with marketers about keeping content syndication lead generation smart and simple. On display was the newly released NetLine Portal "How It Works" video.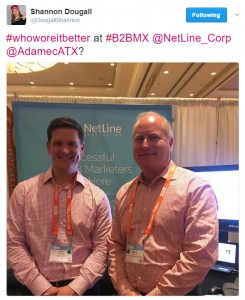 Our team shared countless demos giving attendees first-hand experience of how simple the NetLine Portal is to use.
But, it wasn't all work…we even had a #whoworeitbetter contest. Needless to say, Jeff and Mark from our Rock Star Sales Team tied for best dressed. Thanks for the twitter shout out Shannon!
Sessions that Inspired
Influencing the Influencers: Top Trends & Best Practices for B2B Marketers by Lee Oden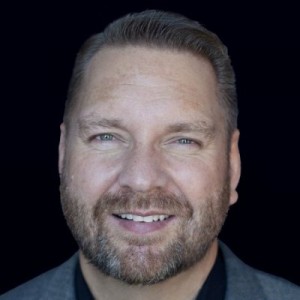 Lee Oden of TopRank spoke about why B2B marketers should continue to connect with customers and how to reach through the noise and beat the growing issue of ad blockers. Oden's key recommendation was to forget mass messaging and focus more on influencer marketing.
"Credible experts with extensive reach help brands engage buyers in a more meaningful, personalized and humanistic way." – Lee Oden
It's Not About B2B or B2C, It's All About H2H (Human to Human)
Much of today's marketing strategies focus too much on short term influencer campaigns rather than long term relationships that drive greater ROI. With mass messaging, we miss out on the personalization aspect that our audience is craving. It's Marketing's job to personalize individual conversations to build trust and long term relationships.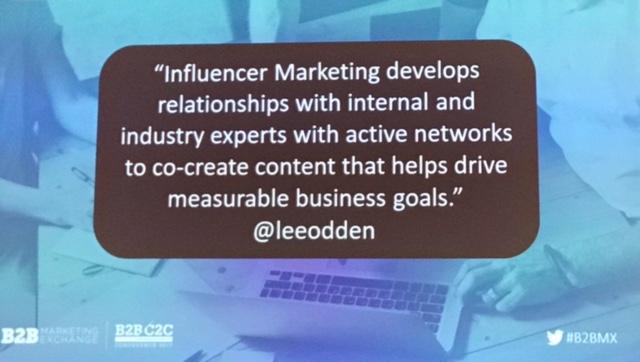 "Influencer Marketing develops relationships with internal and industry experts with active networks to co-create content that helps drive measurable business goals." – Lee Oden
Building Trust
Influencer Marketing doesn't just help you reach new audiences; it also lends credibility to your brand and makes it easier for you to build trust with future relationships.
47% of online consumers are using ad blockers which gives brands and businesses even more reason to focus their attention on influencer marketing.
Influencers  easily capture attention because the size of their audience-base instantly demonstrates "thought leader". The larger the audience, the stronger the perceived value. Leveraging thought leaders to enhance your story-telling enhances the personalization and connection to the targeted audience, thereby building their trust.
Mission Critical: Customer Retention & Renewal Messaging by Tim Riesterer
Speaking of trust, what about the loyal customers that trust your organization to solve their problems? Whether that means improving the demand generation strategy of B2B marketers, or something else; your customer has chosen you because they trust you.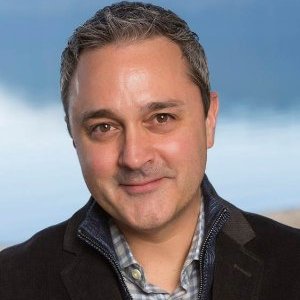 Tim Riesterer of Corporate Visions explained that B2B Marketers are failing to understand the urgency to craft distinct messages for their repeat customers and thus neglect to incorporate this into their overall marketing strategy. Instead, they rely on their demand-driven messages delivered at rapid-fire to engage prospects. Personalized messages targeted to existing customers, whether they come from customer success or sales teams, or are triggered by product engagement, can make the difference between a loyal customer and a lapsed user. And we all know what happens when you have happy customers—they not only come back for more, but they share their experience with their colleagues, inevitably contributing to your customer acquisition strategy. A win-win for all.
Talking to Your Customers vs. Convincing Prospects to Become Customers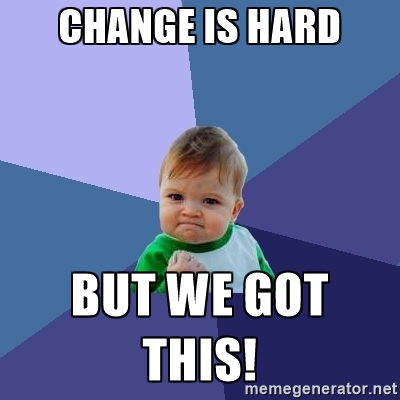 When we create messages for new prospects, we are essentially asking them to change their behavior. It is less about convincing prospects why they should choose you and more about convincing them to overcome their resistance to doing something different. Change is hard, which is why the biggest threat to you as a marketer isn't the competition so much as it is customers' existing perceptions.
Provocative messaging is most effective when we try to disrupt the status quo. The messaging needs to introduce "unconsidered needs", which are those that exist but customers aren't aware of yet. It is less about convincing prospects why they should choose you and more about convincing them to overcome their resistance to doing something different. This offers opportunities for B2B marketers to identify unique problems and speak to them by speaking to solutions that only their product can deliver.
Renewal business is critical to driving growth and long term value – that means companies need to ensure that the renewal story is just as effective as the acquisition message.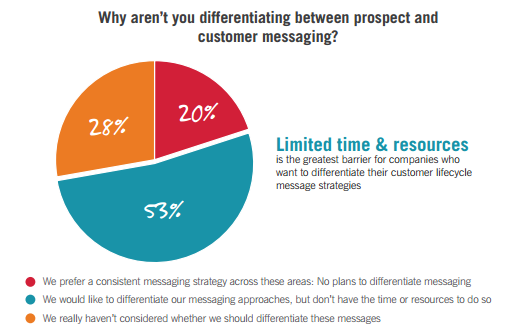 So, what are the must-have elements of a compelling retention message?
1)      Reinforcement: Remind customers of the process they went through to reach their original buying decision. This reinforces their original commitment.
2)      Anticipated regret and blame: Remind customers of the time and resources it takes to ramp up the solution they purchased as well as the time to onboard properly.
3)      Perceived cost of change: Walk customers through the startup costs that have now been returned through improved performance. People tend to believe that change costs more than staying the same – confirm that.
4)      Acknowledge selection difficulty: Confirm that offerings haven't changed since their original buying decisions. People are less likely to consider change if they don't discern contrast between alternatives.
Instead of challenging customers to discover our value throughout their customer journey, marketers must reinforce it and give purpose to their loyalty. Save the provocative messages for your customer acquisition story.
Check out this amazing #keynotesink visual of this session, illustrated by Quarry: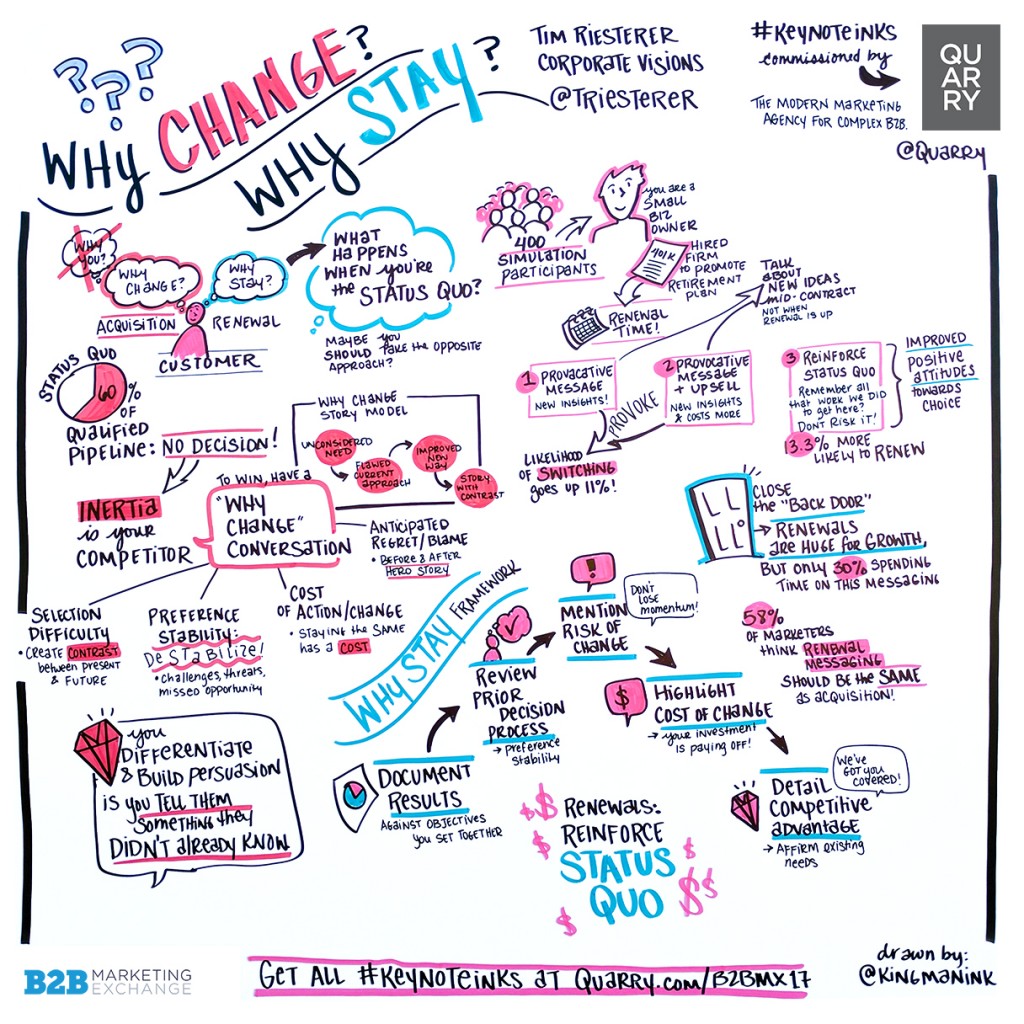 It's Sunny with a Chance of Leads – NetLine Round Table Discussions

We were thrilled to be joined by so many smart and motivated marketers at this year's "Birds of a Feather" lunch sessions. The round table discussions were packed with marketers ready to learn how to take their content marketing efforts to the next level with content syndication lead generation. Both days of discussions boasted great questions, connections and even immediate customer relationships. Thank you to all those who came out to chat with our lead generation experts!
If you didn't get a chance to join our round table discussion – let's chat! Tell us what you're interested in learning more about.
Lead Generation Success for All B2B Marketers, with Content!
As we watched the crowds flow in and out of the expo hall in between sessions, we eagerly formed relationships with fellow marketers that gave us greater insights into their struggles as content and demand generation marketers – and most importantly their urgent need to generate quality leads that make an impact. One thing was certain, there was no shortage of warm and eager marketers excited to learn more about content syndication lead generation.
Thanks for the memories C2C! Special Thank You to Demand Gen Report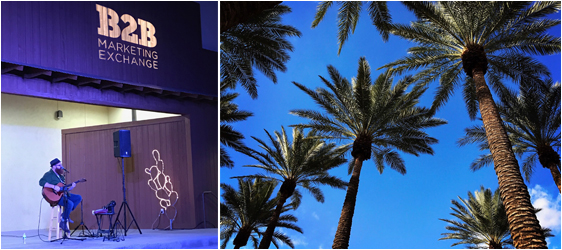 From sunny skies and palm trees, to incredible opening reception music, and lunch security by the famous Arizona eagle – we are happy to report that we left the conference with strategies that will set us B2B marketers up for success in 2017. Thank you to all the marketers, thought leaders and executives that shared their content marketing strategies and more importantly allowed us to share our solutions with them.
And most importantly, thank you to our friends at Demand Gen Report for putting on such an excellent event. Can't wait for next year!
An Invitation to B2B Marketers:
I would like to personally invite you to create a free account and see just how simple it is to run targeted content syndication campaigns to generate quality leads with the NetLine Portal. It'll be the best 10 minutes you've invested towards your demand gen goals. Try it now