Since 2016, we've published our annual content consumption report with a few core pieces of information with the goal of improving upon the prior year's efforts.
This year, in our sixth edition, we've not only raised the bar, but we've also delivered an entirely new set of must-see data points to the party.
Introducing the 2022 State of B2B Content Consumption and Demand Report for Marketers
Inside these 65 pages (which makes this report our grandest by more than 10 pages), we analyzed more than 23 petabytes worth of content, resulting in 4.6 million first-party registrations—a 9% increase YOY.
NetLine's research unearthed dozens of incredible insights into the behaviors of B2B buyers.
Here are a few key highlights from this volume:
Professionals registering for webinars are 29% more likely to make a purchase decision within 6 months.

Consumption within the Information Technology industry—the largest audience across NetLine's platform—increased 7.1%.

Even though eBooks were the most in-demand format for users (representing 43.3% of all registrations), B2B Marketers promoted 20% more White Papers than eBooks.

15.2% of B2B professionals expect to invest within the next 6 months.



That last bullet is quite weighty, no?
In analyzing these 4.6 million first-party registrations, we discovered a number of intriguing facts: Interest in content regarding remote work was threaded throughout many content assets; professionals were searching for peace within their work and personal lives; simultaneously, our peers were doing our best to keep up with the ever-shifting sands of the digital workplace through B2B content.
However, there was one thing we uncovered in producing this report that we'd never included or had access to before: Buyer-level intent data.
~31% of B2B Buyers Are Investing Within the Next 12 Months
The competition in the B2B Marketing space is quite fierce, as strategies and tactics once thought of as solely for B2C business have crept into its brethren's side of things. With all of these campaigns and ad budgets to compete against, how great would it be to actually know "Who" you should be reaching? Buyer-Level Intent Discovery solves that conundrum.
With access to the largest B2B content library on the web, we were able to analyze nearly 25k individual responses from the past year, yielding 72k first-party buyer-level intent insights revealing where B2B professionals actually reside within the buying cycle.
Aside from the report's worth of takeaways we detail in the report (which is essentially a report within a report), the biggest takeaway is this: 
Content consumption is directly connected to investment within the next 12 months. The more your audience consumes, the more likely they are to be closing in on a purchase decision. 
Now that we've established the baseline, we want to share two key observations.
eBooks Were Requested 484% More Than White Papers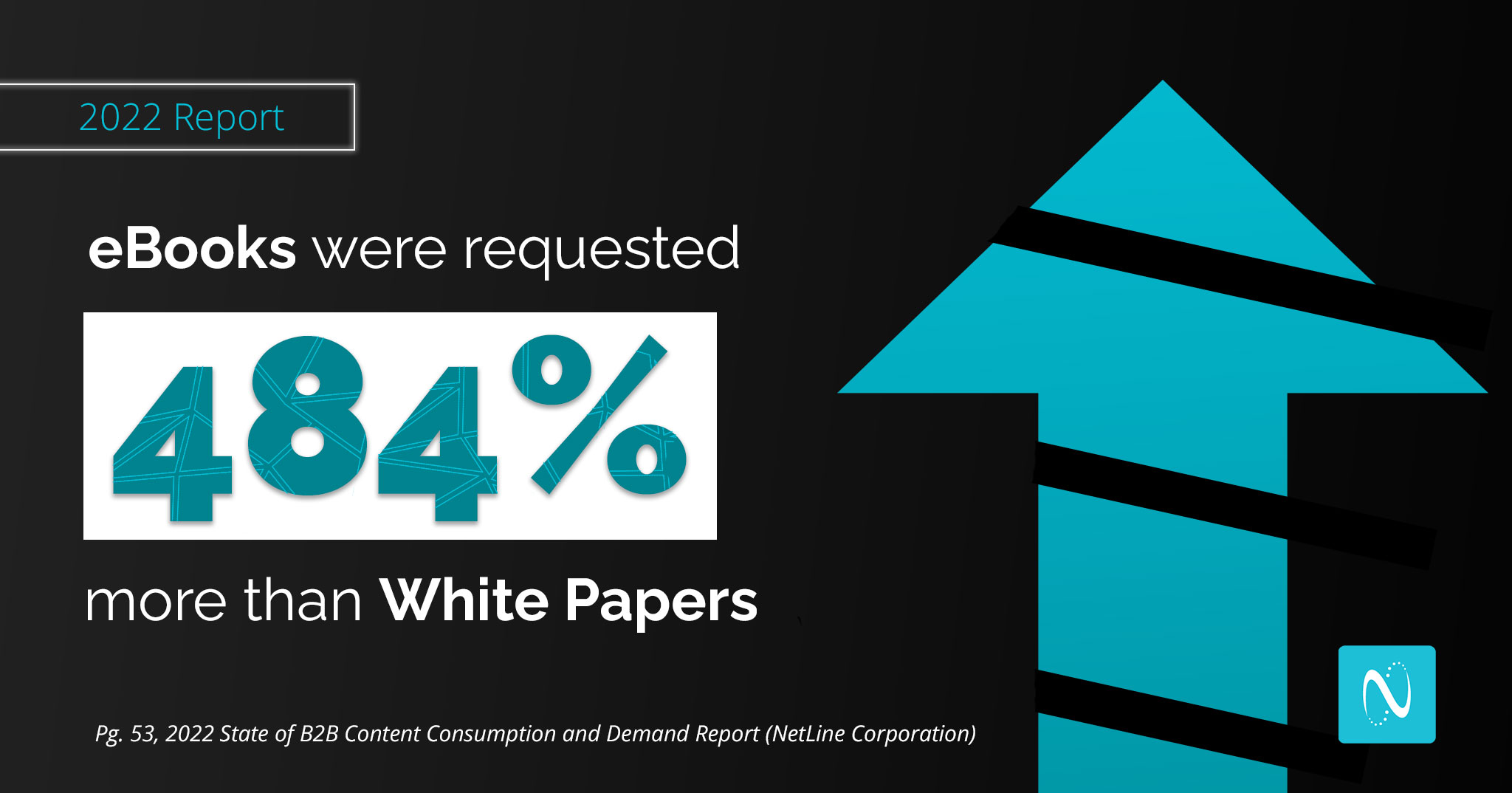 For years now, eBooks have been the top dog in terms of user registrations. In 2021, overall eBook registration volume grew 15.5%, accounting for 43.3% of all downloads.
To emphasize just how dominating the eBook format is across the B2B content ecosystem among users, Guides, Cheat Sheets, Tips & Tricks Guides, White Papers, Research Reports, Kits, Webinars, and Checklists combined still represent a smaller number of registrations than eBooks.
However, while eBooks were the most popular format for users—eBooks were 4.8x more likely to be downloaded in 2021 compared to White Papers—Marketers were smitten by White Papers once again, promoting 20% more White Papers. Quite the major difference in supply and demand, no?
But knowing that Marketers strive to make data-based decisions whenever they can, why would content creators focus on a medium that doesn't yield as many registrations?
The Relationship Between Buying Journey and Content Format
Simply knowing that eBooks are the most popular content type doesn't shed light on whether eBook registrations (or any other format) directly correlate with greater buying intent.
By overlaying consumption data and intent signals, we were able to identify behaviors that allowed us to make a rather significant statement:
If a certain format is being requested within an immediate buying window (anywhere between 0-6 months) while concurrently being ignored by those who aren't looking to make an investment within the next 12 months, chances are that requests of said content format is a strong indicator of buying intent.
Based on this data, we can suggest that White Paper registrations are a greater indication that a user is in the later stages of a purchasing decision.
This is a major discovery for B2B Marketers and Sales pros alike. Truly, this information is what Content Marketers and decision-makers are most interested in.
From this correlation, we've categorized 14 unique content formats with two distinctions of Immediate Buying Decision Association: More Likely and Less Likely.

| Content Formats More Likely Associated with Immediate Buying Decision | Content Formats Less Likely Associated with Immediate Buying Decision |
| --- | --- |
| White Papers | Tips and Tricks Guide |
| Survey Report | eKit |
| Tool | Course |
| Research Report | Newsletter |
| Analyst Report | eBook |
| On-Demand Webinar | Book Summary |
| Live Webcast | Cheat Sheet |
It's also worth commenting on the connection between format "weight" and purchase intent. Take a look at the formats in the More Likely column and note how information-rich they are. No one is expecting a Research Report, Webinar, or White Paper to be something consumed casually. Conversely, the Less Likely column features the opposing format styles, meant to be consumed and absorbed quickly.
Therefore, the longer a piece of content is (or is perceived to be), the more likely it is to be requested by a user trending towards a purchase decision.
Webinar Promotion Increased 69.8%
Speaking of long-form content, Webinar registrations (+63% YOY) nearly matched Webinar promotions (+69.8% YOY), meaning there's a healthy supply of demand for the medium. On-Demand Webinar registrations increased by 45%, generating 40.75% more requests than Live Webinars. Virtual Event registrations were the big winner, however, seeing a 139% YOY increase. With the world trending more and more towards hybrid events and strategies, this is a terrific sign that the webinar medium is sustainable. Events hold an important place in the Marketing landscape, but when we're looking at the return on your time, quality of data, and pipeline generation, Webinars hold the upper hand.
What should further excite B2B Marketers is that our buyer-level intent data showed that professionals who register for Webinars are 29% more likely to have a purchase decision within six months of registering for the content vs. any other content format. Webinar attendees are definitely prospects you need to keep a very close eye on!
Learn More About 2022 B2B Content Marketing Trends
The work that goes into our annual report is an effort that is unmatched across the rest of the calendar year. For the past four months, we've been working each day to uncover the best insights available within our vault of first-party consumption data. It's our distinct pleasure to share this work with you.
We promise you that there are insights and stats within this report that will change how you market in 2022.
NetLine's 2022 Content Consumption Report is now available for download. We hope you learn a thing or two.