This blog features research from NetLine's annual State of B2B Content Consumption and Demand Report for Marketers. To learn more about the buying behaviors of B2B professionals, download the 2021 Content Consumption Report.
---
As we were putting the finishing touches on the 2020 State of B2B Content Consumption and Demand Report for Marketers, the world went belly up and seemingly changed forever.
Naturally, we were concerned that the report we'd just completed and worked so hard on was suddenly rendered obsolete; one senior Marketer even said as much. While we scratched our heads and made adjustments where we could, there was one section we got right long before March 11, 2020: The future of webinars.
Webinars Were On-Pace to Breakout Before COVID-19
Beginning in 2018, Content Marketers saw how effective webinars were at driving bottom of the funnel engagement with prospects and began producing more of them, leading to a sharp rise in overall production. Between 2018 and 2019, Webinar production saw a 64% increase, more than doubling in availability across our platform.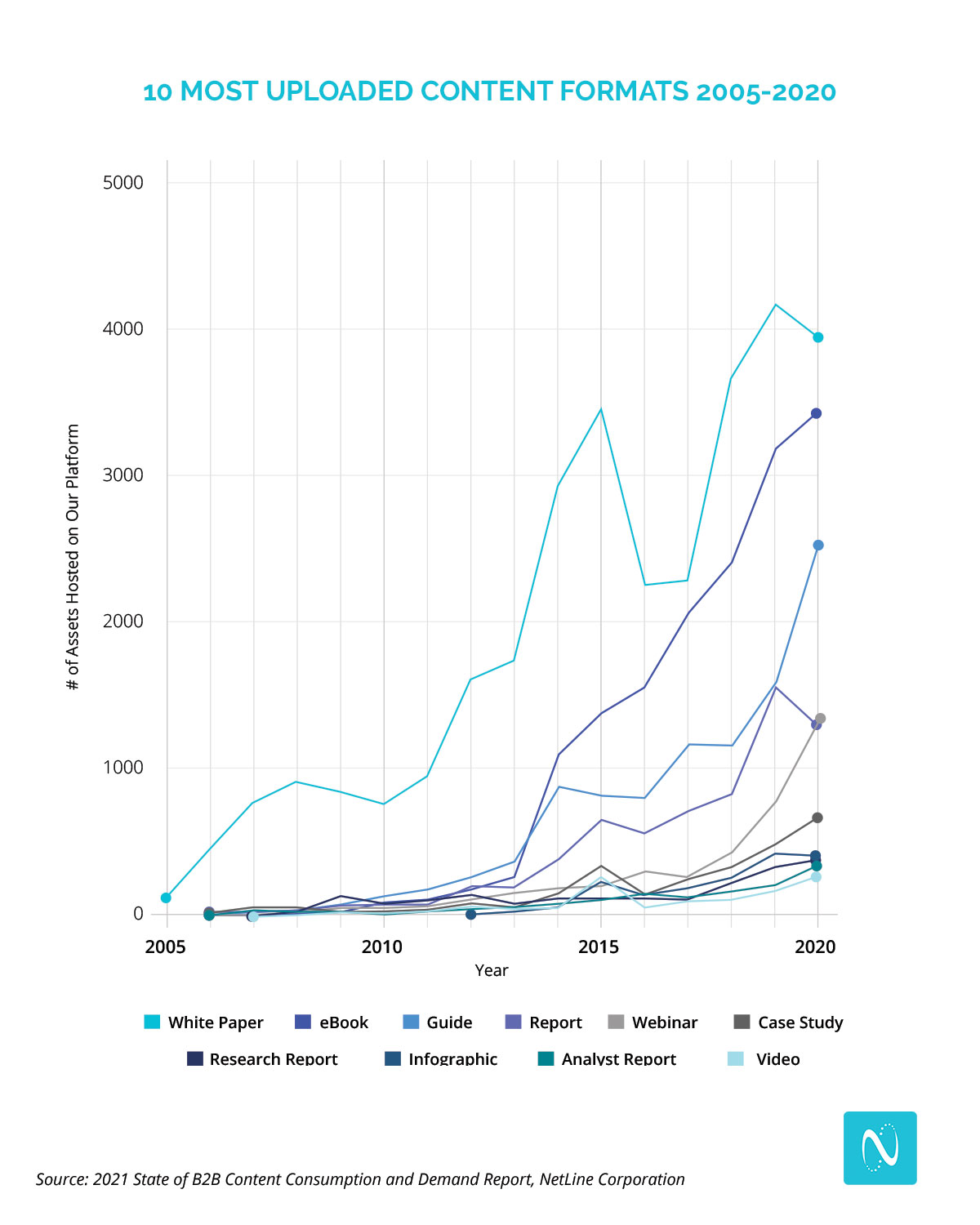 While we made some last-minute changes relating to the pandemic, we still expected the format to gain greater traction in 2020. Leaning on our first-party research and information from our partner ON24, we projected that the usage of webinars would become a more popular medium; considering webinars were the 8th most in-demand content format, we were confident with this proclamation. 
Webinars Dominated Digital Marketing in 2020
With COVID-19 keeping the vast majority of us at home in 2020, webinars (live and on-demand) exploded in popularity. Look at how wild things were less than two weeks into "The Pause" according to Google Trends.
The loss of face-to-face interactions pushed video-based digital experiences to the forefront, meaning that webinars became a major part of a Digital-First Marketing strategy. Marketers responded accordingly, as NetLine saw a total 103% increase in the number of webinars being uploaded to our platform. Consumers actively sought out webinars, too, as ON24 reported a 333% increase in webinar attendance by April 2020. At year's end, they'd observed a 251% increase in total demand.

Some of the other numbers we noticed included:
Overall registrations increased by 49%

On-Demand Webinars generated 36% more registrations than Live Webinars

Live Virtual Conference registrations increased by a whopping 2660%
Had it not been for the gains Guides saw in 2020, webinars would've had the sharpest rise in overall production, continuing the format's trend of more than doubling in uploads since 2018.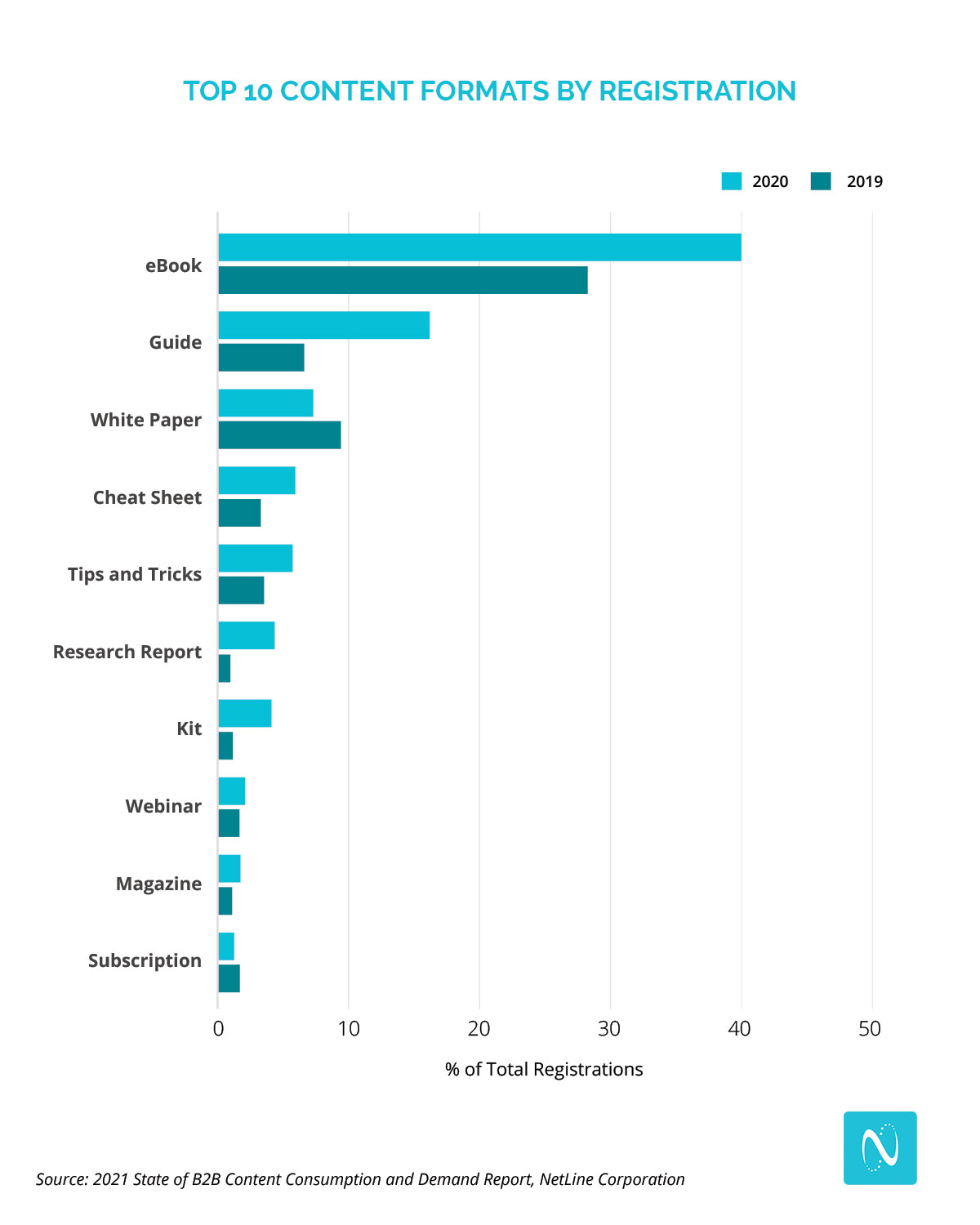 While there is something to be said about webinar burnout, these numbers indicate that webinars aren't going anywhere.
Webinars Are Here to Stay
It's safe to say that we miss live events. There's still nothing that can compare to the spontaneity of a by-chance interaction or a random encounter at the bar during happy hour, and for now, virtual events can't compete and need to be recalibrated. But for organizations looking to get in front of large swaths of prospects, the cost savings compared to live events alone make webinars that much more attractive. 
Webinars provide flexibility that many formats simply can't; from being used as employee or prospect onboarding, ongoing education, prospect marketing, and dozens of other uses in between, it's safe to say that webinars are here to stay as a Top 10 content format.
Webinars also give B2B Marketers the chance to drive more leads. As we shared in the 2020 Content Consumption Report, ON24 reported that 76% of marketers say webinars enabled them to source new prospects. In a world where businesses are seeking new ways to consistently fill their sales pipelines, webinars offer significant opportunities. Considering how different life will be even after COVID is mostly under control, this is important to recognize for a few reasons.
The Home Office is Here to Stay
WFH was already part of modern life for some. Now it's here to stay. This will have an impact on how you reach your target buyers, physically and digitally. How else does this shift impact how you've done and can do business? 
Video is No Longer Optional
For years we've been talking about how crucial video is to success. The Pause forced everyone else to get comfortable quickly with being on camera. With the surge in multimedia consumption, specifically webinars (which we'll touch on next), having our cameras on and our faces visible is now a prerequisite to any meeting or personal-touch content.

We believe that not only are webinars proving to be crucial in the immediate aftermath of COVID-19, but that in our new-normal world they will remain a key digital capability for companies, teams, and Marketers. 
The 2021 Content Consumption Report is yours for free. We thoroughly hope you both learn from it and enjoy it.