Demand generation is not simply an ad hoc email campaign or a one off webcast. It is a holistic and complex approach to marketing involving multiple areas of the organization.
While their are many ways to approach demand generation, we wanted to share some of the top ways that NetLine clients have been able to streamline their demand generation processes leading to a significant improvement in their return-on-investment (ROI).
Enjoy NetLine's Demand Generation Infographic! (Click to open)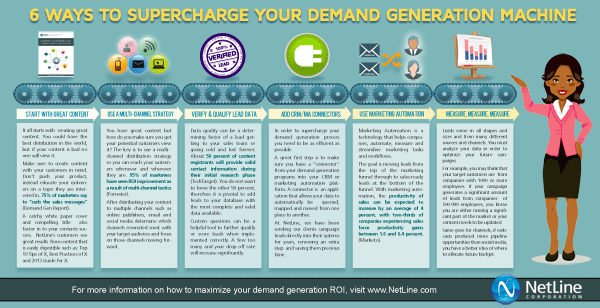 NetLine contributes to the success of demand generation programs through strategic content consulting, expanding syndication/distribution reach, utilizing powerful technology to verify/qualify data and building connectors from clients' lead generation campaign directly into their CRM or Marketing Automation platform.
In fact, NetLine has partnered with Marketo, a leading provider of marketing automation software to offer lead generation services for the Marketo LaunchPoint ecosystem. Marketo LaunchPoint is the most complete ecosystem of compelling solutions for marketers. Categories include analytics and big data, content marketing, events and webinars, lead data enrichment, online ads, top of the funnel conversion, social media and lifecycle marketing. (See the complete release here)
____________________________________________________________________________________________________
How do you optimize your demand generation process?