It's that time of year again when B2B marketers begin to lock in Q4 demand generation campaigns and start planning for 2018. The question is how are you planning? What resources and research are you utilizing? What data analysis have you done to optimize your approach?
Good news, we've saved you hours of research time with this new collaboration project, just in time for your 2018 content planning. NetLine teamed up with Mighty Guides to co-sponsor a rock solid eBook that dives deep into B2B content strategy and targeting. The eBook is a collection of essays from the top minds in demand generation, gathering perspectives and stories from marketers on the path to creating disruptive content to drive change and facilitate more sales.
9 Experts Rethinking Demand Generation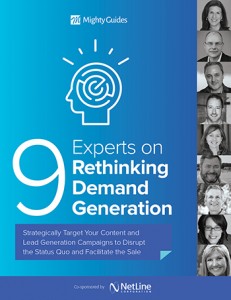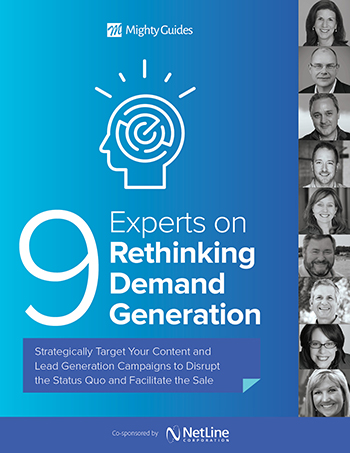 The eBook, "9 Experts Rethinking Demand Generation," will teach you how to strategically target your content and lead generation campaigns to disrupt the status quo and facilitate the sale. Experts featured in the eBook include:  Tim Riesterer (Corporate Visions), Brent Adamson (CEB/Gartner), David Fortino (NetLine), Samantha Stone (The Marketing Advisory Network), Pam Boiros (Bridge Marketing Advisors), Babette Ten Haken (Sales Aerobics), Heather Vaughan (InfoBlox), and David Rogelberg (MightyGuides) –each focusing on strategic tactics to disrupt the status quo and increase conversion.
Introduction to the Book
NetLine CEO and Founder, Robert Alvin, offers his perspective in the foreword of the book:
In my twenty plus years of experience working with organizations worldwide on lead generation programs, challenging the status quo to sell change within any organization is a high hurdle. Furthermore, the mindset necessary to create 'change driving content' is a massive pivot away from the marketing laurels of selling values, benefits, and solutions. To challenge the status quo, you must think differently and this eBook beautifully outlines multiple perspectives to aid in redefining your approach.

This eBook will completely change the way you think about and approach demand generation. I highly recommend sharing the eBook with B2B marketers, executives, and sales teams seeking more won opportunities this year.
9 Experts Rethinking Demand Generation
This eBook collects essays based on discussions with the experts and consolidates their insights into fresh approaches to demand generation content creation and lead nurturing. The book is structured in two parts:
Content that Converts: How to create and use disruptive content to sell change.
Demand Gen Content Must Sell Change
Tearing Down the Status Quo
Find Your Disruptive Story
Focus on Situations, Not Personas
Demand Gen Content Must Recognize the Many Voices in a Buying Decision
The Making of a Champion
Create, Identify, and Enable Mobilizers
Content Types That Disrupt the Status Quo
Lead Generation and Nurture Strategy: How to identify the mobilizers to drive sales.
Marketing Beyond the C-Suite
Find and Qualify Mobilizer Leads
Lead Scoring: Focus on Intent Rather Than Engagement
Get the Most Out of Content Distribution
Infoblox Case Study
If you're interested in capturing more high-value leads—not to mention improving relations between sales and marketing—this eBook is a must read for you and your team. Download 9 Experts Rethinking Demand Generation >
From the Thought Leaders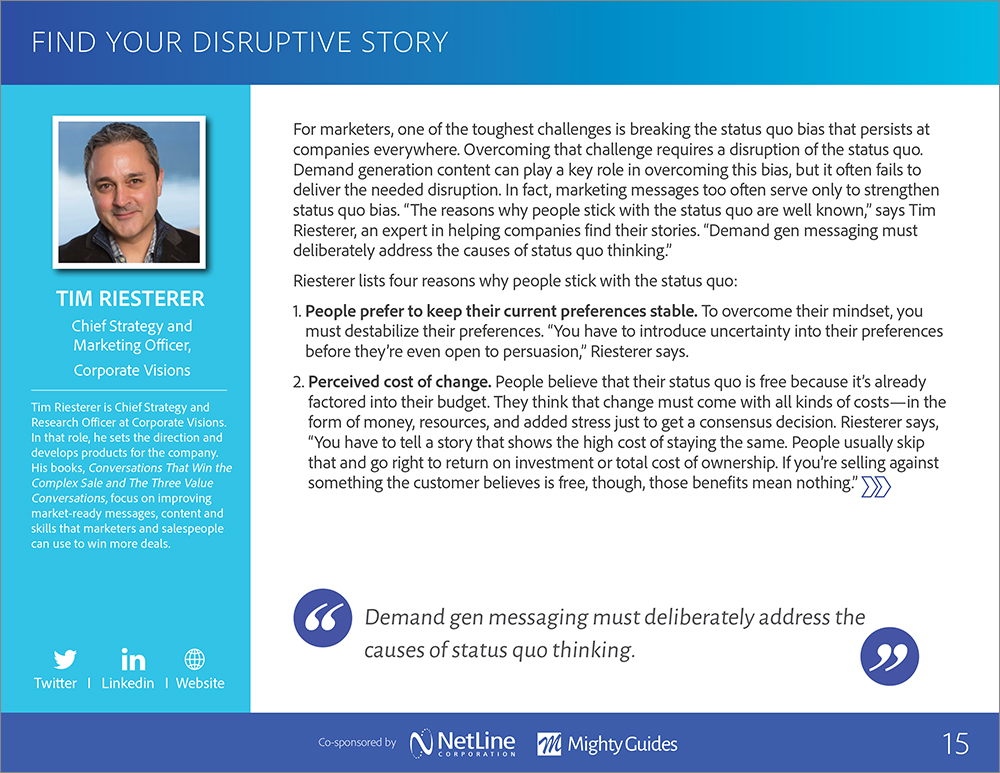 The essays are based upon conversations with nine top minds in B2B content marketing and demand generation, professionals who have written books and pursued innovative strategies of their own. Insights captured in the book:
"Uniqueness means that you're saying something different from everyone else; uncertainty is about unconsidered needs, which are the things that will disrupt what they're currently doing." – Tim Riesterer, author of Conversations That Win the Complex Sale.
"Talk about what your customers are currently doing and how that behavior exposes them to cost or risk or missed opportunities in ways they haven't fully appreciated." – Brent Adamson, author of The Challenger Sale.
"The champion is not just someone who likes us. . . . The champion has to be the person who can actually influence the process within his or her own organization." – Samantha Stone, author of Unleash Possible.
"Nobody has "Mobilizer" in his or her job title." – Pam Boiros, principle of Bridge Marketing Advisors.
Get your free copy of this important resource today!
Download 9 Experts Rethinking Demand Generation