Do you remember playing the old game "Connect the Dots" (or "Pigs in a Pen") as an adolescent? You typically played it when you didn't care to hear the teacher's lecture or when recess was called indoors due to poor weather conditions—because let's be honest, it otherwise wouldn't be played. But it serves a good purpose for this post since the object of the game was to take turns with your opponent connecting dots that eventually would form squares. As soon as a square was completed, you put your initials inside to "claim" the square. The objective was to "own" the most squares.
For the more creative souls or who may not remember such an archaic passer time, imagine those drawing books that had you connect numbered dots to form a picture.
Selling, marketing, running a business…all of it…is about doing just that—connecting the dots.
What's hard to believe in today's sales and marketing industries is that despite its years educating and expanding on how to effectively reach and sell to "the right customer, at the right time, with the right message," there is never a shortage of desire to learn more. We don't seem to tire of figuring out how to connect these dots.
Starting things with a shot.
We have a technology stack that surpasses any paradigm perceived possible in the early dot com era, especially considering its growth rate. More apps, solutions, and features were built than anyone knows what to do with. It's a surprise that some of these smaller companies continue to beat live and well. Yet, we can't help ourselves in wanting to be a part of the latest buzz.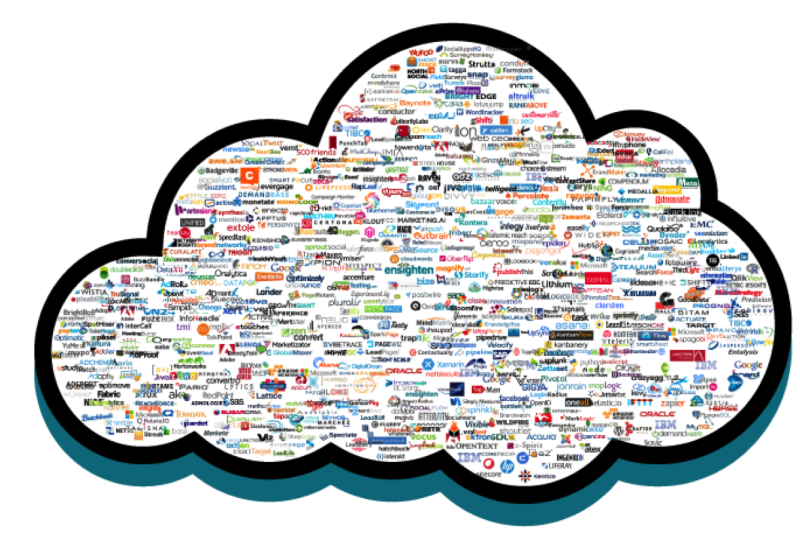 Last week's TOPO Summit gathered over 1000 sales and marketing B2B professionals to savor content centered around ABM, demand generation, sales enablement, and sales development. NetLine excited attendees with shots of espresso from Nespresso to fancy the senses and send a boost of energy, while providing a comfortable environment to converse. We connected our own dots, and here's what we confirmed:
No two snowflakes are alike.
We recognize that while attempting to enable a sales organization at scale, with many stages to the sales cycle and a variety of marketing resources to help guide the buyer along their journey, there is no appropriate replacement for the human connection.
Julie Drimel from Oracle | Netsuite delivered a funnel-centric sales development story with best-practice examples on how she built a BDR team through a training program that surpassed expectations. With an organized approach to evaluating a BDR's progress, Julie explained how their 85% BDR retention rate is no accident.
The BDRs participating in this program are measured on lead generation and talent development. Every lead generated—whether inbound or outbound—must be prospected. Part of the program entails coaching the reps to drive a conversation through a "lead by discovery" approach.
"Each understands it differently. Each understands it best."
Oracle | Netsuite is always iterating and learning how to maximize the program's results because it understands that working with how its BDEs digest and implement information is always going to be unique to the individual. As a result, Julie and the team have successfully transformed the BDR mindset of how to perform alignment calls. Moving away from "data dumps" to exercising strategic conversations about the client's funnel, these BDRs achieved,
$100k more in bookings their first 12 months compared to BDRs hired to do the same job but who didn't participate in the training program.
For net-new business, alumni brought in $130k more in bookings closed opportunities compared to the other non-program reps.
Time-to-first-logo is 90 days faster than the average time for an outside hire.
Attrition rate is now 6% lower.
To ensure that BDR incentives and comp plans encourage the right behavior and results, they are compensated on how many leads they contribute, their soft skills (processes used, CRM engagement, template usage, call volume, etc), and opportunities generated. Julie's team leverages their own in-house solutions as well as Domo (a BI tool) to measure attribution, deal cycle length, and CPL (using a 12 month sales cycle) to measure goals achieved.
But the basis of achieving common consensus across the board is dependent on defining the lead funnel. Alignment across the organization had to take place with the heads of the BDRs, Demand Generation Marketing, and Sales Ops, to answer,
What is a lead (MAL vs MQL)?
What is a qualified lead (MQL vs SAL vs SQL)?
What is our collective goal?
How do we measure it?
How do we get everyone on board?
As a result, an improvement was seen across the board in top-of-funnel lead conversions, including MAL to MQL with an 80% conversation rate.
By connecting the appropriate decision makers, understanding the typical BDR mindset and the role's challenges, and offering an environment supported by a structured program that could easily identify success, Oracle | Netsuite demonstrated what can be achieved when you allow for these alignments to form.
What makes this success story one of my favorites is that nowhere did the team rely on technology to solve core lead funnel conversion issues. Through every effective step to solve their challenges, there was an understanding of the human limit, its capacity, and its motivational desires to achieve success. Technology was used to help make sense of the activity, but not drive it.
A slow and steady climb endures the race.
Speaking of connecting, LinkedIn had a similar demand generation problem where its breadth of product solutions was causing fragmentation within the SDR teams. Megan Ketchum and team offered a unique approach to solving for such a challenge.
As LinkedIn's users grew exponentially, the organization tried to develop a portfolio of products that would keep up with the demands of recruiters and job seekers alike. With the spread and constant reorganization of products, dissonance grew among sales and marketing. Quickly, one saw the multiple sales voices, with sub-scale teams, selling products versus 'LinkedIn'. As the head of sales was once quoted saying, he regrets not building talent first at the early stages of growth.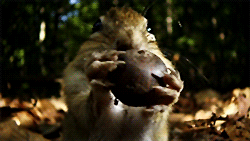 It is much tougher to realize and digest the Frankenstein affect built from keeping up with industry demands than it is to accept that a much more steady climb to the top gives you the processing time required to build teams within an organization that can operate optimally at high velocity.
No matter. Megan and crew rebuilt how demand generation and inbound sales and marketing could work together through a scaling approach. The focus was to,
1) Have a common mission & set of goals
What should business metrics, such as lead volume, lead quality, and bookings, look like
How is communication fostered? Through demand gen community boards.
What are the common mandates to align roles?
2) Attract top talent
3) Train and coach
Define internal BANT structure
What are typical objections, questions for each line of business
Distribute materials that keep education and information top-of-mind.
Instill programmatic coaching designed to keep competencies high.
4) Establish processes, systems, and measurable data metrics
5) Instill mastery and empower the SDRs
Each of the SDRs had to recalibrate, but not without having a minimum of two deep conversations with the sales development team to document feedback for iteration and optimization. All this resulted in redefining how SDRs engaged with prospects and tightened their messaging to improve conversions.
What's instrumental in both cases is that both organizations problem-solved by looking to influence behavioral changes within the BDR/SDR teams versus relying on technology to define a new path for selling. Real human connections were formed to achieve repeatable and sustainable results.
If you can't explain it simply, you don't understand it.
At the heart of every master honing his trade is a person who knows his own story. Becoming a good story teller starts by keeping things simple, real, and relatable, says Matthew Luhn, ex-Pixar Story Supervisor. Vulnerability is key—it's the only thing that separates the junk from the stuff worth your 8 seconds of attention.
If storytelling is going to be used as a means to grab attention, it better not be clever. Being cute and cheeky only gets some attention, and not necessarily of the good kind. Being direct and honest is key to grabbing the attention of the person who is truly interested in walking the journey of discovery with you. Whether you're seeking long-lasting connections with clients or trying to broker an introduction, there's a viable, meaningful and credible story that can be shared in any moment. How it's told is key.
Matt offers a thorough and useful breakdown to crafting a memorable story:
Go for the hook.
The hook, the jab, the three-word phrase—the head turner. It's the unusual, unexpected action conflict, question, or statement that immediately draws in your audience. What makes a hook unusual? Well, how's a superhero banned from saving people sound to you? Or a rat who wants to become a French chef? Or how about 1000 songs that can live in your pocket? These are all examples Matt drew from to illustrate to the audience during his keynote. But a hook isn't sustainable on its own. You accompany it with a value proposition—a follow-up statement that lets the audience know what they will get out of the experience. This will give you a solid start to engaging with your customer. But the key to the hook and your value-add statement, is to use as few words as possible. That's how you know you understand what you're talking about.
Other elements to an effective story are to leverage a change agent. In the movie Monsters Inc., you have a protagonist who likes to scare kids. But he meets the little girl and gradually decides he doesn't want to scare kids anymore but rather make them laugh. This change in character is easily relatable to the audience—we all are too familiar with the fear of how change affects us. That's what gives the story heart—using experiences that hone in on emotions we all can relate to.
You gotta have a spine.
Whether you're telling a story, delivering a pitch, or crafting a campaign, it all must have a spine to keep it together. Structure is key to ensuring your story can carry its weight:
1) The 'set up' (Beginning):
State the problem: Explain the problem that you're setting out to solve.
2) The build (Middle):
State the solution: Describe how you're going to solve it.
3) The payoff (End):
What's the success: Build excitement around what success will look like.
While developing your story, do so with one thing in mind: don't speak over or under your audience—patronizing isn't flattering and neither is making them feel like they don't know enough. You guide them through it by allowing them to feel the obvious versus stating it. Remember, it's how you made them feel that leaves the lasting impression. So, make it memorable, impactful, and personal.
Claiming the square.
I can honestly say that our team felt pretty excited returning back to work from having met such a great and honest crowd at TOPO Summit. We had the opportunity to expand on existing ideas, learn new ones, and initiate great connections to bridge these gaps. While we'll claim the square of success, we aren't finished playing the game just yet. We hope to see some familiar and new faces as we head out next week to Marketo's Marketing Nation Summit.
Until then, keep connecting those dots.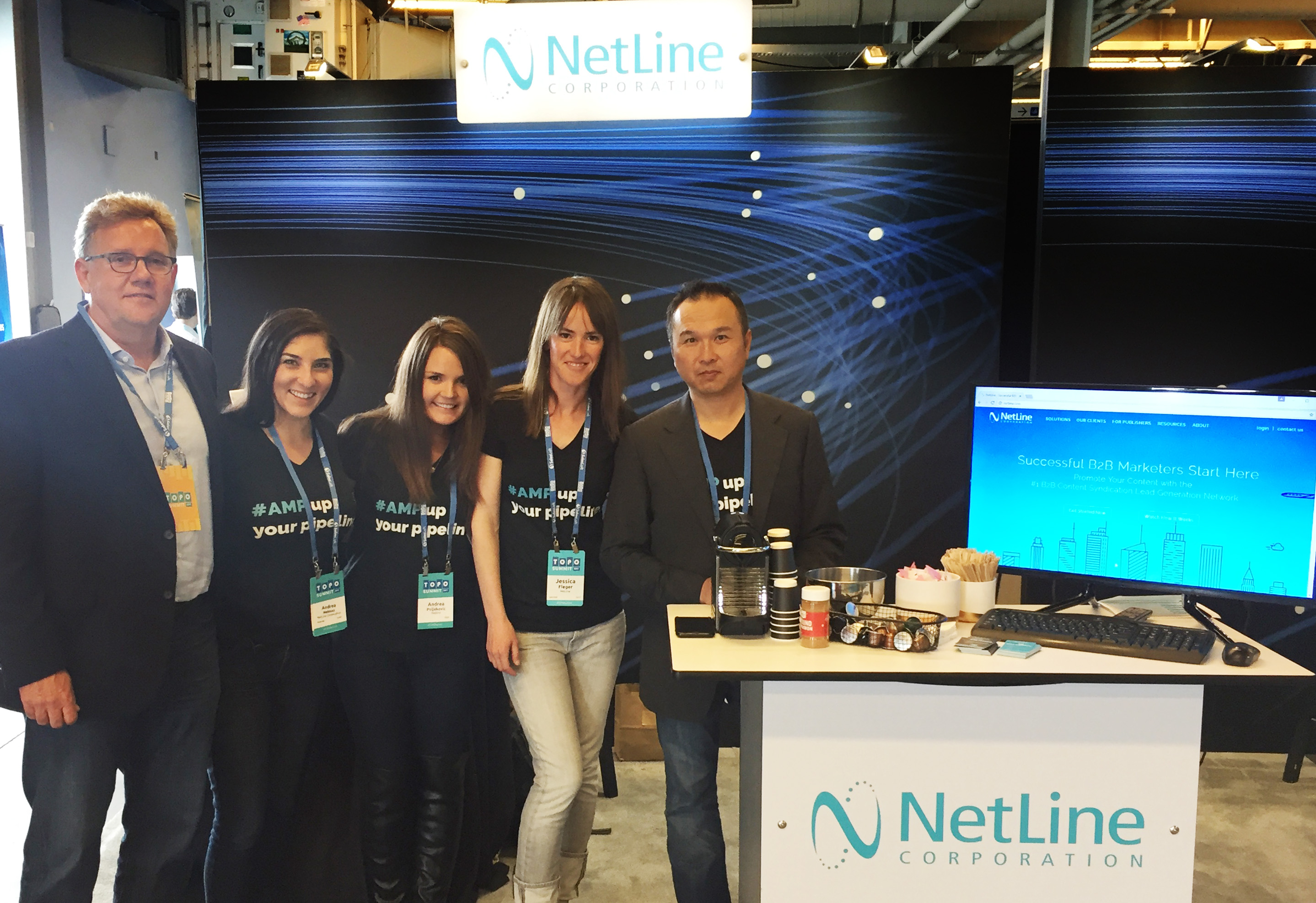 From left to right: Werner Mansfeld, President | Andrea Neiman, Senior Marketing Manager | Andrea Poljakovic, Product Marketing Specialist | Jessica Fieger, Account Executive | Kent Wu, Senior Account Executive