When a webinar gets people asking questions and looking for more, we feel like we did a good thing. Sharing what we know is always fun, but when we find synergy with other SMEs on content marketing stuff outside of our daily focus – that's when magic happens.
Before we cue the Fantasia soundtrack, let's cut to the reason why – with our friends at Influence & Co., we were able to join forces on both sides of demand generation that concurrently must synchronize for anyone to find success. Experts at Influence & Co. like their Vice President, Natalie Stezovsky, dedicate their efforts to the preliminary, crucial nuts and bolts of content marketing – the content itself.
Their expertise lies in matters of developing content, getting it in front of publishers, creating traction and energy around it and how to start. Since starting is usually half the battle, the other half lends itself to the expertise and technology that NetLine brings to the discussion (cue David Fortino, SVP Audience & Product at NetLine). Lead generation and pipeline development snowball from awesome content – the webinar addresses both sides of the content-coin.
While we highly recommend you get the total experience by watching the webinar on-demand by clicking here, you can also skim the below and extract the finest nuggets.
Hacking the editor
Influence & Co. compiled data in their 2018 State of Digital Media report on how publication editors measure success: 93% consider page views as a measurement of success, while 75% rely on time on site, then 69% on social shares. Keeping this in mind, and the fact that they're busy people, pitching content should appeal to achieving their objectives – publishing original, non-promotional content and serving up high-quality, ready-to-go content. According to the report, 79% of editors say that the biggest problem with guest content is that it's too promotional.
Page views and promotional content are definitely at odds with each other so before you jump into the next step, keep these in mind.
Content creation
With quality being the primary focus here, you need to attack content creation with a strategy.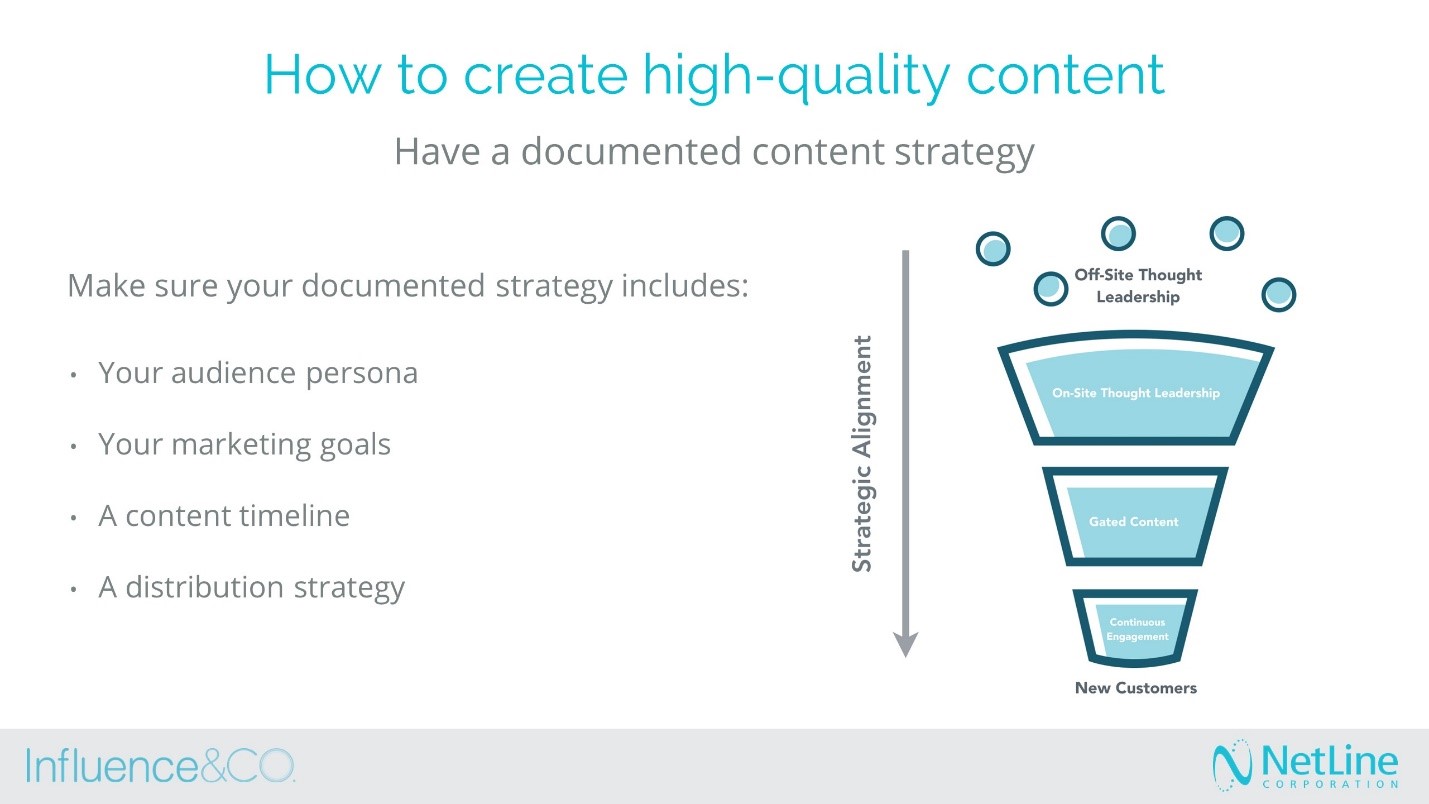 This slide is a great starting point for aligning your content with your goals. If your goals are to generate leads from content, David encourages marketers to push the persona strategy even further to focus on people. With content syndication, your finished product can speak to a single individual and their pain points to help them solve a problem or learn about a service. That becomes content that converts.
Quality is the name of the game and Natalie speaks to the importance of strategy behind the types of content that fit strategic objectives. How to determine that? The good 'ole funnel approach.
Top of funnel objectives are to achieve awareness by educating consumers and answering questions. Middle of funnel demands a more tactical approach that starts showing solutions. Bottom of funnel is the almighty moment that a prospect decides, so content should be more promotional to make an obvious push that your product or service is the answer to the solution.
The big IDEA
A few questions to ask yourself when creating content are:
Industry-leading: Does your idea offer something new? Nothing worse than scanning an article to see the same content for the gazillionth time. (Then furiously "X" away your annoyance and have a bad impression of a brand.)
Data: Does your idea have data to back it up? Like a fresh coat of paint, data can bring new life to a potentially redundant or common topic – especially if you have first party data that can layer in greater validity to your point.
Educational: Is your content educational? A hard sell at any point in the funnel is not exactly fun reading (unless you're so far down the funnel you're looking for that final push). Even then, it's tough to keep a reader's attention if there's nothing new or novel worth spending time on.
Amusing: is your content fun to read? Marketers should toe the line between amusing and insightful because life is too short to be bored by choice.
So now that your content is incredible, put it to work
After Natalie dropped knowledge on how to develop amazing content, David jumped in to share the targeting and demand generation side of content marketing best practices. Using data from NetLine's 2018 State of B2B Content Consumption and Demand Report for marketers, David sliced and diced the many ways that our first party data can draw a roadmap for deploying content to drive lead generation.
First, it's worth discussing why syndication is an important means of amplifying content.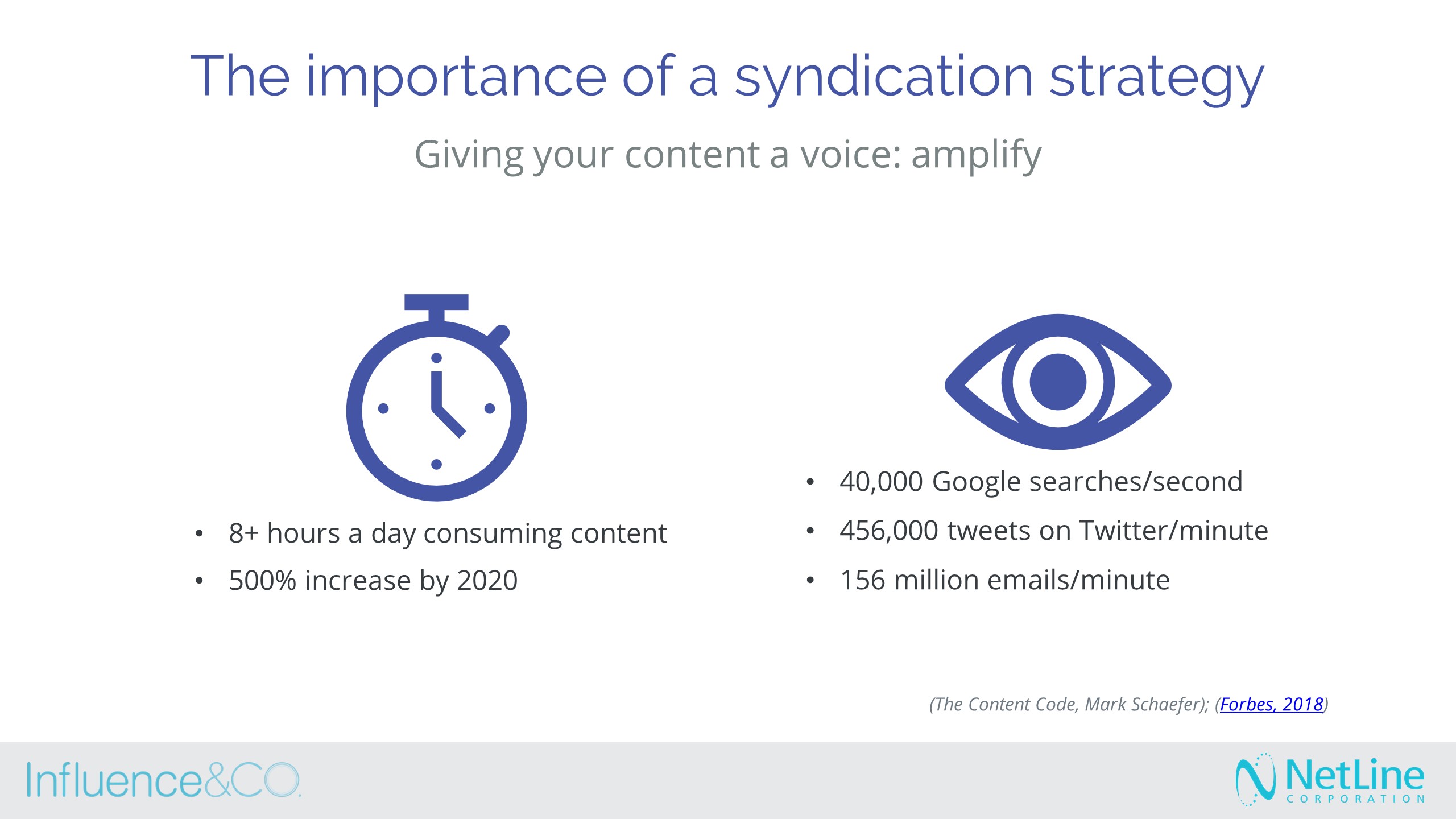 Clearly, there are lots of factors working against our content on a daily basis; as marketers, we can choose to perpetuate the noise or get precise with our efforts. To do that, a targeting strategy is everything – when we talked about personas and pushing that further to targeting people, this is why: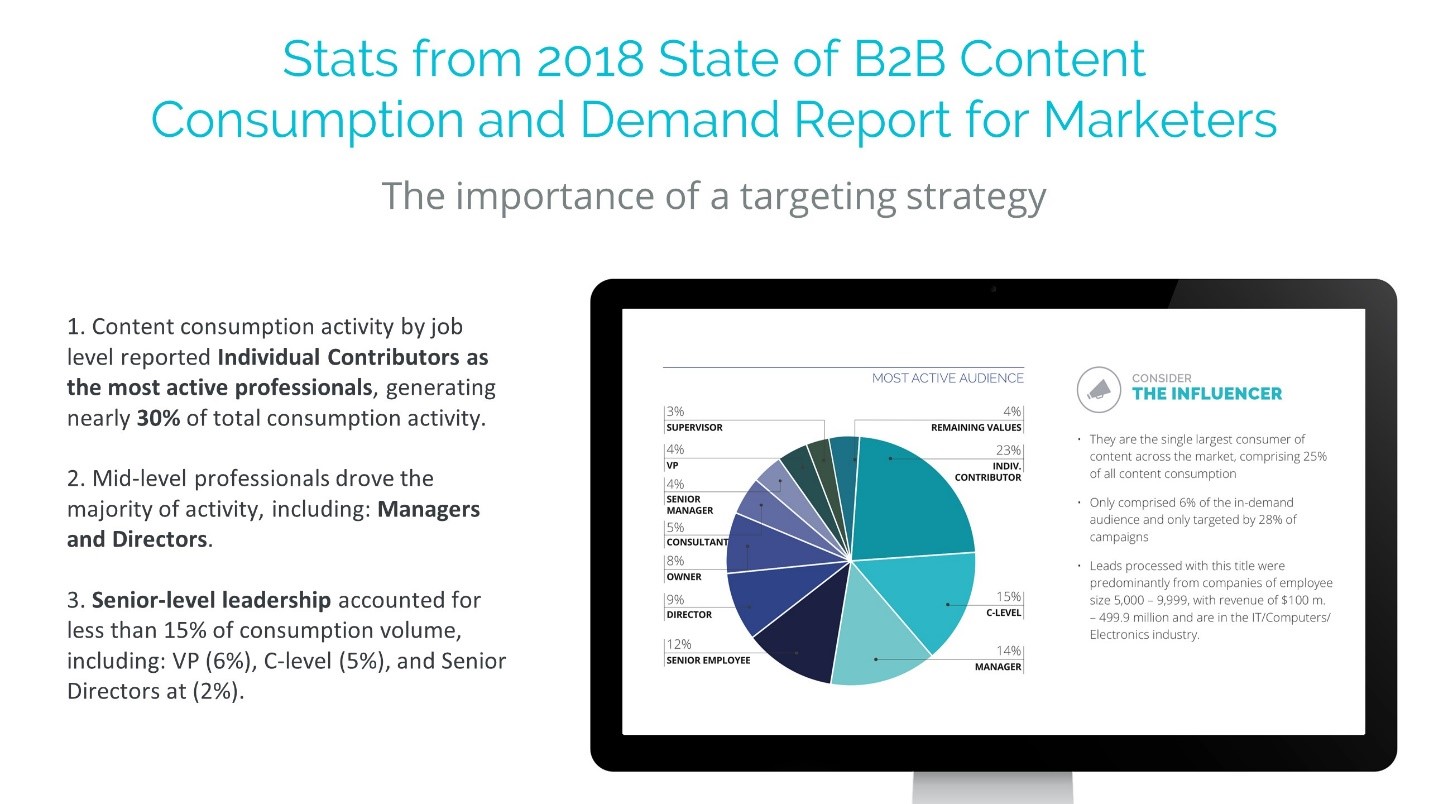 When B2B marketers can exert control over who they want to engage with their content (rather than hope for impressions to convert downstream) they can maximize outcomes of intent-based consumption. What does that look like on the NetLine network? It's professionals doing research and requesting content that helps them do their jobs or improve work-life balance. Across the hundreds of thousands of downloads, we've tracked some interesting trends year to year.
For example, while many marketers are optimistically chasing C-level with their content in the hopes they speed through the funnel in one fell-swoop, the reality is that Individual Contributors, Managers and Directors are far more engaged with content. Target them!
One stat that struck a nerve with marketers since the release of our report was this gem:
C-level takes 21% longer than managers to read content they've requested.
Fair enough, they're busy.
That's why Individual Contributors, Managers and Directors are in their roles:  researching and making recommendations to leadership. When conversion is the goal and the funnel approach is the means, your BOFU (bottom-of-funnel) professional is more likely to submit additional requests for content and gets around to reading it faster in the first place.
Work smarter not harder
Lest you feel unworthy of C-level targeting after this tidbit, there's still hope if C-level at company size of 5,000+ is a strategic audience for your brand. Marketers should simply take off the rose-colored glasses and check out the rest of the org chart. And if need be, revisit the content itself and think about how you can improve or enhance the topics, the layout, and form of content that's geared towards C-level.
Despite the consumption gap data presented above, C-level still seeks out lots of long form content. eBooks are the longest, most detailed content type and C-level just love them. eBooks were the top content type consumed by C-level professionals last year.
What to do with targeting insights
Combined with what we learned on the content development side, it's obvious that it would be a darn shame to put so much time and resources into making said content and not getting anything from it.
If lead generation is your end goal and content is the vehicle by which you plan to influence and convert, it's critical to get a leg up on the competition by ramping up quality and hyper targeting to the right people. Whether you're a new or legacy brand, the flexibility and precision of intent-based targeting with content is prolific and easily measured.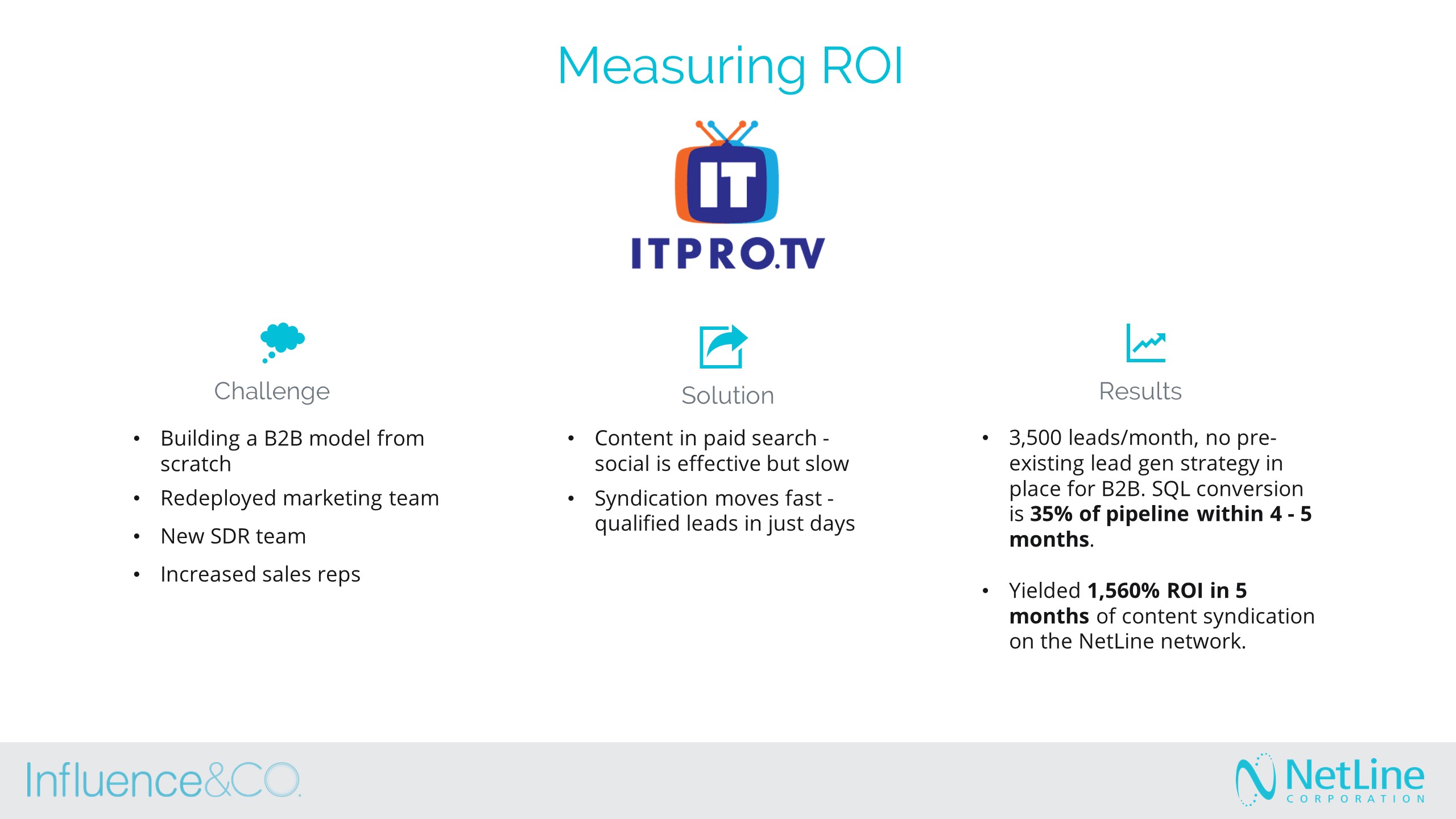 Rounding out the discussion on measurement, David presented an overview of our case study with ITProTV. Entering B2B anew following success in B2C, ITProTV chose content syndication as a means of entering the market and achieving rapid ROI. Successful in this endeavor, ITProTV realized 1,560% ROI in only five months by leveraging a targeted content syndication lead generation campaign on the NetLine network.
Writers, get your pens!
After years of hearing that content works, many brands just don't know where to start. Or, they started, but lost momentum after a few (time consuming) original pieces were completed. Armed with information from experts on both sides of this industry, it's time to get back on the horse or put pen to paper (if paper is still a thing) and get your content in front of your desired audience.
Can't get enough? Check out more resources from Influence & Co.:
Interactive Content Marketing Checklist
The Ultimate Guide to Content Distribution