That's a wrap on the first-ever #B2BSMX! Combining three separate events, Flip My Funnel, REVtalks, and Demand Gen Summit, this two-day conference held networking and learning opportunities around every turn (also plenty of opportunities to gawk at the beautiful details of the brand-new venue, the Boston Encore).
With over 1,000 Marketing and Sales professionals in attendance, it was truly a gathering of the minds.
Although it was hard to peel your eyes away from the flowered carousel, the jam-packed agenda full of Keynotes, Break-out Sessions, Labs, Mentorship Meetings, and more were too tempting to miss. Not to mention some great vendor swag dominated the Marketplace (yes, we're talking about our personal favorite, Printfection).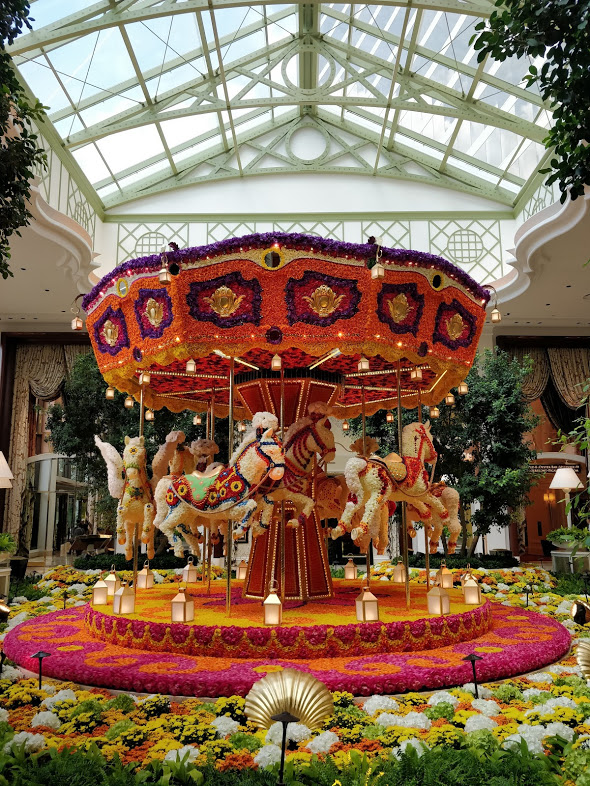 The venue was filled with flower arrangements, outdoor terraces, gardens….and also, an endless amount of ABM Sessions. The only thing more noticeable than the smell of flowers was that of the hyperbole around ABM.
The ABM echo
Right off the bat, ABM became an echoed topic. After exposure to a couple ABM-heavy talks, a message attempted to dominate the audience: Ditch any marketing tactic you've known and has performed greatly, unless it's ABM.
A lot of sessions did this math without showing their work: ABM = Marketing Success.
While every session shared the benefits of ABM, very few acknowledged the "How": How are they doing it, how are they different, how are they actually executing it?
Stepping back from the ABM-megaphone, we can't help but share our perspective. Just because ABM exists doesn't mean we should negate all other forms of marketing. Yes, this marketing tactic should be a part of your toolkit, but it doesn't need to be a stand-alone marketing hero. ABM (when properly executed) isn't the only driver of targeting audiences. Leveraging other tactics still greatly hold the ability to drive revenue for your business. What also became clear is there appears to be a slurring of meaning behind "ABM" and "personalization" or "targeting". The same good stuff behind ABM has been around for ages, there are just new ways of doing it.
While we love hearing perspectives from all marketing and sales experts from all industries, our hunger lies in conversations and sessions that provide actionable insight into optimizing your marketing strategy.
Crafting powerful and intentional conversations
Although plenty of speakers tossed their advanced expertise into eager crowds and helped us all learn strategies to take home, one person who took the stage and captured our attention with actionable information was Tim Riesterer, Chief Strategy Officer of Corporate Visions, Inc.
Digging into decision-making science to help conversations translate into meaningful results, Riesterer introduced his Keynote, "You Talking To Me? How Winning B2B Brands are Crafting Powerful and Personalized Conversations" by starting with something many marketers might ignore, The Context Effect. This is the influence of environmental factors on the perception of a stimulus and promotes having conversations on purpose, not by accident.
When talking about Customer Acquisition versus Customer Expansion, the psychology of the buyer is 180 degrees different. This throws a one-size-fits-all messaging approach out the window. 70%-80% of company growth lies within Customer Expansion, a statistic shared by Riesterer; so, how do we maintain growing relationships with current customers while also communicating with new prospects?
Enter: Status Quo Bias.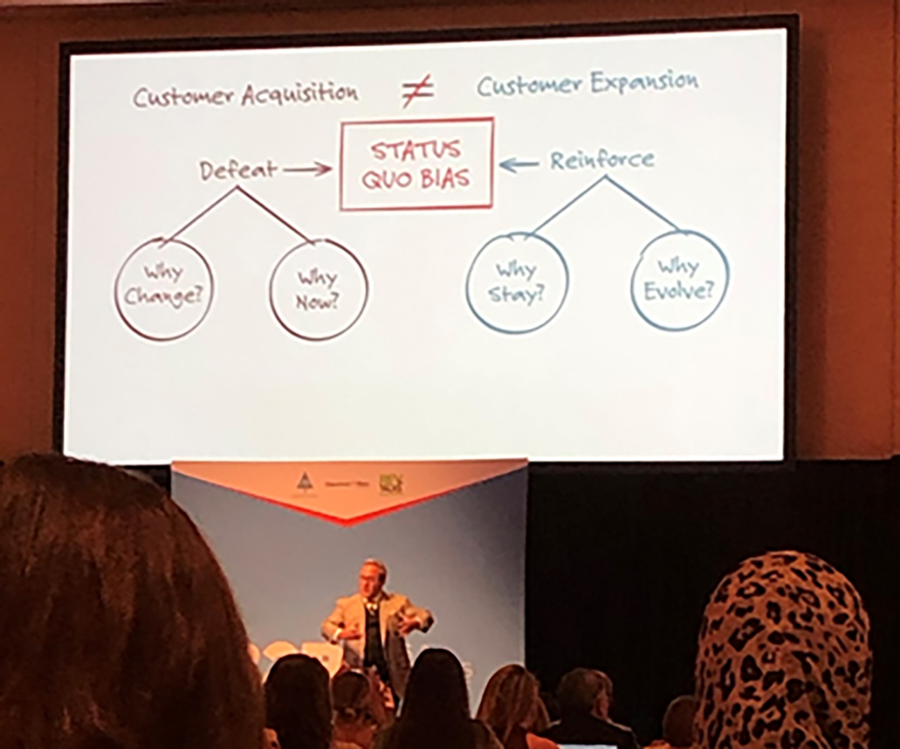 This is a fancy way to say we need to understand why people don't change their mind. Then, depending on if we're crafting messaging with potential customers or current customers, we need to either defeat or reinforce this bias.
The Status Quo Bias (why people do not change):
1. Preference Stability – the human dislike for uncertainty
2. Cost of change – budget, onboarding, cost of time, etc.
3. Selection difficulty – on a whole, everyone looks the same
4. Anticipated regret/blame – what if it doesn't work
Although the points above are true for both customer acquisition and customer expansion, these different audiences have different psychology and stories. Riesterer continued further, sharing the proven ways to attack this from both sides of the audience.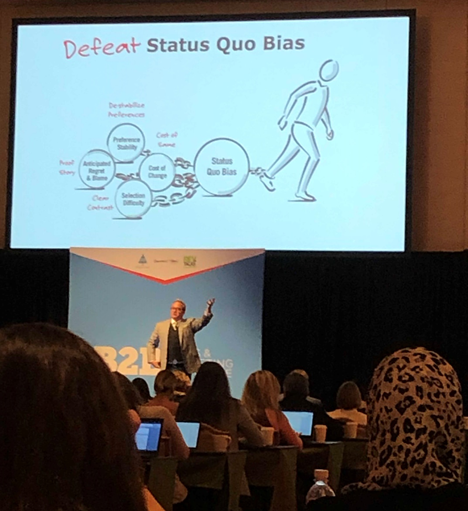 If you're acquiring customers, you need to defeat the Status Quo Bias with the "Why Change" messaging model:
1. Need to destabilize the stability they feel. Reference the challenges and problems not being solved by their current structure. Share the missed opportunities by staying.
2. Emphasize the cost of staying the same is larger than the cost of change.
3. Create a clear contrast on how your solution is different. People won't make a change to get the same thing.
4. Need a good proof story aka a before and after success story from another client
By introducing their unconsidered needs and making your unknown strengths apparent, the conversation of urgency and uniqueness becomes clear to a potential customer.
While this is true for customer acquisition, the approach of what to say is different for customer expansion (cough, cough, the bulk of your company growth). To visually drive this difference home, Riesterer playfully ran to the other side of the stage to give this part of the presentation.
If you're messaging to expanding current customers, you need to reinforce the Status Quo Bias with the "Why Stay" messaging model:
1. Since you are the preference, reinforce it by documenting results
2. Reinforce you have their back by reviewing the prior decision process
3. Mention the risk and cost of change.
4. Detail your competitive advances. No one wants to stop positive momentum.
The importance of crafting relevant and customized messages that align with your core goals to drive revenue is right at home for us. To support demand gen and lead gen goals, we agree knowing your audience is essential.
A data-minded approach to understanding your audience
Our SVP of Audience, Marketing, and Product, David Fortino, shared audience insights in a session of our own, "How to Drive Content-Centric Lead Gen with Buyer Engagement Insights".
Taking the theme of targeting and engaging audiences through thoughtful and intentional messaging into a data spotlight, Fortino explored the findings of our 2019 State of B2B Content Consumption and Demand Report for Marketers. With content consumption insights from over 4 million data points via real people downloading real content on the NetLine network, we introduced first-party data as the most actionable way to optimize your targeting and content strategy.
In a packed room dotted by phones snapping pictures of slides, Fortino shared the struggle many marketers face: How can you overcome the noise and competition? How can you maximize engagement right away so there is less reliance on additional engagement to push a lead through the funnel?
Short answer: Understand your audience.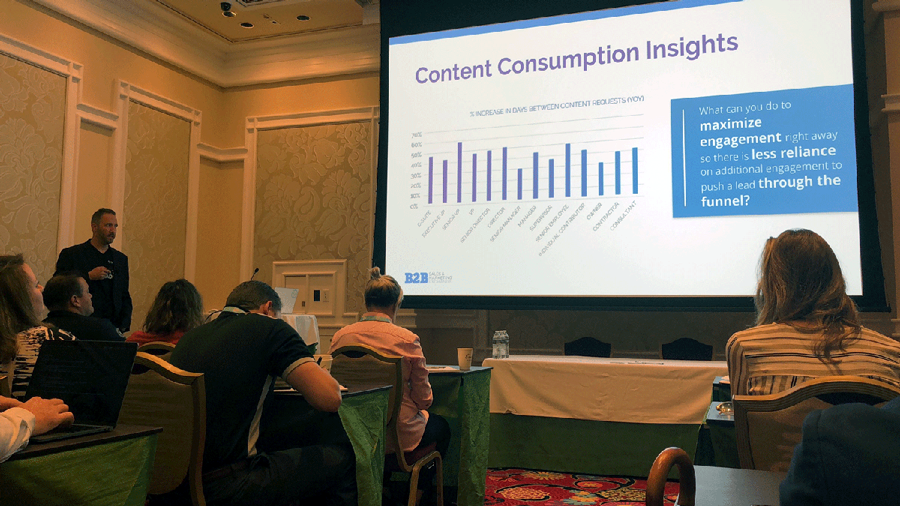 Exploring content consumption insights detailing the most engaged audiences by job level, we had to highlight a perpetually adored audience by many marketers that is a huge boulder keeping you from maximizing engagement: 86% of all content consumption occurs below the C-suite.
This led to a comedic Jerry Seinfield "What's the deal with that?" impression, gaining laughter from the crowd (and maybe a little forehead sweat from the staggering statistic).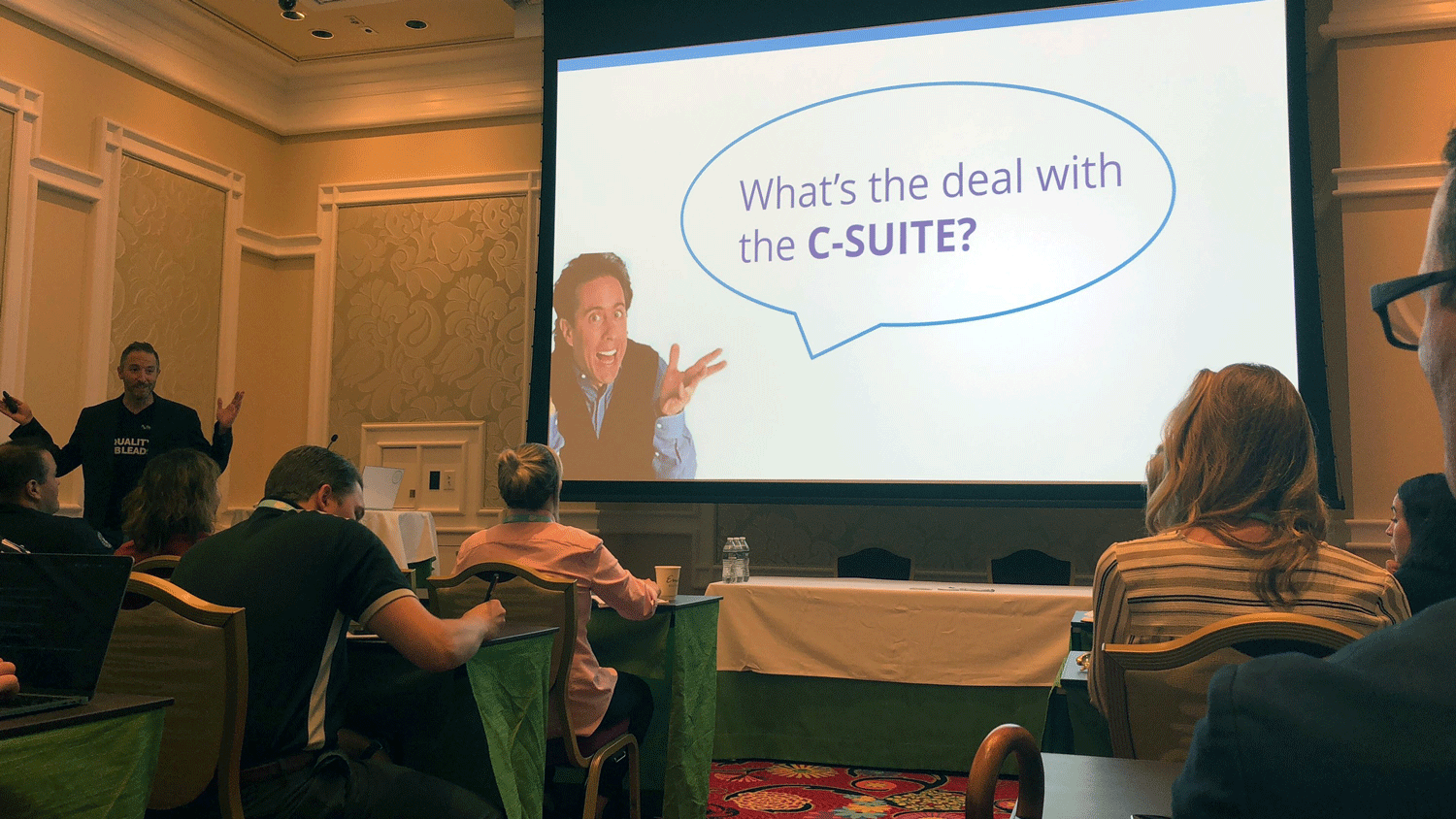 Based on our findings from our annual report, Fortino urged people to tap into the buying committee. Let's face it, the decision makers, especially of larger companies, do not have the time or energy to research and consume content. However, those who greatly influence the buying decision are hungry for your content.
Chugging along, more findings from the report were revealed, including content types and titles that resonate the best with audiences.
After sharing unparalleled insight into a year's worth of content consumption data from our annual report, we introduced a "DIY" approach to data-diggin'. Although the report details actionable trends to help your targeting and content strategy, the one thing it doesn't do is give insight into your precise, unique audience in real-time.
That's where our new, no-cost tool, Audience Explorer fills the gap.
Publicly unveiling the real-time, custom content consumption insights this tool offers, Fortino went live. Taking the audience through the first-party buyer engagement insights the tool offers, hands shot into the air asking for more details on specific features, more understanding of the process, and more of "Is this really free?!"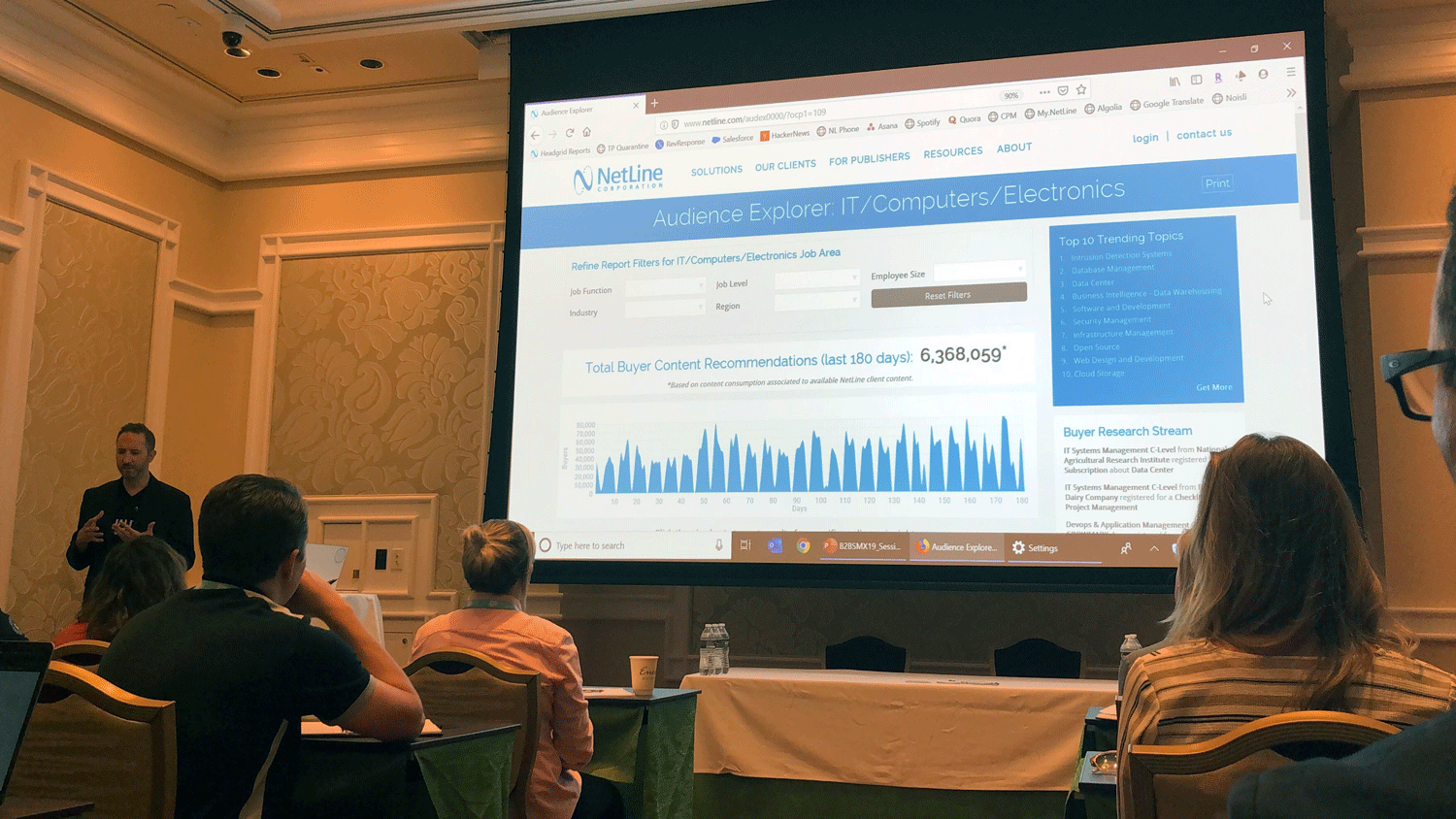 With the ability to target your exact audience by filtering by Job Function, Job Level, Company Employee Size, Company Revenue, etc., interactive pie charts tell the story on who in your audience is most actively engaged. Delving into other features such as Top Trending Topics, Buyer Research Stream, Most Active In-Market Companies, and Most Consumed Content Format provide further context to inform and direct your targeting and content strategies.
The most important aspect of these buyer engagement insights is they are ready for immediate use. By utilizing data from the largest pool of consumption insights on the web, a competitive edge is yours for the taking.
Stand out from the content noise
The theme of understanding your audience to maximize engagement and drive ROI is more important than ever in this crowded content universe.
With Riesterer's decision-making expertise into why brands need to separate and distinct messaging strategies to support goals and our first-party data backbone to generate specific insights to target your custom audience, the necessity of an audience-first approach rings true.
And we know this is a pain-point for plenty marketers based on the number of professionals who hung back after our session to gather more information, business cards, or simply wanted to share their expertise surrounding this idea.
One person even stayed after to express his thanks for an actionable session that allows you to hop into strategy mode without asking for money first. A candid response that salutes our movement to democratize lead generation and access to high-level activities associated to buyer content consumption.
Recognition to sweeten the trip
To wrap the event up, our own David Fortino was honored as a B2B Award Winner in Buyer-Focused Marketing, acknowledging the best in targeting and engaging audiences. With our position in the industry as the leading Buyer Engagement Platform and our similar session topic that only wrapped up hours before, our NetLine pride was worn with a big smile during this recognition.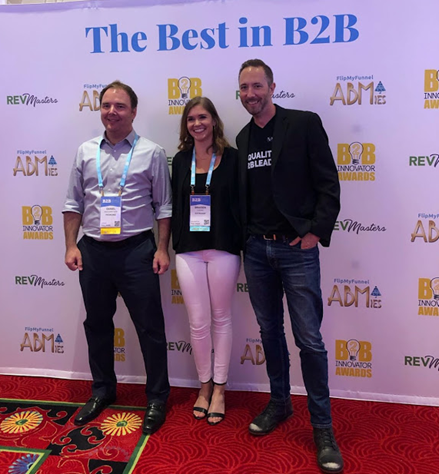 Give the people what they want!
Personalization doesn't equate to ABM.
Many sessions in the event led you to believe this may be the case, but it's not speaking the truth. We're not against practicing ABM, we offer ABM lead generation as a solution because we understand the significance of this approach. However, to belittle other marketing tactics as an outdated way to transform your business and build revenue isn't an accurate representation of the market today.
Making understanding your audience a top priority weaponizes your messaging with tailored strategies to maximize engagement. Leveraging data from the largest B2B web environment where marketers are actively researching technical and business-related topics allows your content strategy to hold relevance and value, ultimately giving your buyers' exactly what they want.
Although B2BSMX is over, we're happy we headed home with fresh ideas, new friends, and hundreds of pictures of the amazing hotel venue.