It's no surprise that the same conversations of the years' past—tangible growth and ROI pressure—continue into 2018. B2B marketing professionals are plagued with simplifying their MarTech stack, focused on bridging the gap between sales and marketing as well as customer to brand. Demand Gen marketers specifically need solutions that foster low customer churn and burn. Vendors are pressed to clarify and solve the proficiency issue of leveraging an ever-growing MarTech stack. It's a balancing act, indeed.
NetLine empowers B2B marketers to use their own long-form content and our trusted and expansive partner network to generate intent-based leads. Whether at the beginning stages of research or chasing the coat-tails of their manager for their pocket book, our professional network consisting of 300+ industry sectors and our vendors (customers like you) validate that we do "match-making" well—the right content to the right audience.
But, whether your focus continues to be ABM, Predictive Analytics, Artificial Intelligence, Marketing Automation, or Buyer Insights and Analytics, NetLine will be there to join the conversation. This year we are focused on simplifying how B2B Marketers can join the movement of disrupting demand gen with content.
Join the movement: #DemocratizingLeadGen
The staple to our message this year is "Democratizing Lead Gen". We believe that no matter the size or industry of your organization, you should have the same and equal access to quality leads that support your business objectives. 2018 is about distilling technology for value: easy-to-use solutions that generate easy-to-measure results.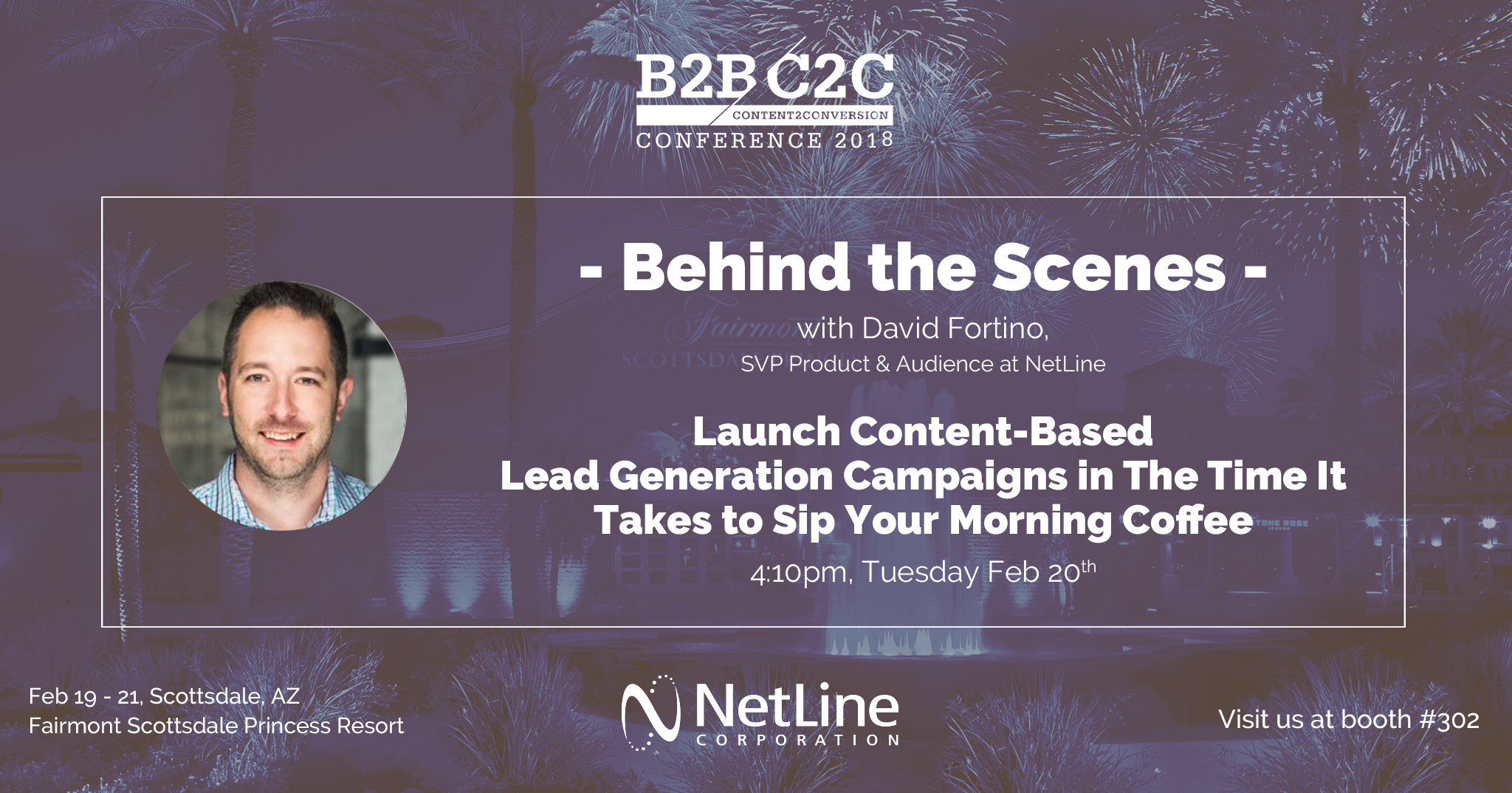 First up this year is B2BMX (formally Content2Conversion, or C2C), a long-standing resident in the Demand Generation space, hosted by the well-respected folks at DemandGen Report. NetLine is excited to continue our 5-year streak in sponsoring this well-attended, extremely fun and thought-provoking event. And who doesn't enjoy some nice summer weather in the middle of winter!
NetLine will be joining as a Platinum sponsor and is excited to be delivering a "Behind the Scenes" session on Tuesday, February 20th (at 4:10pm) where our very own David Fortino, SVP of Product and Audience, will be demonstrating how to create campaigns to generate leads marketers actually want. In the time it takes to sip their coffee, attendees will be able to watch as he launches an audience member's campaign right before their very eyes. The session will also cover how to benefit from our real-time dynamic reporting to improve content marketing strategies that utilize content consumption insights.
Meet the team. You'll be able to meet the team on the exhibit floor (Booth #302) to discuss all things lead gen, content marketing, and of course, share the love in #DemocratizingLeadGen.
The NetLine team: Andrea Neiman (Marketing), Niko Thomas (Sales), Steve Plevin (Sales).
> > B2BMX 2018 Event Recap & Insights.
March 20 – 21: TOPO Summit | San Francisco, CA
This is the only event where the world's best sales and marketing organizations share exactly what they do to drive exceptional revenue growth. At Summit, you'll learn how enterprise through mid-market organization, such as SAP, Adobe, Oracle, Demandbase, Glassdoor and more, achieve scalable revenue growth. With over 1,500 sales & marketing practitioners in attendance, this event is an opportunity to network with people who are passionate about revenue. You'll walk away with actionable best practices that you can immediately begin implementing. We love this event for how TOPO supports vendor-agnostic marketing solutions and for the audience's eagerness to practice anything that can improve ROI and the sales/marketing relationship.
Meet the team. As a Gold sponsor, we'll be situated in a nice spot, overlooking the Bay Bridge as we demonstrate our self-serve solution, pour you some Nespresso coffee, and invite you to take a turn in unlocking our treasure chest of fun prizes.
The NetLine team: Andrea Neiman (Marketing), Jeff Adamec (Sales), Franklin Elieh (Sales).
Want to go? Attend with our discount.
Use our code: 'NetLine25off′ to receive 25% off your registration. Register now >
Sharing the same space as TOPO Summit is Demandbase's yearly event, now strictly focused on all-things-ABM. More than 90% of marketers believe Account-Based Marketing is essential. And of those practicing, 96% are seeing remarkable results. So, find out why and how at THE #ABMSummit and join 1000+ B2B marketers along the San Francisco Bay to discover the latest trends.
Meet the team. Sponsoring at Silver level, we're excited to share the open space and view that Pier 27 has to offer. We'll enjoy watching lucky winners take turns unlocking for great prizes while we help demonstrate the ease of reaching intent-based professionals actively searching for solutions. P.S. This event sets the bar high for in-conference dim-sum and high-end sushi!
The NetLine team: Andrea Neiman (Marketing), Kent Wu (Sales), Steve Plevin (Sales).
April 23 – 25: MarTech Conference 'West' | San Jose, CA
Known for its "east meets west" bi-annual events, this event draws on 2500+ Marketing technologists:
83% purchase decision makers
65% in-market for marketing technology solutions
62% Executive level management
28% from companies with annual revenue of $500M or greater
It's no joke to be in the same room as hundreds of sponsors and partners all vying for a piece of the Martech pie. It truly is a beautiful entanglement of marketing best-practices, technology, and management techniques. This event has expanded so much that it has officially grown out of any viable San Francisco venue and will be meeting in San Jose this year!
Don't worry hipster coffee lovers—Verve coffee (best substitute to Blue Bottle) has got your back for those early morning sessions. And Karl the Fog has nothing on South Bay atmosphere. Oh yes, and parking—as in you actually can find a spot—won't eat away at your daily per diem expenses.
Meet the team. This year, we're not just joining the show floor but we'll share the stage to briefly demonstrate our customers' successes in working with NetLine.
The NetLine team: Andrea Neiman (Marketing), Niko Thomas (Sales),  Franklin Elieh (Sales).
>> Check out 2017's Martech stack.
Other sponsored events happening later this year:
News and updates coming soon!
Let's connect.
NetLine values each event we support for the creativity and thought-provoking content offered by the speakers, attendees, and sponsors. We gather insights to provide the latest digest in content marketing and lead generation trends. We'll be posting post-event recaps and insights, so check back regularly.
If you plan to attend a future event, drop us a note to schedule a quick meet-up (NetLineEvents[at]netline[dot]com).