In the latest episode of the Marketing Milestones Podcast, NetLine's David Fortino sat down with podcast host, Jason Hekl, to discuss innovative new strategies for maximizing the value of your content syndication programs.
With more than fifteen years at NetLine developing content syndication lead generation solutions, David shares his observations regarding the most interesting content programs and strategies he has seen to date from clients. Plus, David shares insights from NetLine's latest research study with startling discoveries between marketing expectations and marketplace realities in content marketing.
Listen to the insightful 30-minute podcast now:
Highlights from the podcast:
Marketers are starting to create, syndicate, and target their content for more than one stage of the buyer's journey, not just top-of-funnel.
eBooks have surpassed white papers in content consumption, but not production.
C-level professionals were only 5% of the millions of leads processed. (Jason offers several key examples from his experience where influencers outside of the C-suite were driving purchasing decisions.)
Humanizing your content is very important, make it approachable.
Professionals wait an average of 28 hours before opening downloaded content.
Long-form content is a growing opportunity for marketers to reach target prospects; consumption volume +36% YOY.
For more insights on this episode and to listen to more episodes, go to the Marketing Milestones Podcast.
Get the Research: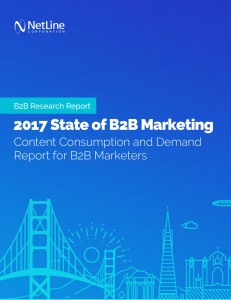 Grab your copy of the research study David cited in the podcast, 2017 State of Content Consumption and Demand Report for B2B Marketers.
Check out NetLine's complete 2017 industry research series.