In the middle of the world being turned upside down, businesses are quite cognizant of the changes in the B2B marketing landscape. 
They still have products and services to market but want to both be sensitive with their messaging and sensible in the execution. How can they accomplish this? 
By studying what the best B2B marketers are doing today.
Recently, ON24 and NetLine spoke with some of the leading marketing experts in the B2B world to talk about some of the most important lessons they've learned and the insights they've acquired along the way. 
The topics covered include brand building, using one-off events for evergreen digital experiences and building up the marketing/sales relationship.
DOWNLOAD The 2020 B2B Marketing Trends Report: Brand, Content & Sales-Marketing Alignment 
Here are a few key highlights from the report's findings:
Never Forget the Importance of Brand Building
Despite the fact that B2B marketers are under pressure to generate direct leads to sales, they cannot forget about long-term brand building. Building an emotional connection with your clients and prospective customers while helping them address their pain points is the goal of every brand-focused marketer.
But even though 56% of marketers polled say they have at least a somewhat strong brand, 43% say the brands they represent are held back because they have an unclear clear strategy. As ON24's VP of Marketing Tessa Barron put it, "I don't know how you could be a marketer today and be driving pipeline without a strong emphasis on brand."
Remember: Today's brand is tomorrow's demand.
Brand Reach is Crucial, But Challenging
Improving brand awareness is a critical step for increasing market share and unifying your audiences. Of course, obstacles block the path for each brand's amplification for one reason or another. An ON24 poll of B2B marketers highlights the barriers holding organizations back from successful brand marketing: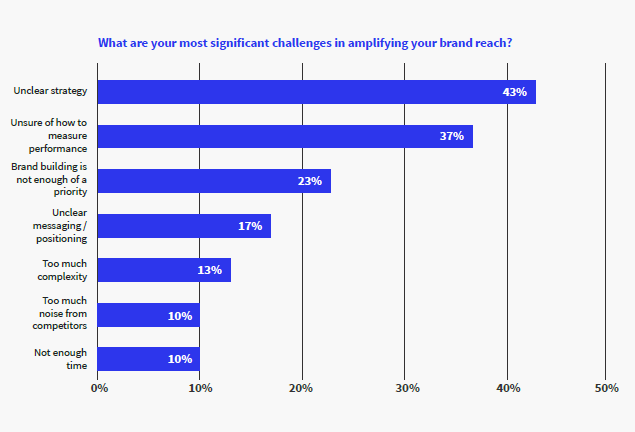 According to the survey, 43% of marketers say that an unclear strategy is the biggest hurdle to amplifying brand reach. This certainly makes sense: if the team charged with growing a brand doesn't understand their path to growth, how can anyone else (read: customers and partners) make sense of their goals? 
Additionally, one in five respondents says that brand building is not enough of a priority in their organization. Together, these two responses highlight a key issue: while brand engagement pays dividends in the long-term, it can feel vague and faulty in the short-term. This is what leads us to the 37% of marketers who feel unsure of how to measure the performance of their brand based on the lack of clarity throughout.
Dorothea Sieber, Head of Content Strategy and Thought Leadership, Adobe Experience Cloud aims to ensure that Marketo's Marketing Nation Summit is as relevant as possible to its audience by asking one key question: "How do we want this event to make people feel?" 
Using this as a springboard and resolving to make attendees feel empowered, Marketo established a piece of companion content to the summit called "The Fearless Marketer," which went on to be highly successful in creating a movement among their audience. 
Strengthening Relationships with Sales Leads to Long-term Payoffs 
Building a strong relationship between Sales and Marketing is something that every business aspires toward. Unfortunately, in 2020, the goal of having such a relationship remains mostly that: an aspiration.
Although just 6% of marketers say their working relationship with sales is poor, even fewer (2%) describe it as excellent. 
For businesses to succeed and become the brands they wish to be, it's imperative to form and nurture an excellent relationship with sales. Having a true partnership like this will not only help assure that marketing's impact is reflected on the bottom line, but it also provides the basis for individual career success. 
From collaborating on content to building one-on-one social connections, marketers should always be looking to build trust with their colleagues in Sales. Doing so will pay dividends, as the top two tactics chosen by marketers in helping sales to close more deals are increasing collaboration and communication (62%) and getting sales involved in marketing campaigns (42%).
How to Take In-Person Events Online
The realities of COVID-19 have become the sobering realities for offline events. As of March 2020, businesses that once drove a significant portion of their revenues from live events are looking for something else.
In light of this, the panel of experts offered some particularly relevant insights into transferring in-person events to digital formats. For starters, identifying the fundamental differences between physical and digital events is key. Doing so allows you to either mitigate or embrace these differences. 
As our own David Fortino emphasized, digital events should try to embrace the spontaneity of virtual events (even when they've been planned for months) by not getting too caught up in advanced thought or minutiae of the session.
"It's about what you can do in the moment to extract amazing nuggets and interactions," said David. "When it comes to virtual interactions, I view it the same way, in that those moments are really what translate into special opportunities that create lasting impressions with prospects, attendees, even existing clients."
Understand the Gaps in Your Content Library
As it's discussed throughout the report, the benefits of aligning sales and marketing cannot be overstated. Marketers who've been able to successfully connect the two in their organizations are seeing the payoffs of a more integrated approach to the funnel from top to bottom. 
One of the biggest advantages of being connected with your sales team is having a better understanding of what is and is not resonating with your audience. Jay Famico, Chief Research Officer at Iron Horse Interactive suggests that marketers should take a hands-on approach to sales enablement content created by sales teams. "Look at the content that's being created," Jay says, "and understand the gaps that you have within your content library, learn from what they did and apply that to your marketing content moving forward."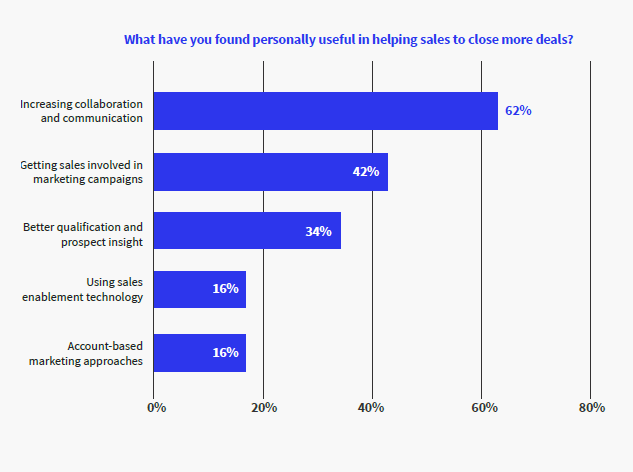 Jay's recommendation is a great one; however, there is still a great deal of work to be done for some organizations to get there. An ON24 poll surveying how marketers feel about their team's current working relationship with sales found that while, three in five (61%) consider marketers believe their relationship with sales to be good and effective, nearly one-third (31%) think that their teams do not have a great relationship. 
Creating relationships that can amplify the reach and market capacity of a brand can be challenging, but ultimately, so beneficial. 
Download the Report
The 2020 B2B Marketing Trends Report Brand, Content & Sales-Marketing Alignment is available for you and your marketing team to download right now. We thoroughly hope you both enjoy it and learn something from it.
Special thanks to Dorothea Sieber, Liz Wood, Tonya Vinas, Eliot Freed, Jay Famico, and Matt Heinz for sharing their time and expertise for making this report so valuable.