Gain insight into the content consumption journey of IT professionals and the content trends discovered in marketing campaigns targeting IT professionals to identify actionable opportunities for your organization.
As content marketing continues to grow into a top strategy for B2B demand generation, our research team performed a deep dive analysis into the content consumption activity taking place across the NetLine Corporation Network in 2016 (processing 8.5 million leads last year) to extract the most important insights content marketers need to optimize their strategy this year.
To ensure the insights were of the utmost relevance to marketers, this research specifically narrowed in on Information Technology, by examining self-identified IT professionals along with the IT content being produced by organizations today. B2B marketers of IT solutions should know:
Content consumption by IT professionals increased 13% last year and 11% of IT professionals consumed more than ten pieces of content in their research journey.
As the responsibility of the Information Technology Department grows, professionals will require higher levels of research to not only stay abreast of new solutions and trends, but also make strategic purchase decisions.
Marketers need to stay on top of the content consumption growth trend by producing the content their target audiences need to stay top of mind, solve their problems, and aid purchase decisions.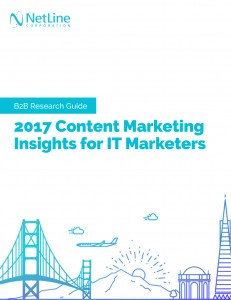 The 2017 Content Marketing Insights for IT Marketers Guide is an 8 page insights summary including: content trends, strategies, and goals – along with information on the new "Content Consumption Gap" marketers of Information Technology solutions and software need to be aware of. Download your guide today >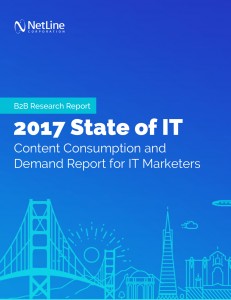 Looking for the full research deep dive? The 23 pg. analysis report for Information Technology Marketers includes: active IT audience profiles, in-demand IT audience profiles, and more.
Download your copy of "2017 State of Information Technology: Content Consumption and Demand Report for IT Marketers"